Renault puts the batteries with the distant pressure of Alonso
"We had more rhythm than Ferrari or McLaren" says Ricciardo, who chants "we are not so bad" and says about the engine: "Records were broken".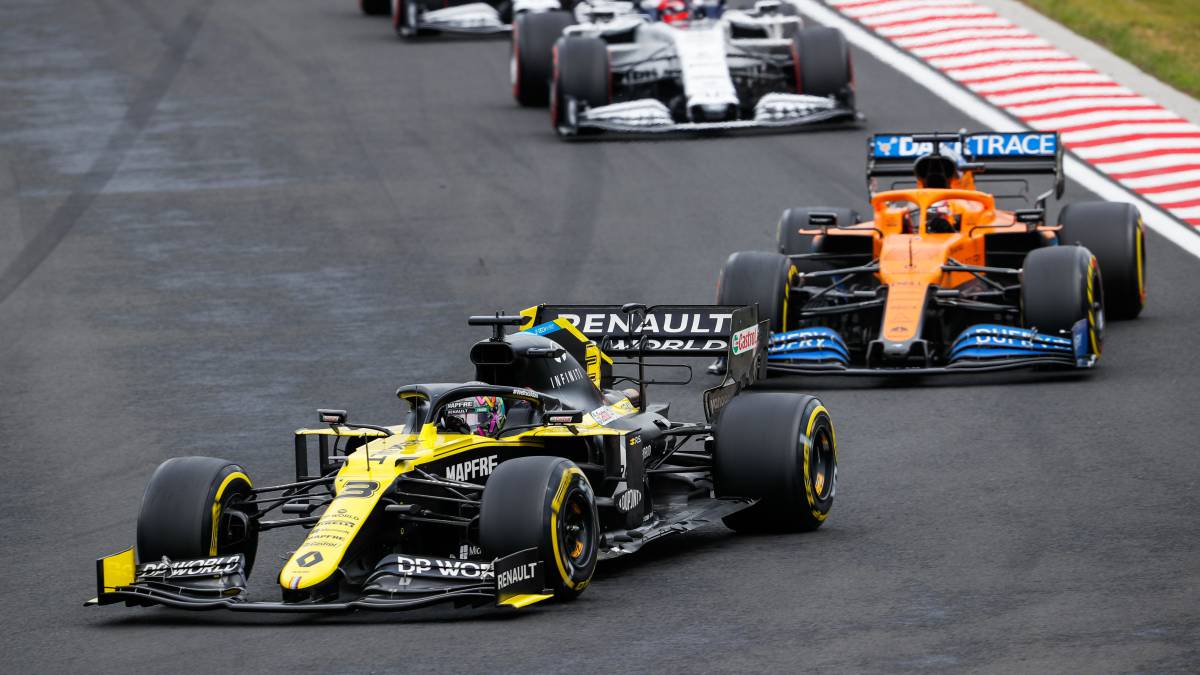 Renault points to 2022, it is your opportunity to turn the situation around and cut seconds behind with the regulatory revolution. But it is naive to think that a Formula 1 team can give up two seasons, 2020 and 2021, in exchange for successes in the medium term. The Enstone team needs points, which translate into cash prizes and best sponsors, and will continue to strengthen its current car. An important package of evolutions will arrive at Silverstone, as for most strong teams. "The improvements are always good, of course, and in England there are many medium and high-speed corners. Silverstone will test our front wing and I hope it will come off well," says Daniel Ricciardo.
The Australian celebrates the solid rhythm of his RS20, which allowed him to finish ahead of Carlos Sainz in Styria or Hungary: "I will review the race to see what could be done better, but I left exhausted and with the feeling that everything was squeezed out We are not far from the top-5, we have a little more speed than Ferrari at the moment. The race pace is not bad, it will come. It is good to score points, but I have the feeling that races with many more points will come. We had more pace than McLaren also at the Hungaroring and we were close to Racing Point. We are not that bad. " "It is a trend now, apart from the Mercedes. Red Bull, Ferrari, we ... we have moments of surprise and also moments ... less good. But we are several teams that we find it hard to be to the maximum all the time," adds the pilot, who will go to McLaren in 2021.
The weak point is the classification, for Esteban Ocon: "You have to work on consistency, we sometimes suffer to find a complete lap. It is something we must work on." And the strong point, who was going to say it a few months ago, is the engine: the French power unit has hardly improved in power compared to 2019, but it does bring more reliability than its predecessor and both the McLaren and the Renault bear witness of it. They did not plan to manufacture new specifications in this campaign, all their efforts are directed to the new generation of engines that they will incorporate in 2022. But it is good news that the current one works without scares: "One of the priorities of winter was reliability. No We made promises of 1,000 hp but reliability was sought. I know that many kilometers were made in the power bank, I know that they broke many records out there and that is what they were focused on. "
So they improve the impressions in the signature of the rhombus after a cloudy winter in which its presence in the Great Circus was confirmed for the coming years. Cyril Abiteboul smiles and they hope to endorse these feelings at Silverstone. The French leader has already stated that for Alonso it is necessary to "forget 2021 and turn to 2022". The Asturian will return to Formula 1 next year, when many components of the car will be frozen as a rule. He will drive an evolution of the current Renault, and therefore it is essential to his interests that they progress during this campaign before dedicating all his efforts to the 2022.
program.
Photos from as.com