Quartararo feels candidate with Marquez's injury
The Jerez winner wishes "that Marc recover as soon as possible" and acknowledges that "his injury can change the championship."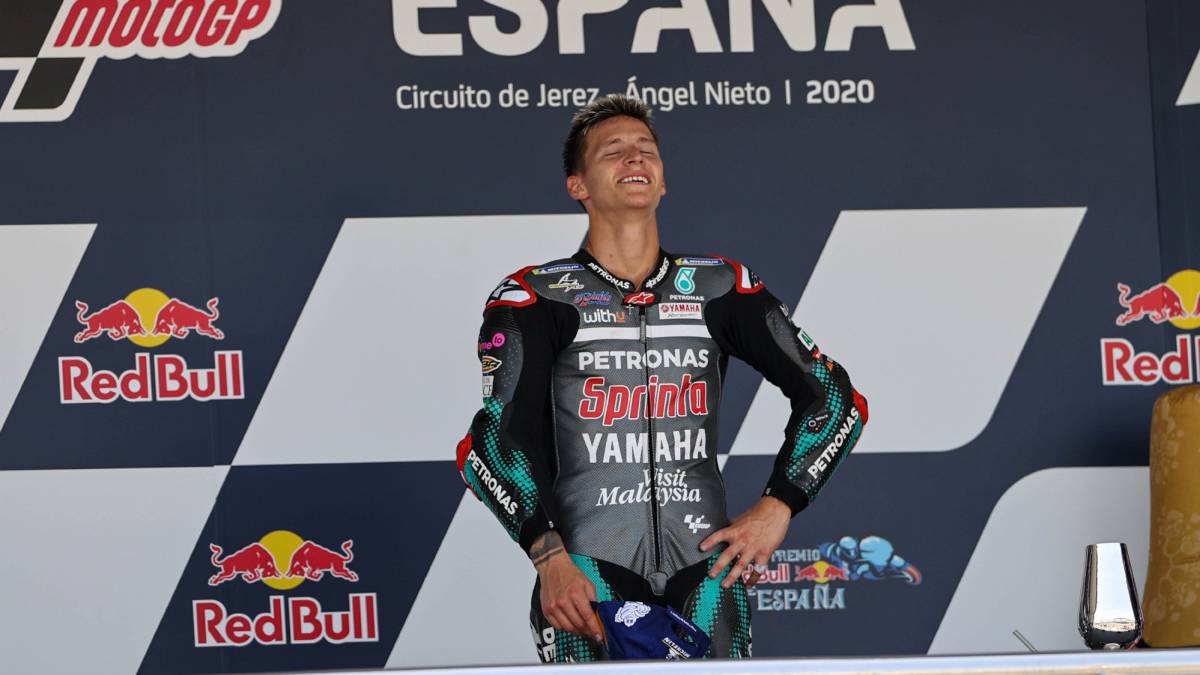 Fabio Quartararo debuted his MotoGP win box with his triumph at Jerez. That makes him the first leader of the shortest season in recent memory, made up of just 12 + 1 runs, and his aspirations have changed dramatically as he became aware of the injury suffered by Marc Márquez. That fracture in the middle third of the humerus of the right arm, with possible involvement of the radial nerve, left the champion with zero points after the first race and it remains to be seen when he will return to the competition. And that makes the 21-year-old Gallic feel for the first time as a candidate for the title.
The one with the Petronas Yamaha SRT already openly acknowledges it: "I have not seen Marc's career. I saw that he made an incredible save, but when you are focused on the race you don't think anything else. I think everyone knows Márquez's mentality. He is a winner. For me today he was the one with the best pace, but conditions changed and it was difficult for me to understand the track. What has happened to Marc can happen to anyone. Knowing the injury he has, he can change the championship from now on. I hope he recovers as soon as possible. Marc is the favorite and it will be weird that he won't be here next week. "
And when asked if it is true that the first victory in MotoGP changes life, he stressed again that he now sees himself as an aspirant: "I don't know if it will change my life. I have not yet realized that I have reaped my first victory. Knowing Márquez's injury, I see myself as an aspirant, but we have to be focused on each race, we know that there is a lot left in the championship, it is very concentrated. The most important thing will be not to fall or make mistakes. We have a good pace on the bike, but we can still improve on some elements. "
Eye to the Devil, because he is not going to settle for having won his first MotoGP GP but is going for the title. And it is that in the press conference on Thursday, when asked about his pool for this season, Quartararo took second place, behind precisely Márquez, who now takes 25 points and from whom he does not know when he will return.
Photos from as.com