Pifia de Márquez, historical comeback and very hard fall in the first victory of Quartararo
The champion left when he was leading, returned 16th, went up to third place and fell when he was already third. The Frenchman's first win and Maverick's good second.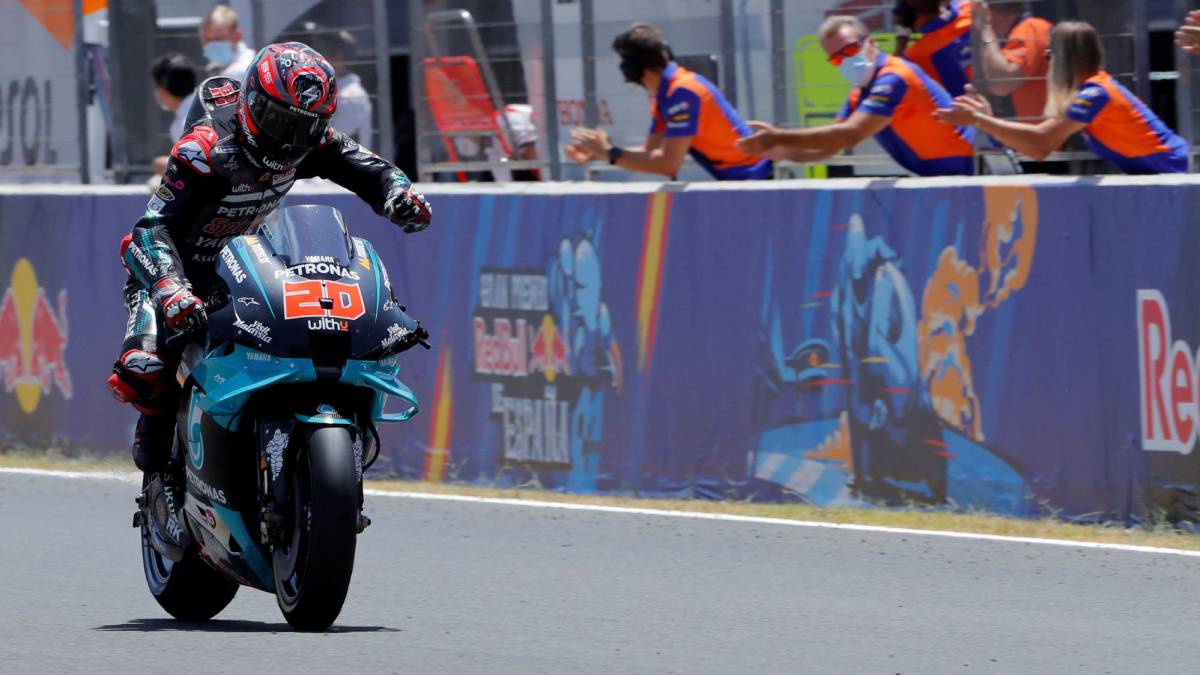 And Fabio Quartararo's first victory in MotoGP arrived. As longed for as deserved, everything is said, although Jerez will also be remembered for the performance starring Marc Márquez. Everything happened to him. Bad, good and terrible. Accustomed as the champion has us to the happy endings, it was a blow to see him leave by ears when he was already third, after an incredible comeback from the sixteenth place.
The Repsol Honda man went so far behind due to a track departure he suffered on the fifth lap when he was already leading. To become leader, he had to go over and review three times before with Maverick Viñales, who came out better than ever, helped this time by the holeshot system. Marquez was starting to run away when he starred in one of his incredible saves, at Turn 4, when he was rolling at 167 an hour and had his Honda at 67 degrees. Anyone else would have gone to the ground, but he raised it as he knows and everything was left on a walk through agriculture.
From there it was he gave to carry out a historic comeback to third place and, when he already had Maverick a stone's throw away to get second, he went by ears at turn 3, hovering around 150 kilometers per hour. He landed head-first and shoulder-to-the-ground and spun several times, a touch of the Honda embedded in his right arm, to a halt on the gravel. He was able to get out of it by his own foot, but he quickly saw that he had an injury to his right hand or to his entire arm. He had to ask for help to remove his helmet, because with his left hand he could not get along and his right hand did not move it. He had to be transferred on a stretcher, with a collar to the circuit clinic and from there they will send him to the Jerez hospital to better check how he is. Let's see if he is lucky and does not miss the race next Sunday, but he looks bad.
Márquez's sadness contrasted with the joy of the podium members. Quartararo was escorted by Maverick and Andrea Dovizioso. The Spaniard overcame the problems he had to stop his motorcycle in some measures of the race. He and Rossi, who dropped out, were the only ones who opted for the soft front tire instead of the hard one, like the others, and it caused problems for him. Still, a great second for him, which gives him 20 more points than Márquez now has, the great favorite for the title despite everything. And as for Dovizioso, he had broken his left clavicle a few weeks ago and starts again on the podium. Its reliability is bomb-proof and Ducati will have to assess that precisely if it wants to retain it.
The top ten was completed by Miller, Morbidelli, Pol, Bagnaia, Oliveira, Petrucci and Nakagami. Álex Márquez debuted with twelfth place and Rabat was fourteenth on the day that Quartararo, at 21, signed his first MotoGP victory. And the ones left to celebrate the Devil ...
Photos from as.com