"Rossi needs to generate a lot of personal hatred against the pilot who fights to function"
"At the moment we started fighting on the track, we never had a good relationship again nor will we ever have it again," says Sete Gibernau about Valentino.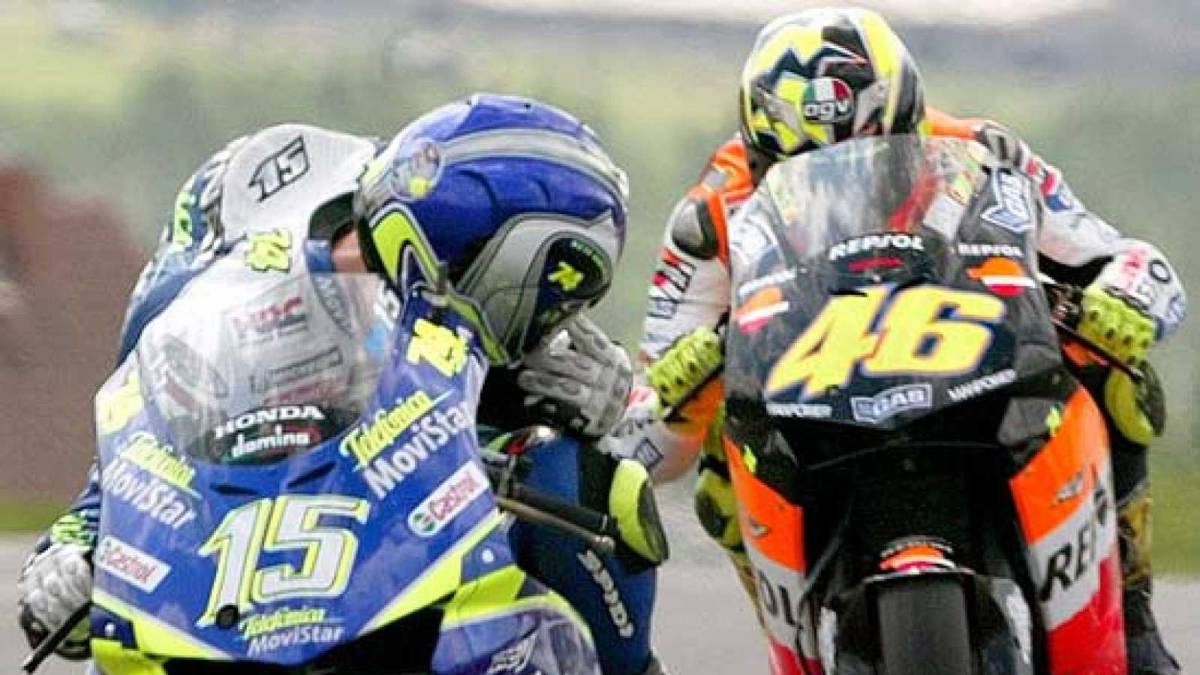 Max Biaggi in Japan 2001, Sete Gibernau in Spain 2005, Jorge Lorenzo in Japan 2010, Casey Stoner in Spain 2011, Marc Márquez in Malaysia 2015 and Aleix Espargaró in San Marino 2016. These are the six great controversies that Valentino Rossi has starred in World Cup since it made its debut 24 years ago on the back of an RS 125 in the Aprilia-AGV team.
Precisely, Gibernau was the last pilot to have performed the role of announcer with Ernest Riveras in the program 'Commentator for a day' of 'DAZN'. The one from Barcelona, who last year returned to official competition a decade after hanging his helmet and gloves to play the MotoE World Cup with the Pons Racing team, has assured that Rossi is a person who needs to generate a lot of rivalry with your opponents on track to be competitive.
"Valentino is a person who needs to generate a lot of personal hatred with the pilot he fights with to make it work. It is his way of seeing things. Until those years when I was not his rival, we became good friends, We had a very good relationship. And the moment we started fighting on the track, it totally broke and we never had a good relationship or will ever have it again. Rossi prefers to force things like that because it is his way of understanding life. face the camera and the public has a behavior that comes out very naturally and generates a lot of empathy with people, he is seen as a super nice guy, but he needs to generate a lot of rivalry with his opponents on the track. You have to understand him, he is there to win the world championship, obviously not to make friends. It is his way of understanding racing, he is respectable. I do not agree with him in many things, but obviously I admire a great driver, "said Sete.
Likewise, the Spaniard recalled his victory at the 2003 German Grand Prix, the fourth he achieved that season after South Africa, France and the Netherlands. A triumph that he achieved thanks to a trick he devised together with his mechanic, Juan Martínez, to deceive Honda and to be able to carry some special escapes that the engineers of the golden wing factory had brought to Sachsenring: "We arrived at this grand prize with three victories for Valentino, and three for our team. Honda brought some special leaks for Valentino, to see if he could make a little difference even though he had the official bike. It was not the 'full' bike from the factory, for reasons of contract Repsol and Honda had a contract whereby they were 100% factory, and no other team could have the same material. To win you need a very big motorcycle. Ours was, but it was not the official one. Honda brought some special exhausts, it was He took off the muffler and they made a lot of noise, and they gave them to Rossi to try them on. He put them on and then he took them off, and someone from Honda said, 'Give them to Sete to see if he wants them.' leaks, and real They made a lot of noise in my mind, but on a circuit like that I realized that at the first touch of gas it was really a bit aggressive but it generated a lot of traction, at that time there were no traction controls, the power was enormous, and the exhaust made the power that was transferred at the time you gave gas to the wheel, pulled better. You had to drive differently, but when you lifted the bike it pulled more. I said to Juan: 'Hey, these leaks seem to me to have something', and he said 'Oh yeah?' We started talking and Juan said that if they worked we would ride them in the race. We removed the leaks and HRC asked us, and we told them we didn't like them but to leave them just in case we tried them again ... And we put them on the run. At Honda they understood nothing. In the end we rode them, and at the end of the race, in some training sessions in Brno, Valentino tried them again, and he already used them the rest of the year.
Finally, Sete Gibernau remembered with great nostalgia the pole position and first position that he achieved 17 years ago in the Phakisa Freeway, since just a week earlier Daijirō Katō had died: "Daijiro's death put the entire project in check. Yes I tell you the truth, we almost didn't run that year, we couldn't find the strength to continue. I remember that when Daijiro died and we had to go to South Africa, which was the next race, Fausto Gresini called me and said 'Ostras Sete, What do we do? Shall we continue or not? "Passed the ball to me. I was very sad because we had done the whole preseason together with Daijiro, we shared many things, I had empathized a lot. Just before Suzuka's race we were leaving changing Daijiro and I together, she had had her second child and did not know how to call him, she asked me how I had to call him. OVID-19 ... What are life's priorities? It put us back in check as to who we were doing. In the end, we went to South Africa and got a pole finish at 174, with number 74, it was incredible. As soon as I arrived I saw the times, we did 1: 33.174, we all started to cry, it was very exciting. We ended up winning that race. "
Photos from as.com