Márquez has a fracture in the humerus and an appointment with the operating room
"A fracture of the middle third of the humerus. It is a complete fracture, although it is not totally displaced, with a possible paresis of the radial nerve," says Mir.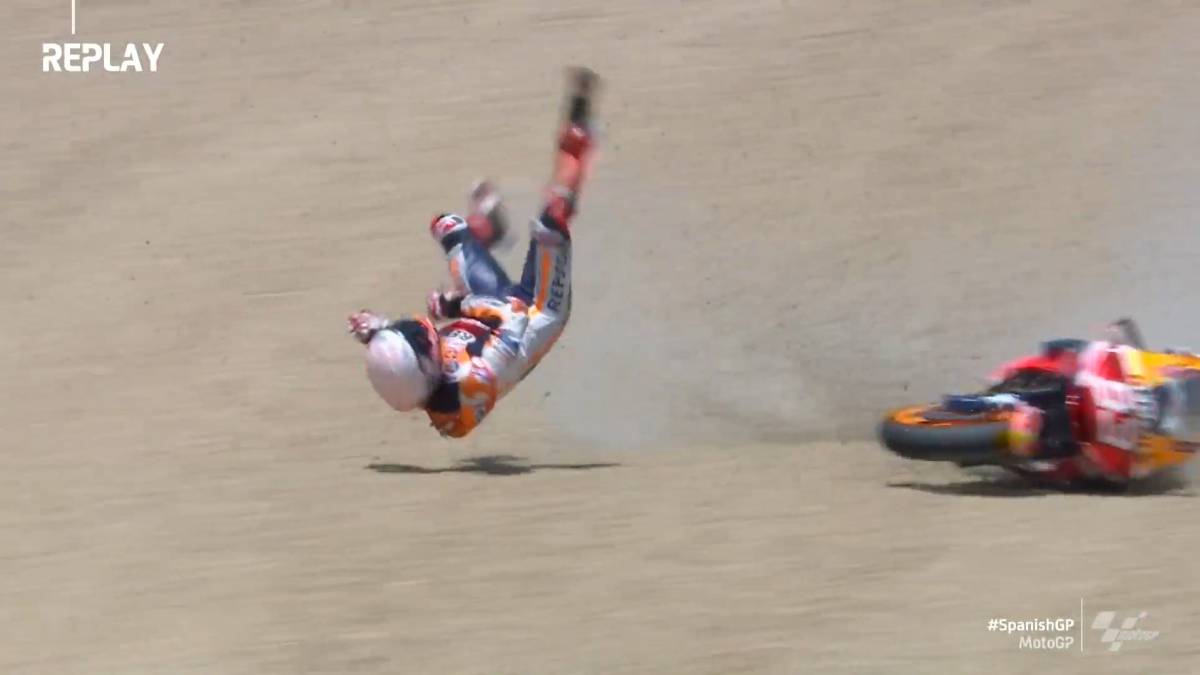 The first statements about Marc Márquez's state of health, after the very hard fall he suffered in the MotoGP Spanish GP, pointed to a fracture in his right arm. This was what Alberto Puig, boss of the champion and main Repsol Honda team, made known to the televisions that were waiting at the doors of the Ángel Nieto clinic in Jerez. And minutes later the bad news was confirmed by the World Cup doctors: a fracture of the middle third of the humerus that will force a step through the operating room tomorrow in Barcelona.
Dr. Ángel Charte, chief medical officer of the World Cup, said: "Márquez has had a high-energy fall and suffered a thoracic trauma on the right side and a humeral injury." He then gave way to Dr. Xavier Mir, specialist in traumatology, which explained: "Marc has had direct trauma to his right arm, it seems that with the tire, which has caused a fracture of the middle third of the right humerus. It is a complete fracture, although it is not totally displaced, with a Possible paresis, although we are not sure, of the radial nerve. This injury has been immobilized here for when it is decided to transfer him to Barcelona to finish the definitive treatment ".
Mir continued: "Paresia means that this fracture has a very close nerve and we have not yet been able to explore from the degree of trauma that this nerve has not received a blow. It may not occur, but we cannot confirm this at this time either." When asked if the treatment goes through the operation, he states that "without a doubt, without a doubt. This fracture will have to be fixed to some type of implant. Put it in place and fix it definitively, but until we have further radiological tests we will not confirm what type of treatment ".
When Charte took the floor again, it was to say that "the humerus fracture exists and it is going to be a surgical treatment for sure, but now to make guesses about whether it will be next week or in Brno does not correspond to this medical team. The patient is hemodynamically stable, maintains right chest trauma and has no further complications, no neurological or abdominal changes. We will keep him here for a few hours and 12 more under observation. Tomorrow Dr. Mir will travel with him to Barcelona to proceed if there is no further news organically to surgical treatment of the humerus. We cannot answer at all when he will return. This is not the time. We will do it next week. Marc was initially very sore, because it is a strange and rare fracture, possibly from a tire blow in that area. He was very sore and we had to put him through sedation to avoid pain. The humeral fracture was reduced and he got medical thoracic trauma ".
Márquez's career in Jerez has been a rollercoaster of sensations. On the third lap he has passed and reviewed three times with Maverick. In the fifth he left the track when he was leading, after an incredible save in turn four at 160 per hour and with the bike tilted at 67 degrees. That has made him return to the track in sixteenth place, at 8.5 of the head, and, when he was already running third and had Maverick a stone's throw away, he went out by ears four laps from the end, hovering around 148 per hour. The impact has been very violent, hitting with the head against the ground giving him the Honda in the drag in his right arm. He has come out of the loophole by his own foot and it was soon seen that his right arm was damaged.

Photos from as.com