Madrid have already communicated that they have him as a substitute next season. Now it's up to dispute the position to the recent Zamora, Courtois.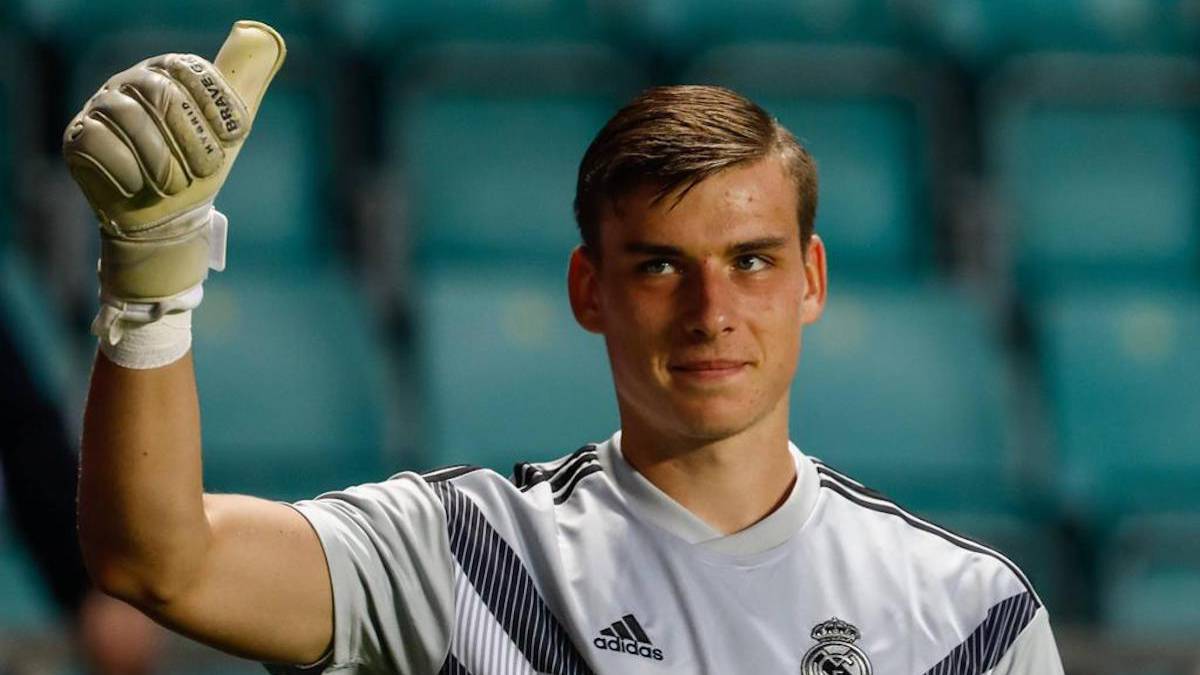 Lunin and Courtois will be the goalkeepers of Real Madrid next season. The white club has already informed the Ukrainian that it has him as a substitute. After three years of ups and downs and assignments (he passed through Leganés, Valladolid and Oviedo, with a disparity of luck), Lunin has convinced and will have the opportunity to prove himself at the Santiago Bernabéu.
How life has changed in two years. The summer of 2018 came from Zorya in exchange for 8.5 million (plus four in variables). It was a rough diamond, but it couldn't be a worse time. That Madrid had five goalkeepers: Keylor Navas, Courtois, Kiko Casilla, Luca Zidane and Lunin. The agglomeration under sticks was such that the best option was to find an assignment.
His time at the Bernabéu was fleeting, but he was clear that he would return. First he left to move just 20 kilometers away, to Butarque. He lived an ordeal in Leganés: he played only seven games, being a substitute for Cuéllar and resigning himself to the Copa del Rey minutes. There, yes, he had great interventions, such as the tie against Rayo Vallecano, in which he stopped a penalty to give the pass to his team. He played 545 'in the pepinera discipline, starting only in six games (two, in the Cup) .
In June he returned to Madrid to leave again. His next assignment was to Valladolid, where he also failed to get the job. In fact everything was even worse there. Masip's performances moved him back to the bench: he played only two games (both in the Cup, against Tolosa and Marbella). He could not find his place and if Madrid gave it up, it was precisely for him to play. And I wasn't doing it.
Therefore, it was decided to cancel her loan, and the third was past due. In the middle of the season, he signed a loan with Oviedo, where he fit in perfectly, became an idol and stood out. It stood out a lot. So much so that he has convinced to return to Valdebebas and stay. With the carbayones he played it all: 20 games in a row in which he received 20 goals (1.00 goal per game) and made 53 stops (2.65 per game). His interventions, keys to sustain a team that ended up saving the category with a margin day.
The Tartiere has been his home and the data speak for themselves: he has played more in Oviedo (1,800 ') than in the two previous transfers together, Leganés and Valladolid (725'). He needed filming, has had it and has convinced. That was the equation.
The Selection, its oasis
In all this process Lunin found happiness under the colors of his country. It has not yet been done with the ownership of the absolute (Pyatov holds it, a national idol at 36 years old), but it has shown its worth in the lower ones. In June of last year, without going any further, he was proclaimed champion of the U-20 world, also obtaining the gold glove as the best goalkeeper in the competition.
Hunger for Bernabéu
And this summer Lunin flows into the white river again. But to stay. Real Madrid wants him as a substitute for Courtois and for this reason he has released Luca Zidane, who has not renewed after 16 years at the club. Neither will Areola continue, after finishing his loan from PSG. The chosen one is Lunin, who has already passed the first step, but is missing the second: fighting for the position of the recent Zamora of the competition, Courtois.
The substitute for this season, Areola, played 765 'spread over nine different games. Four of them were played by technical decision (Osasuna, Alavés, Brujas and Alavés), two due to Thibaut's injury (Brujas and Granada) and three, as a starter in the Cup (Unionistas, Zaragoza and Real Sociedad). Those figures, minimum, should have Lunin guaranteed this season. Zidane always warns that the two goalkeepers have minutes with him.
The risk of stagnation
Being a substitute with 21 years is dangerous. Spending too much time idle could slow your projection. Hence the importance of two factors: that he press for being the starter and that Zidane properly manages the minutes of the two goalkeepers.
Sitting Courtois, seen the seen, seems a chimera, so the first of the variables seems difficult, but in the hands of the coach is to distribute the shares so that Thibaut's ownership is compatible with minutes for Andriy. In that balance will be having one of the best goals in the world.
Lunin is at the moment of fulfilling his dream. He will play, after two years of disconcerting assignments, at Real Madrid. From this year on, it will have another status.
Photos from as.com