Havertz can save Atlético
In the rojiblanco club they do not fear too much for the departure of Oblak since they hope that Chelsea cannot face both operations.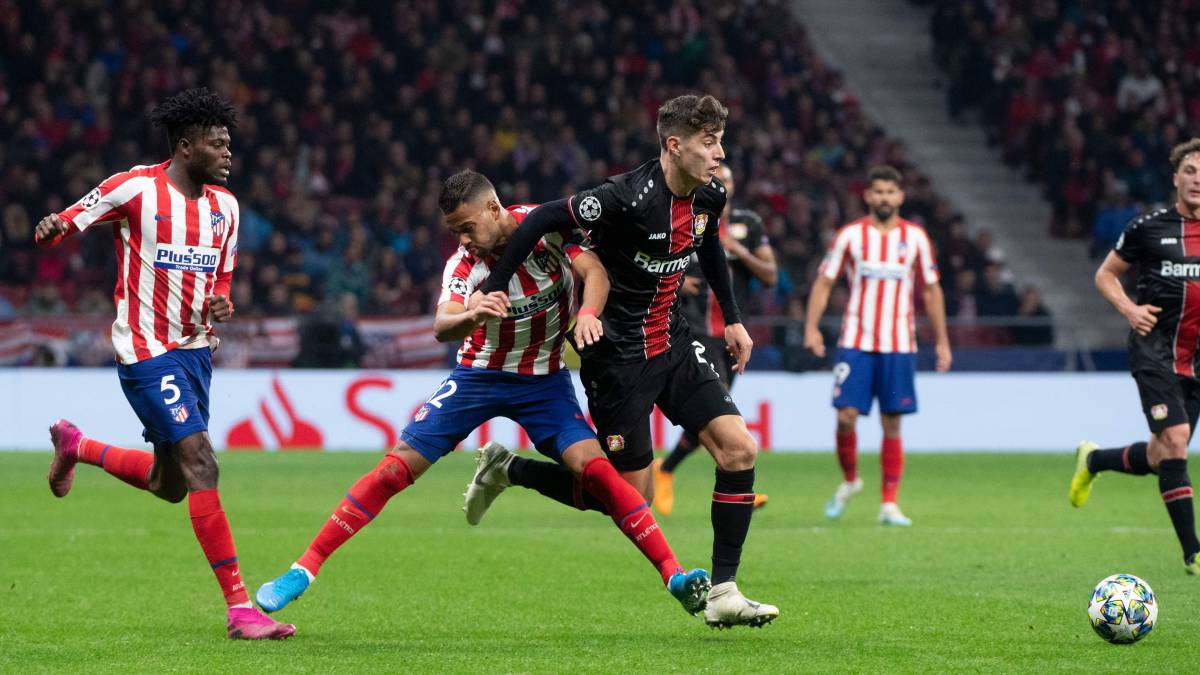 Chelsea want to fight again for everything. The set of the most exclusive neighborhood in London is one of the ones that is being reinforced the most for 20/21 with Timo Werner, Hakim Ziyech and in the absence of the two jewels that crown their summer: Kai Havertz and Jan Oblak.
The Bayer Leverkusen midfielder was one of the best in the final leg of the Bundesliga and has long been one of the most interesting young players on the Old Continent. The Leverkusen is aware of what is at hand and wants to close the most expensive sale in its history, the first to reach three figures. The German club knows that Havertz wants to leave yes or yes and it seems that he will be forced to negotiate. Less than ten days ago, from Germany they assured that the Leverkusen asked for 100 million euros and that Chelsea was trying to negotiate in the environment of the 90s (76 + 14 in variables) .
To this day, Sport Bild assures that Chelsea's firm offer for the player has not arrived and that he could play in the Europa League next August with the Rhinelanders.
On that offer comes to fruition depends the tranquility of Atlético de Madrid regarding Jan Oblak. According to the same German media, in the offices of the Wanda Metropolitano there is a climate of tranquility because they consider that if Chelsea reaches 90 million euros for Havertz, they could not afford to acquire the Slovenian, at least, this summer. For any call asking for a price, Atlético once again refers to its 120 million euro termination clause, numbers that consider that Chelsea will not be able to reach what is left of the market.
Although in England they spoke of a certain discontent of Oblak with some decisions of the club regarding the conformation of the squad as the main reason for a possible departure, from the locker room the same is not transmitted. Stefan Savic, one of his friends inside the rojiblanca booth, opted for the continuity of Oblak in an interview with AS. "It is normal, the best players are wanted by the best teams, it has happened other times. Who does not want Oblak? Everyone wants him for sure, but he is our goalkeeper and we are very happy that he is and I think he will continue with us in the future, "he said, in addition to qualifying Chelsea's alleged offer of" Press issues. "
Be that as it may, there is talk of a proposal for the 'blues' worth 100 million euros that would include Kepa Arrizabalaga to make the operation cheaper. An offer that they hope not to receive in the Wanda Metropolitano. Twenty million separate Chelsea from the Slovenian rescission clause who will have to choose whether to continue as a rojiblanco or move to London to place himself under the command of Frank Lampard. A priority operation that depends, to a large extent, on what happens in Leverkusen. Chelsea are accused of spying in relation to Havertz, according to Bild
Marina Granovskaia, Chelsea's current CEO, is being investigated for a possible spy plot related to the transfer of Kai Havertz. According to the German newspaper 'Bild', Granovskaia obtained information from various consultants of the Leverkusen players such as Rudi Völler or Fernando Carro. All this would have the purpose of learning the weaknesses of the negotiating partners and their clubs, hoping to take advantage of it later.

Photos from as.com