Bettoni reveals the Madrid champion's plan: "It was for the mental"
Zidane's assistant gave an interview at L'Equipe in which he praised the coach ("His style is brave") and gave the keys that have made Madrid champion.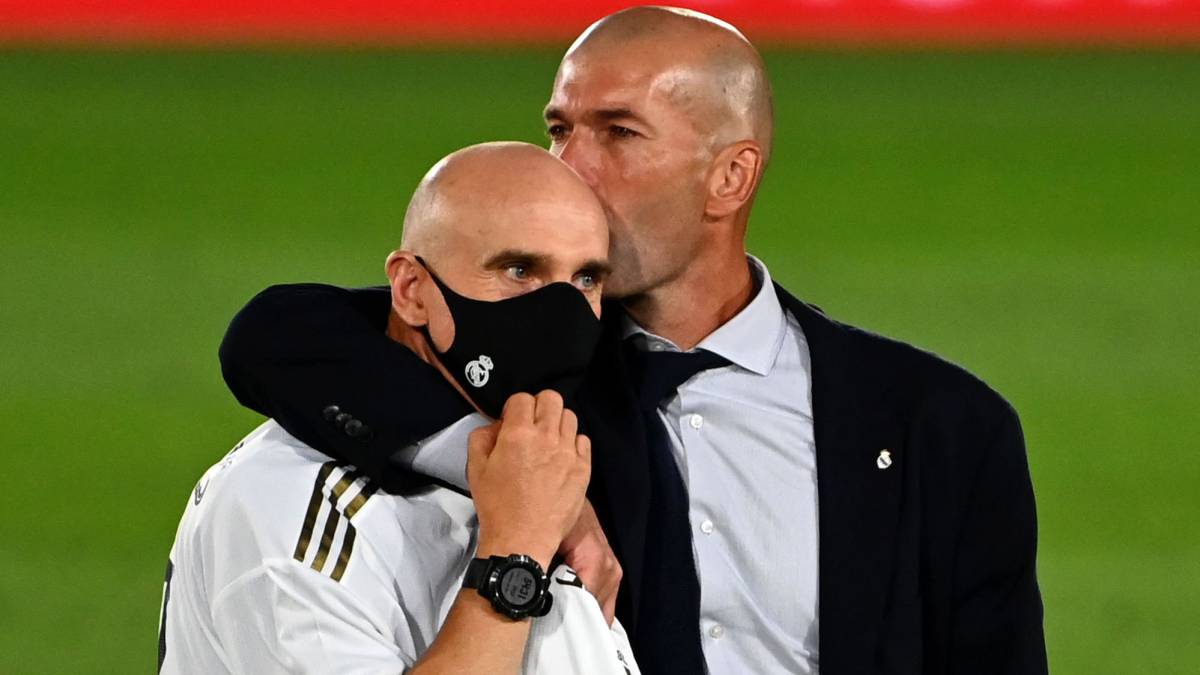 It was one of the images of the celebration of the 34th League of Real Madrid. Zidane, crying, hugging David Bettoni (48 years old). For the Marseille coach, Bettoni is not only his second coach. It is your right hand, your friend. The two have known each other since the age of 16, when they met at Cannes and are inseparable. Hours after conquering the league title, Bettoni, always cautious in the shadow of Zizou, gave an interview in L'Equipe in which he reveals how the coach managed to redirect a team that seemed worn to lead him to conquer the championship. The following is an excerpt from it.
After winning the League, Zidane hugged and kissed him. What did you feel?
It was spontaneous, as are all emotions. I think we have lived our best title. With Zizou, we functioned almost without speaking, and I think at that time we both had the same memories. In fact, our return to Real Madrid in March 2019 was more difficult than we thought and this season was very difficult. There was always this after Ronaldo left and the players were heavily attacked in the media. They were said to be old, etc. And then it's the coach who took his rank. We had very positive games at key moments, then disappointments and then the pandemic. In fact, this season, which lasted a year, was also full of emotions, satisfaction and blows and, on Thursday, everything came to light. There, they were no longer Zidane and his assistant, they were friends Yaz (Yazid, Zidane's middle name) and David.
Another image of the end of the League was the scream of Zidane after winning in Granada ...
Yes, because after the catastrophe of this pandemic there was not a coach and players, but human beings who had a great time together. Of course, it is just football, but it is also a means of happiness. And after this tragedy, there was a desire to give pleasure to those who follow us, to the Madrid players, but also to those who simply love the ball. This match in Granada was essential for the title. We knew we had to beat our rivals to wear them out. People thought that we were going to lose points in Bilbao and we won, the same in the Real Sociedad field and then in Granada, the revelation of the season. By winning every game, we have mentally worn down our rivals. And luckily, after our victory on Monday, Barça lost the following match against Osasuna, their first loss after confinement.
What does he mean by wearing down rivals?
It all begins with our reflection: what do we do after two months of confinement? Because here, we break all the concepts of training. The answer was creativity. Not to invent for inventing, but to think otherwise. We saw that we needed mental freshness for our players, so we got into that aspect. All people think that we bet on the physical, but no, it was on the mental.
But there was also a physical difference ...
The mental also defines the physical. First, we prepared our players well during confinement and they all behaved like great professionals, especially thanks to the good plan put together by Grégory Dupont. As soon as we had a return date for individual training in Valdebebas, we organized group sessions of 7-8 by videoconference with one physical trainer per group. Two a week. And we, the coaches, Zizou, Hamidou Msaidié and I, participate in these sessions as if we were players. It was a way to reconnect us all together. The success of the post-confinement return was the result of a united and creative staff who were not afraid to shake things up to adapt to an unprecedented situation.
Could you define the style of Zidane?
It's simple: an attacking team that respects the balance between attack and defense. But I don't know if we can talk about style like other coaches, where it is very pronounced. Zidane and his staff are especially adaptable. In some games we know that it will be especially necessary to be strong defensively, and in others, it will be something else. This is not an insult to Real from a total attack that we may have had at some point. When we returned to the bench, we told ourselves that we should not do the same. Not only because Cristiano no longer existed but because the players also needed another message. The Zidane style is brave, because it is not afraid to adapt. Now we are pushing more on the opposite side. He is a coach who is not afraid to make decisions, take risks and undertake. To change the system and two players at halftime, for example.
What are your habits during the break?
When we leave the field, I give my impressions to Zizou and, above all, I write them on the board in the coaches' locker room. And there, I leave Zizou only five or six minutes. He needs this reassurance before the small talk he gives players for the second half.
Is your reputation as an administrator of egos justified?
He is extraordinary in his relationship with the players. It is not a method, it is like this: it has a natural connection with the wardrobe. Therefore, he respects so he is respected. Sorry for those who are waiting for a specific "Zidane recipe" (he smiles). I'd just say he's the quintessential modern coach. A passionate and adaptable man who works hard and who also has great control over his emotions. During these closed-door games, where you pick up all the noise, I could hear other coaches expend energy as they followed behind the fourth referee, to press him. At one point, these trainers lost the thread emotionally and that is what Zizou never lost. He is always focused on the game.
How is it on a daily basis?
He is a man who allows you to express yourself, develop yourself, develop yourself, grow, but within a very specific framework. He is extraordinary professionally and humanely for the players and for all those who work with him (…) He wants to return that soccer is a collective sport in which you can only win as a team and where everyone is important. Even when you play less
As with Asensio, who returned after the injury and told him he was going to score.
Y dials fifty seconds later ... (laughs). Love your players and believe in them. Is positive. It will never lead you down a nervous path, it will always lead you to the top. And it also involves a smile or a pat on the back.There are also players who complain about not playing.
Sure, but he can talk to them. He is a complete guy, who is aligned between what he feels and what he says. When he states at a press conference that all players are important to him, he is serious. Deal with this type of conflict by telling the truth and being fair. It works in the long run.
What in your role?
Let's say that I am the "dynamizer". He who drives, who balances ideas. Who says to the coach: "This week we should do that!" Zizou likes people to give him ideas, but he wants them to be well discussed. But it is, of course, always he who makes the decisions, he is the boss. In training, he wants concentration, intensity, but always with a notion of pleasure. This does not mean that there are only games, but it wants the player to indulge even in effort, even in suffering. So, the technical-tactical ideas that I can contribute must be within this framework defined by the coach.
He conducts training sessions?
I am a co-host because it is Zizou who leads. He is always there on the floor, for all exercises. Being an English manager and staying in your office would not interest you. If there is no field, Zizou does not train. It is clear and clean! I take care of many things, but when it comes to pure tactics, for example, a well-defined defense attack or precise ball exits, it is he who drives directly. He is a very present coach in everyday life.
Photos from as.com