Bernal: "First of all I want to see what level I am at"
The Colombian was cautious on his arrival in Madrid, where he said that, before setting any goal, he wanted to see how his body responds these days.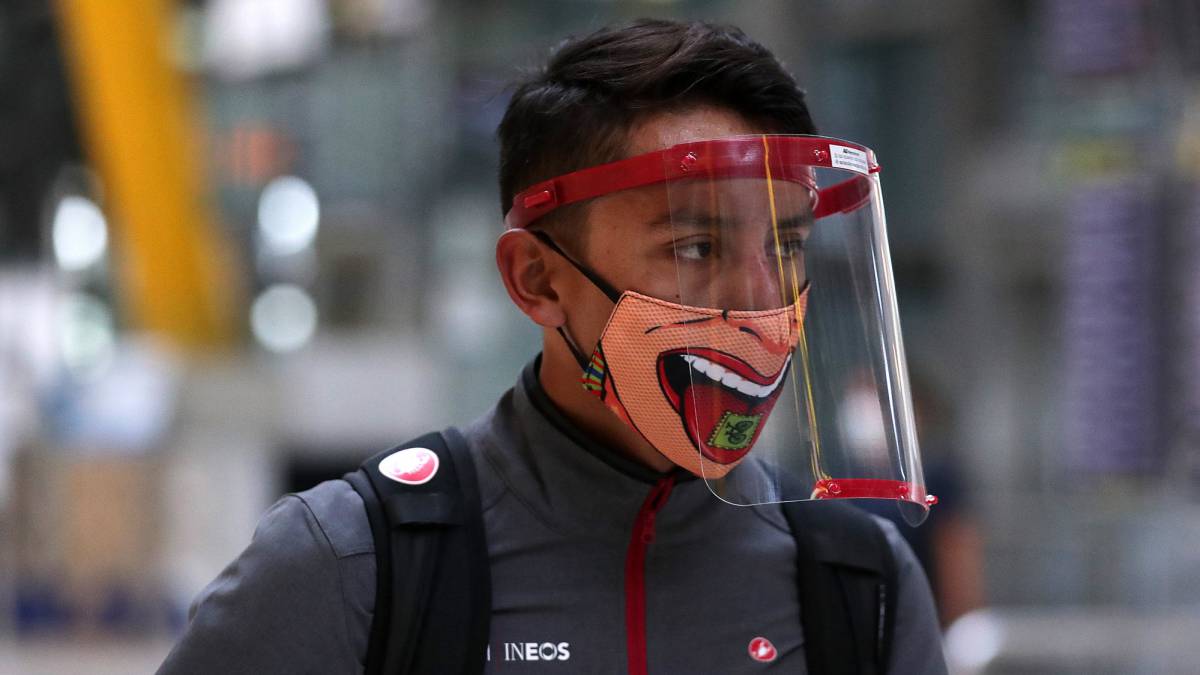 The Colombian Egan Bernal, current champion of the Tour de France, considered that this is a 'different' year as a consequence of the coronavirus health crisis and showed his desire to go step by step without hiding his will to revalidate the title in the French round .
"I train for that but it is a different year, completely different. We have not competed and for the moment what I want is to go to Andorra and see what level I am in. Then enjoy the races that will take place before the Tour. There we will look at what I'm at what level my colleagues are at. I think everything will start from there, "he said.
"The best thing is to go step by step, not get too far ahead of what may happen and just be here and now. Right now it is to go to the concentration, see what level I am on. I haven't competed in a long time, nobody does it It is a different season but we must have our feet on the ground. We are going through a very difficult moment and we must try to do things well so that everything turns out well, "he added.
Bernal, who landed at the Adolfo Suárez Madrid-Barajas airport with other Colombian athletes before meeting with his team in Andorra, says that everything that has happened has caught him by surprise. "I believe that no one expected a pandemic to come and affect everyone, not just cyclists but the world in general. There are quite a few sectors that have been affected. No one expected something similar but you have to face it with maturity, try to do things well, try to contribute our grain of sand so that together we can get ahead, "he said.
"We must try to make the best of these moments. Now I will be with my team in Andorra, we will try to enjoy this because it has been a while since we have had a concentration and we have not had contact with other cyclists. With all the measures security we will try to enjoy this concentration, "he declared.
Also, he spoke about the possibility that what happened may cause changes in his sport: "I don't know if there will be a before and after, I don't want to get ahead of things. I think the teams, the International Cycling Union (UCI) and everyone are working very hard so that this can be done in the best way. But we don't know how long it will last, if there will be a vaccine or not. It will depend on many things, so I'm not the one who can say that ".
Nairo Quintana, wanting to "continue to give his country joy"
Nairo Quintana, Colombian cyclist from the Arkea Samsic team, also expressed his satisfaction at being able to return to Europe to resume the competitions after the break due to the coronavirus health crisis.
"It was a calm, normal flight. We are very happy to return to Europe to continue the competitions again and continue to give our country joy," he explained upon arrival at the Adolfo Suárez Madrid-Barajas airport.
Quintana shared the flight with compatriots and trusted that the protocols to avoid contagion in the squad work while ensuring that they have not lost form: "We have been training without problem after they have given the authorization to train."
Photos from as.com