Baskonia 1x1: Vildoza was the leader; Shengelia the soul
Kirolbet lifted their fourth league title after defeating Barça in the final. The Argentine base was the MVP of the tournament. The center gave everything he had.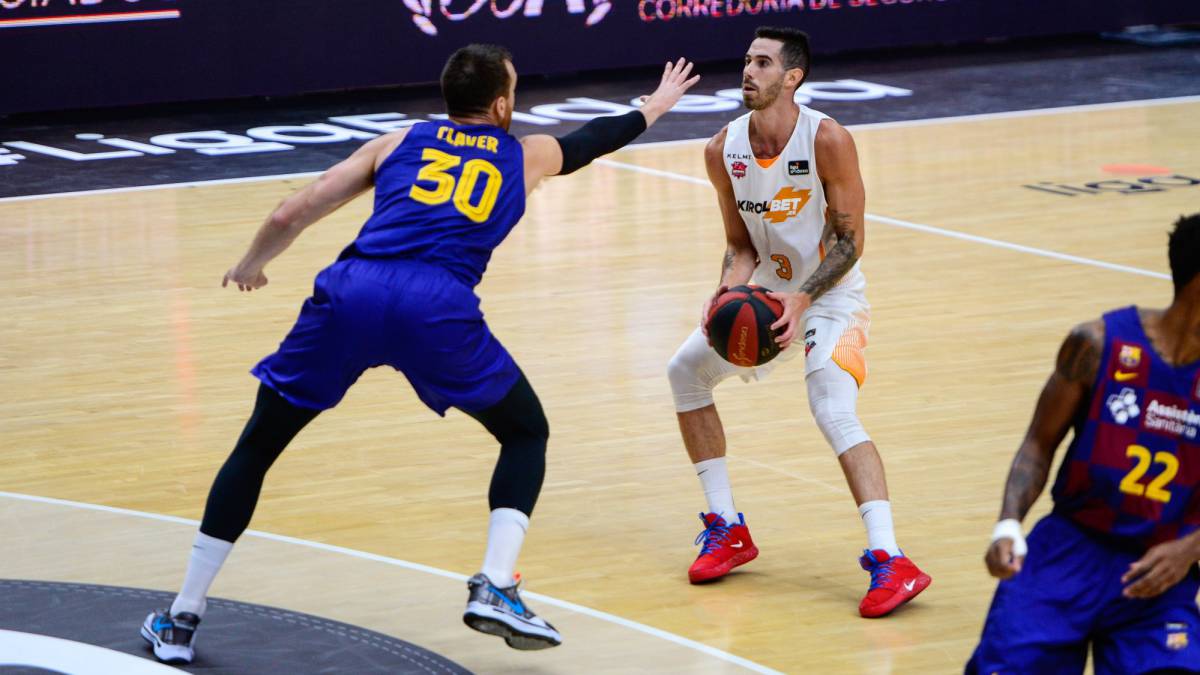 Kirolbet Baskonia is the new Endesa League champion. He beat Barça in the final by the minimum thanks to a basket with three seconds to go before Lucas Vildoza. The Argentine base was proclaimed MVP of the final.
Luca Vildoza. Outstanding. The base was MVP of the final. Not only for giving Baskonia the league title ten years later with a rascal basket with three seconds to go, but for his entire match. Its start was devastating. The best of Kirolbet: 6 points and 2 assists for 6 valuation. Then, he grew to 17 points to reach 25 credits. Only Heurtel surpassed him with 20. Fast, intelligent and brave, the Argentine star forever forgot that man injury in January to demonstrate the great basketball player he is. Rating: 20.
Pierria Henry. Remarkable. Slack in attack. Very weak with only 4 goals and a 1 of 7 in field goals. However, he had an outstanding role as a base on the defensive plane. With him, Baskonia endured the different attacks of Barça between the third and last quarter. Rating: -2.
Toko Shengelia. Outstanding. 14 points in 33 minutes. Only his teammate Shields played more (just a few seconds), but unlike the American he did it dry, with a sore back. That did not prevent him from ever daring in attack and jeopardizing his defense physique. Their simple presence gives confidence to theirs and rivals think twice before attacking the hoop. Rating: 11.
Shavon Shields. Well. The American hardly rest. He wasn't very lucky in attack, but he gave consistency in defense. It allowed the joyous circulation of the ball. Important. Rating: 7.
Michael Eric. Enough. Two points. That was the highlight of the center, who was very burdened by fouls. Rating: 4.
Tadas Sedekerskis. Did not play.
Matt Janning. Remarkable. After passing the first part on tiptoe, in the second he connected two fundamental triples. Rating: 6.
Ilimane Diop. Remarkable. His first part put him within the pools of possible MVPs in the final. The Spanish international signed 8 points and 6 rebounds in the first two quarters. His low participation in the second half, when Ivanovic placed Shengelia five, and Vildoza's strength finally ruled him out. Anyway, great meeting. Rating: 15.
Jayson Granger. Unrated. He only played two minutes. Rating: 0.
Zoran Dragic. Enough. A triple in the 10 minutes he was on the court. Little participation. Rating: -1.
Achille Polonara. Well. The Italian nailed a vital triple in the final moments of the match, when the victory did not know where to go. He played good four minutes with Shengelia.
Arturs Kurucs. Did not play.
Photos from as.com