Arenas: "I dedicate it to those who suffer from the Coronavirus and Rins"
"It has been a bit sad to run without an audience, but it is the best for everyone. I hope that many people have seen it and enjoyed it just like me," he says.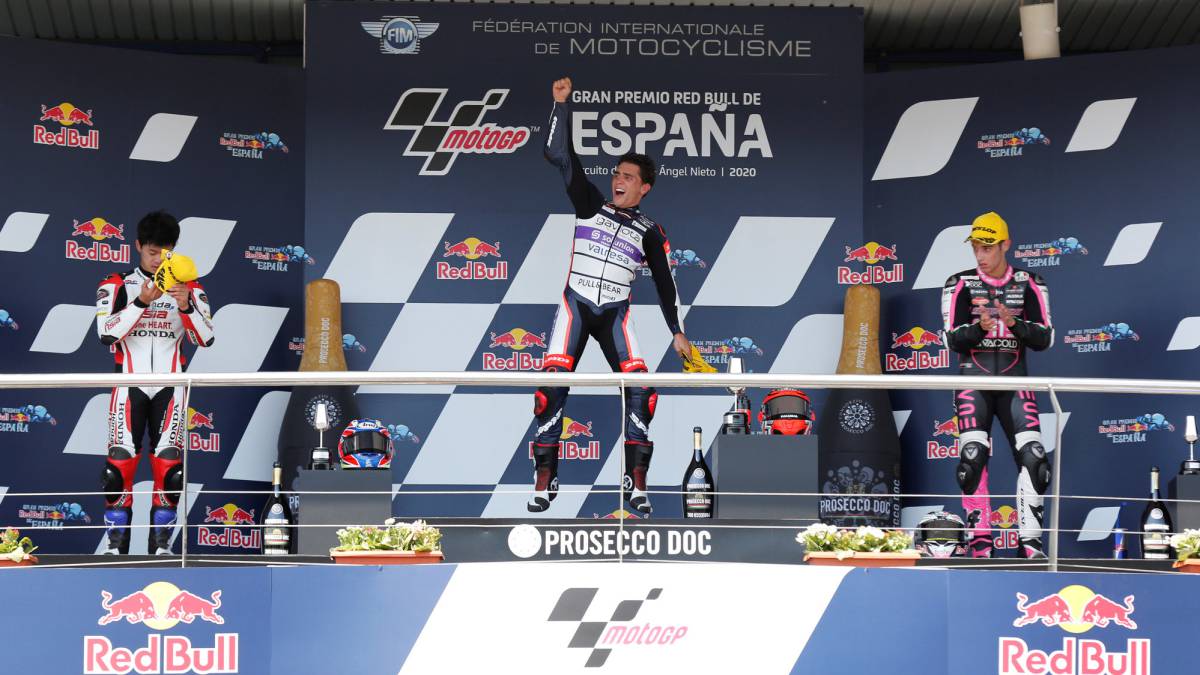 Second consecutive victory for Albert Arenas in Moto3, now in the Spanish GP, and after another heart attack race. He has been seen very happy in his statements to DAZN.
-It is the first time that he achieves two consecutive victories.
-Yes, yes, and it's incredible. We came here very motivated and we also felt the nerves to return. A little bit of what's going on and expectations. I have tried to stay calm. This morning the warm-up was key, because I left and came back since I was in the group and preferred to ride alone. I finished the twenties, a little behind, but I knew it was a good job for the race, because we have seen something and we have made a change. And then the race was incredible. Everything. How I have finished, how I have endured. The team work has been incredible and I am very happy.
-He had not been seen very high all weekend. Was it something wanted?
-Let's see ... I can't afford that much either. Yes, it is true that I have not sought to stand out or make myself seen just because. In FP3 I finished fourth, but here everyone is going to do a lap and there is a lot of difference between doing a lap and rolling. I have tried to feel comfortable and so it has been. I had a change to ride in a group and in the warm up I decided to ride alone and I saw that it was not enough. We have made that change, which has been key. It was incredible and at the beginning of the race I had several touches.
-With whom?
-With Arbolino, with Raúl (Fernández) ... I've hooked myself with Jeremy's footrest (McPhee). Not cool. I have gathered strength and put myself in front. Whenever I advance I try to make it as legal as possible, but if I have to take out the weapons then I will have to take them out. In Moto3 a lot of things always happen and you have to try to promote fair play. I also know how to pass by hitting axes. A last-round ax is worth it, but not on the fifth lap. It doesn't make much sense there, but I'm still true to my style.
-Who is this victory for?
-I want to dedicate it to all the people who are suffering this. We are so lucky to be here. We have grown a lot in this confinement. Running without an audience has been a bit sad, but it is the best for everyone. I hope that many people have seen it and enjoyed it just like me. And I want to wish my partner Álex Rins a quick recovery, who had a lot of bad luck yesterday. I dedicate this victory also to him. I'm sure more will come for him. I'm looking forward to disconnecting this afternoon a bit and thinking about the next one, which is also here. Keep it up
Photos from as.com