"I am lucky to choose when I go and when I come back"
Fernando Alonso, at a press conference: "I am motivated, happy and stronger than ever." "I am aware of what is in 2021," says the Asturian.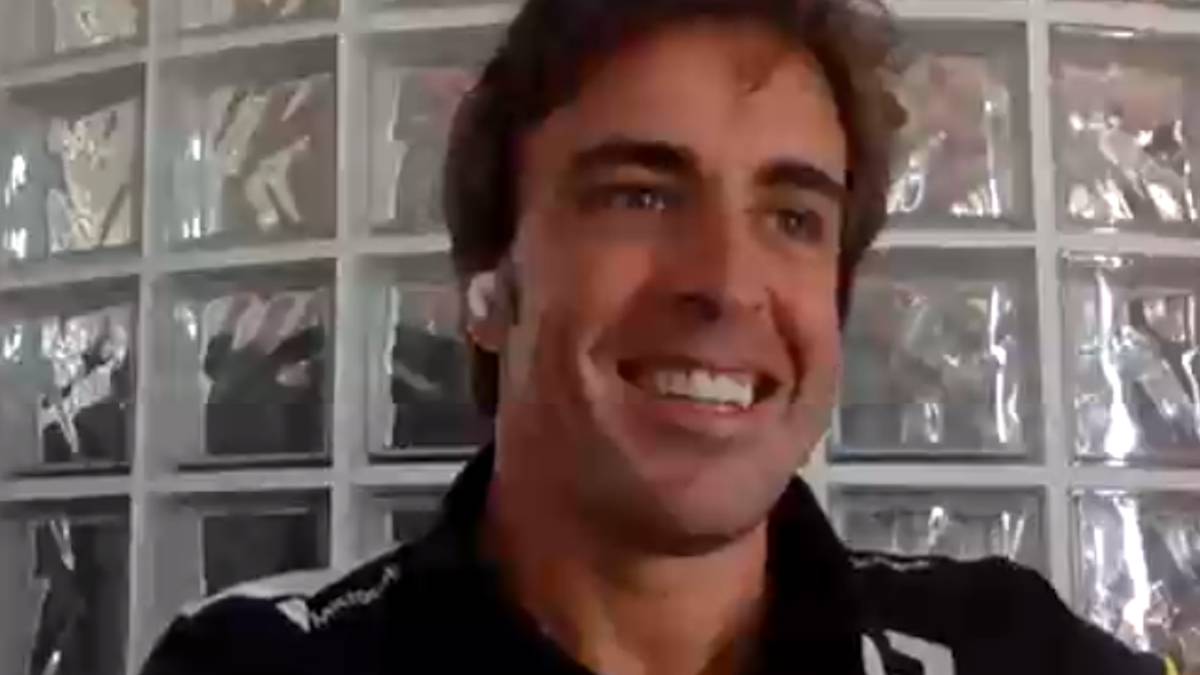 Fernando Alonso appears, for the first time, with the colors of Renault. Black and yellow, after being announced as the Enstone team driver from 2021, and sharing the screen with his new boss, Cyril Abiteboul. The 39-year-old Asturian is radiant at this return to the future in a press videoconference
-How do you feel now?
-It is a very important day. I am very, very happy with this lap and especially with Renault. We have had a very, very close relationship throughout my career and sharing many of the values that have led us to racing. From karting in Asturias, with programs from Renault Spain, to Formula Renault in single-seaters. I have achieved everything in Formula 1 together, all the golden age. I'm happy with this return
-How do you propose this return to Formula 1?
-In 2018, when I decided to take a breath and leave F1 parked it was a super wise decision. This year and a half has helped me get air and do a full reset. It has been very productive in terms of results. I won another World Cup, Le Mans and Daytona. It has helped me gather strength and want to return. I feel enormously privileged, very lucky dreams of F1 and does not have the opportunity. I am very lucky to choose when I leave and choose when I return. That possibility fills me with pride. I set a goal for the 2021 rules, they are delayed a year but still 2021 can be useful in terms of filming to create positive inertia in 2022. I am very aware of where we are going to be in the first steps, but very excited about work hard and have fun.
-How do you prepare to return after a few years out of sport?
- Last year was very active for me and this 2020 is the same for everyone, F1 has done a race in Austria and I did a three-week race, the Dakar. The world stood still for several weeks. Last year, adding the resistance, the IMSA, the WEC and the preparation of the Dakar, I was at the wheel almost every week of the year. I feel ready. Physically I have had to restart my body and I have started a very specific preparation. I did some tests 15 days ago and they are the best results ever in my career. I am motivated, happy and stronger than ever.
-How can you help with the progress of the team?
-I am aware of what there is, I have not been hidden during this time and I know that only one team wins in 2020 and will probably win in 2021. For the other 19 drivers on the grid, there is, we must work for our team and our future. The 2022 rules will bring justice to the sport with more balanced teams, it will be more difficult to invent something that provides a performance improvement. With all that in mind, you have to create a good moment. Today we already see motivation. I am happy and relaxed, I know what 2021 will be but I am hopeful for 2022. It is a matter of building something together. I trust, there is capacity, there are facilities and there is investment. All the ingredients are in Renault, I am calm.
-What do you think of Esteban Ocon?
-He ran in karting with one of my chassis, I followed him when he was a junior. He is an immense talent that we have seen in recent years and he was close to going to Mercedes recently. No one doubts Esteban's talent or his personality, he is great for Formula 1 and he has a bright future in this category. I am happy to share team with him. We are not friends because we have not spent much time together, but he was always open with me and we were talking a lot in these months of confinement.
-It will be one of the oldest pilots against a very young generation ...
-In Formula 1, the only thing that matters is the stopwatch. Not age. I have never seen a classification in a race based on the DNI. It is always time based, so I hope to be fast, faster than others.
-What will be your role with the young pilots of the academy?
-I am aware of the role of the pilot academy and they are the future. In my personal experience, every team that invests in pilot training has a reward later. I will help as much as I can with my experience in different categories and different riding styles. For the 2022 rules, I can help change the driving experience. I will do my best on the track and help the team to become world champion. If it is with me behind the wheel, fantastic, and if not with another driver in the future.
-How does the Triple Crown fit into your future?
-This year is the most important priority because I have only that race, the Indianapolis 500 Miles. I would love to beat her one day, it is a very special race and it will be even more special this year due to the lack of preparation compared to the filming that is done in a normal season. Until September we will not start with this work (in reference to the Renault), we will distribute priorities facing the final objective, which is in 2021.
Photos from as.com