"I am glad that people associate me with the values of the Estu"
Mariana González leaves the college team after defending her shirt for 16 years in a row both in the youth team and in the first team.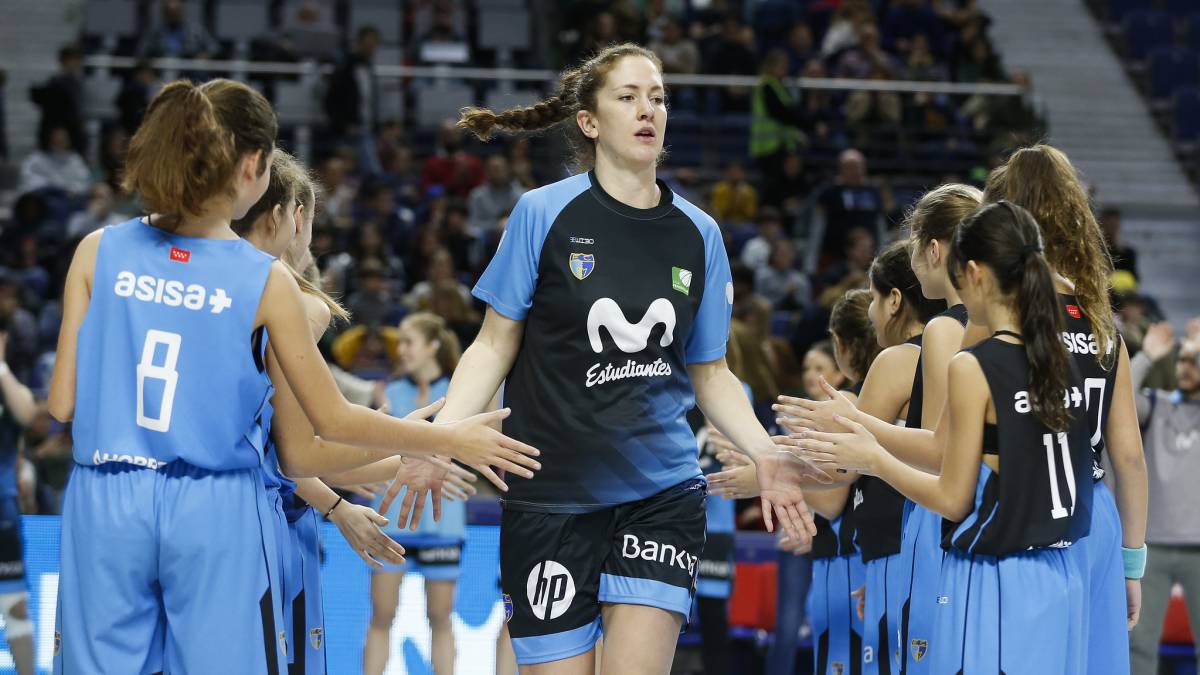 Mariana González (Madrid, November 11, 1988) is a legend in the Movistar Estudiantes. The great captain announced on June 30 that she is leaving the collegiate team after 16 consecutive seasons in it between the quarry and the first team. She is the highest scorer (2,648 points) and rebounder (1,493) in the history of the women's Estu, with which she has played 295 games, also top in the Ramiro club. And all this combining it with his work as a physiotherapist at the Magariños Medical Center. A very sad goodbye.
Are you sure you leave the Movistar Students?
Yes. At first I had a hard time seeing it and thinking about going ahead with it. But yeah, I'm sure. It will be hard for me when I see the girls and the team train, see them in the Magariños ...
In the last summers this goodbye has been around your head, why now?
I don't know what has changed from one year to the next. Maybe I'm older. Maybe I already know what it is to play in Women's League 1. Because I know what it is to make compatible, or try to make compatible, the work with playing and I did not entirely like that feeling in the past. I wouldn't want to repeat the same experience again if I didn't change something and couldn't find the motivation to do it.
Isn't it a little unfair to have to decide between basketball and work?
It is unfair, but it is so. Is a reality. Not all teams pay so that the players can dedicate themselves only to basketball. We need a future, something to live with tomorrow. You can't fully dedicate yourself to something you would love to exploit 100%, but ... how real is that. Then what do you do, what do you do? It's hard. When you are younger, you do not think about it and it does not matter a bit, but when you get involved in your profession, as in my case with physical therapy, you can put it aside for a year, but I have not found the motivation knowing that I can play and work in other lower leagues. That is not the same, but in the end it is basketball the same. Not in the club I want, but it's basketball.
His farewell from the club has been a bit bittersweet as he was unable to do so on the field due to the coronavirus ...
Yes. It is not as I would have liked, but the decision had to be made. It has been very complicated and I was thinking of spending another year… but lengthening things to finish on the track, it did not seem very smart.
Have you had a happy career at the Estudiantes?
Congratulations. Although I have had doubts in recent years because my head is like that, I have never regretted it. I would have done otherwise. I have achieved things that I would never have imagined, I have met incredible people, who today is everything to me ... Also, the last few seasons have been the best. I'm going well. If having to do it due to injury or feeling physically bad ... I'm leaving with a very good feeling.
The turning point to achieve those last good years is 2017, with the team that manages to ascend in León?
For me, yes. The fruit of a project that worked for a couple of years was seen. From there, we were taken more seriously, people became more involved and had a good time ... Everyone started to enjoy much more.
And you start to have more contact with the press, you go to TV ... And what did it cost you a world at first!
It has always cost me. I'm very shameful. It wasn't that I didn't understand it, but it was like 'I want to play basketball, I don't want to have to talk, I have to go ...' but I understand. Ripe. I realized that nothing was happening, that I even liked it, I was having a good time, I knew people ... In the end, these last two years, those of boom, I have also enjoyed that part.
"It would not be a bad idea to remove your shirt, very well deserved, an example of all the values of students (sic)". This message is from Juancho Hernangómez when his farewell to the club is announced. How does it stay?
I'm excited. It gives me even little because they are bigger words. I would love to, of course. I really appreciate your words. I am nervous that this could happen. That people have realized that the values of Students are in me, I am happy and satisfied.
How would you like to be reminded in the Students?
With that, with the values of the Students. With loyalty, fight, good vibes ... That people begin to remember players who have passed through the club, who have also marked and carried the values of the Estu.
What remains of that girl who started playing basketball in Capuchinos?
I think not much has changed. Everything remains. I am still the same, I still see my friends from school with whom I played, I still live basketball the same way.
What do you miss the most?
Pufff. Well, everything. The Students in general. The people, the fans ... Magariños is a temple for me, playing there with the public is the best thing it has on a Saturday afternoon.
He has left a very sad dolphin ... Send him a message.
(Laughs) Thank you for always being there defending us to death. And for coming to enjoy our games and for making people enjoy.
And now what?
The idea is to play. But first I want to know what to do in my professional life because that is why I leave the Student. It would not make sense not to advance in that sense to go to another club. First that and then yes, almost 100%, I will play.
And a Mariana trainer in the future ...
Enough people have told me not to disassociate myself from the club. But I do not see myself, I have never seen myself, I feel too player. I don't know if I would be a good trainer, if I could keep a cool head. I don't know in the future, but now the time I spend in basketball is to play.
How do you see the Student project for the next course?
The equipment they are making seems brutal to me. It seems to me that they are going to do it super well.

Photos from as.com