Álex Rins: "There is little hope of running on Sunday"
On Saturday's incident with Marquez: "If Marc didn't see me at Turn 2, that's okay, but he didn't pull away until we were at Turn 5."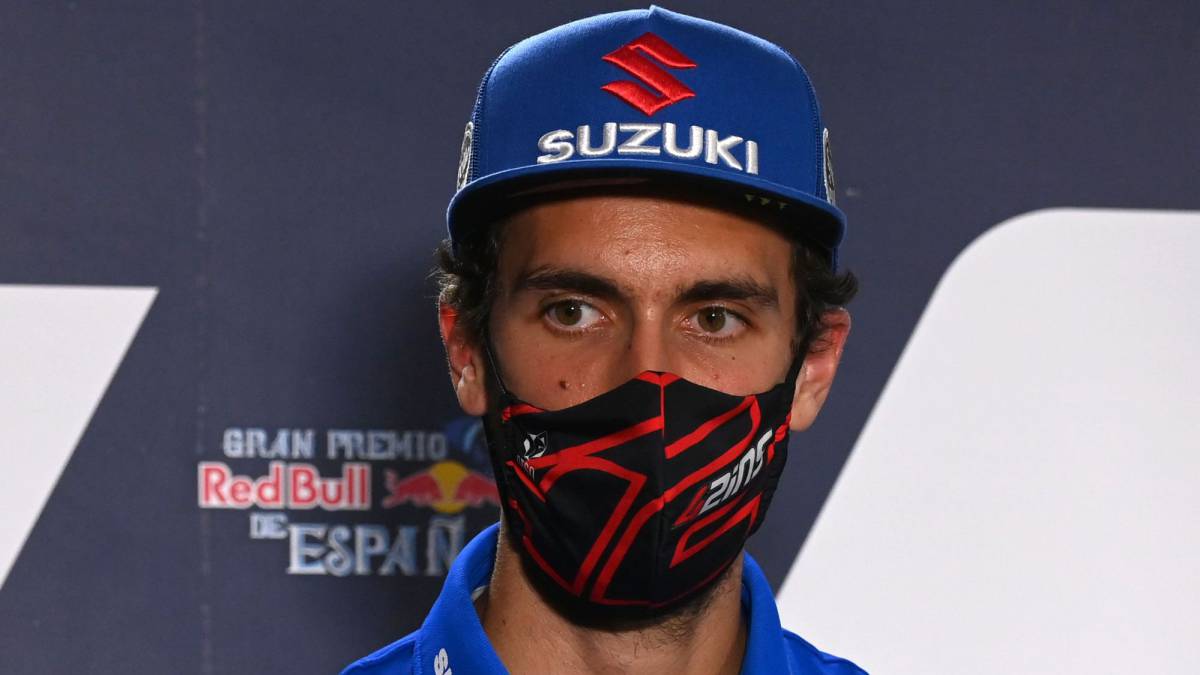 With his arm in a sling, due to the fracture-dislocation he suffered in the right shoulder after a fall in Q2 on Saturday. This is how Álex Rins appeared at the telematic press conference, and with the least hope of being able to run the Andalusian GP next Sunday on the back of the Suzuki.
-How are you?
-Now, at half past five in the afternoon, I feel quite well. I've had a bad night and woke up many times. The morning has been quite hard, because all the medications are gone and I have had enough pain. At eight thirty we have sat down with doctors Charte and Mir, to assess the situation and what they have told me is that, when the shoulder comes off, there are several torn muscles, but especially one that is more torn than normal and if I got on the bike, in addition to not having the strength to get on, my shoulder could come out again. We have to wait until next Thursday, when they will give me a new resonance, to see if the bone edema has decreased, the blood in the bone, and from here assess. Last night I already started with the magnetotherapy, ice, compex treatment and the truth is that little by little I feel that the inflammation is decreasing, so I will try to be ready for Friday.
-How was the fall?
-It was a very strong fall, very fast and without understanding it. Michelin and Suzuki have analyzed telemetry many times and have no explanation. As soon as I leaned, I lost the wheel and I had two options: leave the bike and that nothing happened to me, but that the bike left against Miller, or try to save him and dodge him. I opted for the second when I saw that there was a companion on the ground, but when I entered the gravel, I shot out. I went in very fast and with the wheel crossed, so I shot out and hurt myself.
-Seeing how the race has gone, do you feel even more angry at having missed it because you understood that you could have won it?
-I'm not one of the people who says: 'jolín, with the rhythm I had I could have won the race'. It really made me angry to do this to myself seeing how the FP4 had gone, because I had a very good rhythm and I kept the rubber a lot. Marc had a little more rhythm than we did, but he was up for a fight. This happened to us and we have run out of options. I'm here because there's a modicum of hope that I can be all right by Friday, with less pain, and I'll certainly try.
-With Márquez out of the game for a race, do you think you can have a title option despite the Spanish GP zero?
-It is a championship in which it is important not to fail and we have already failed a race due to injury. There have been many injuries in this race and falls. Too bad Crutchlow was injured too, but you have to look ahead and, as far as it goes, I'm here and I have a little shoulder mobility. I have hopes to test myself on Friday. The same I get on the bike and I can not make even two laps in a row, but until I try ... Fabio, Marc, Maverick and Dovi have made a great race and will be the rivals to beat right now.
-Tell your point of view of what happened yesterday when Márquez hindered him, but they did not sanction him because there was a yellow flag. Are you surprised that you were not sanctioned?
-What happened was clear. There were still two minutes to finish FP3. It is not because of going against a driver or because it is Marc. Suzuki complained because it is the second time we have encountered the same thing. Normally, when you cut for the yellow flag or whatever, you pull away like Jack did. If Marc didn't see me, he didn't see me at Turn 2, that's okay, but he didn't pull away until we were at Turn 5, which is a bit more tense already. I respect the decision of the Race Direction, which is the one that sets the sanctions, not us.
Photos from as.com