Zidane: "I won't be here 20 years, being a technician takes a lot of work"
"Espanyol is going to make it very difficult, they need points. It is another final and we are going to have to play the game to the fullest and be focused," warned the Real Madrid coach.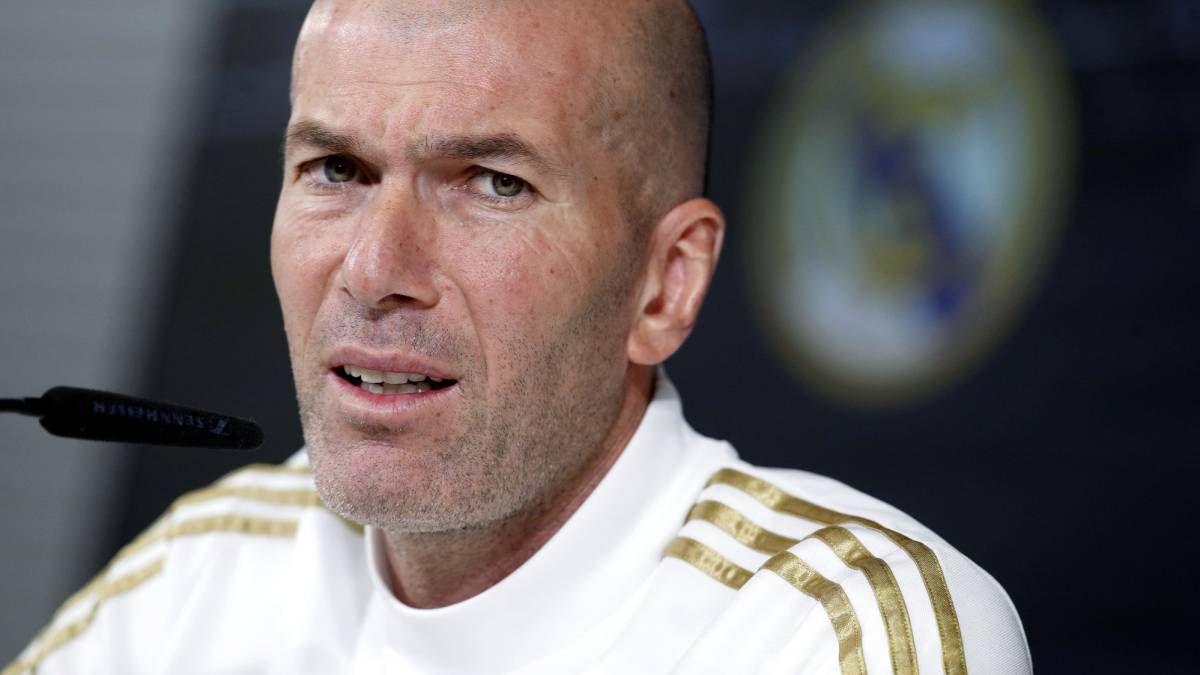 Real Madrid coach Zinedine Zidane appeared before the press in the preview of the duel that will face the Whites with Espanyol at the RCDE Stadium in the game that will close the day on Sunday (22:00 hours). A key match for Real Madrid's aspirations for the League title, since if they win, they will continue to lead the championship regardless of the result of Barcelona.
Seven finals. I did not know anything, we must continue with what we are doing. Tomorrow Espanyol will make it very difficult, they need points. It is another final and we will have to play the game to the fullest and be focused.
Three home defeats against teams from the low zone. We are not going to trust ourselves, we know that we played the first against the last but this is worth nothing, it must be demonstrated on the field, because they play at home and they will want the three points. We want to put determination into the match, but Espanyol will do the same.
Abelard's resignation. I don't have to say anything, whether it's good or bad. Only I am very sorry for Abelardo, these are always difficult times.
Sergio Ramos. He already had qualities and personality, he wanted to win, he wanted to do what he is doing, history in this club. I am not surprised what he is achieving, I hope that he continues like this and that he continues until the end. I am going to retire earlier, I will not be 20 years, but since I am an atypical coach, everything can happen.How long will he train Real Madrid? I don't know, I don't plan anything in my head. What animates me is the day to day. In my head I have always been a footballer, I was almost 18 years as a player. I said I would never be a coach and now I am, it wears a lot and we will see. But not 20 years, for sure.
He has always felt like a footballer. Do you feel like a better coach than a soccer player? No, nothing. I am a better footballer, of course. But just as a footballer. Good, but there was much better. I am happy with what I have done and especially with finishing as a player here, that is the most.
The team has the best defense in Europe along with Liverpool, who have already won their League. Can that defensive factor help Madrid? Insurance. For me, who is one who likes to play more, the defensive is the most important nowadays. And we have the defense that we have and the advantage that they are all committed. Defending is not a four or five player thing. It is a matter for everyone and it is what we are demonstrating, a team strength, an attitude that is very important to win important things.
Do you have aspirations to train specific players? Would you like to train Mbappé? I am lucky to be here at this club and train here. I don't like the word luck because in life there is no luck, you have to believe in what you do, enjoy what we have. Even when? I do not care about that. So I live day to day. I can say that I am lucky to train the best, because being in the best club in the world in the end you have the best. I am enjoying games, but where I am enjoying much more is in training, because there ... the hell!
Do you like Mahrez as a player, what do you think of his qualities? Is very good. He is a different player. Technically very good and vertical, he always looks for the goal and is fast especially with the ball. But in the end he is not a player of mine. Apart from the quality he has, he is a player from another team.
The attacking effectiveness with the goal has also increased. To what do you attribute this? We have not changed anything. Even the players for 60 or 70 days did not do much with the ball at home. There is nothing special. What I can tell you is that the lack of not training with the ball has been good for the team, because now they have a hunger to return to play and train, to enjoy what they are doing every day, which is now reflected in the field and especially in training.
A couple of months left to finish the season. What idea do you have Because after what he has said, many fans will see ghosts or they will be scared for what is repeated in 2018. No one should interpret what I say. The reality is this: I am in the best club in the world and I think about what I do. I'm fine. What will happen does not matter. I'm not in it, but in what I do every day. Here when I lose a game they will criticize me, but that does not change anything. We are fine, but we have not won anything. I say the same to my players: us to keep working hard. We are all thinking about the same thing. Of the rest we do not control anything, we focus on what we can control. The rest do not worry that my future is the least here.
Basketball Madrid was eliminated from the League. Do you think that you are little appreciated what you are doing with your team or that demand that has the name of Real Madrid is a sentence for both football and basketball? We know where we are and the difficulty of that. But nothing will change. The important thing is the dynamics that you put in every day. Now it is good and we have to continue. There are teams that come back with difficulties, others a little better ... But we are all in the same boat and we have many games and a lot of wear. You have to think about recovering well, in the details. We have seven games left, we just have to think about tomorrow's game and play.
Vinicius is not yet 20 years old and has shown mental strength despite the ups and downs. Is your personality key to what you are experiencing now? The players know where they are and everyone who works here, each on his own pitch, has highs and lows. It is life, nothing will change. We are in a good moment and Vini too. You have to go slowly with everyone. There are 25 players and we are on a path where we all look at a team thing. We are always looking at the team and that is the good thing.
How is the complementarity between Varane and Sergio Ramos? What is the strength of this duo based on? I think what they do is exceptional. I don't like to talk about one player or two, because what matters is the team. But this duo has an exceptional track record. They give us joy for the club and for me as a coach. They are players who provide a lot of guarantee.

Photos from as.com