Zidane, Vinicius's teacher
Zizou started by advising the Brazilian in training, who one day asked for individual help. Valdebebas is the classroom of those private classes.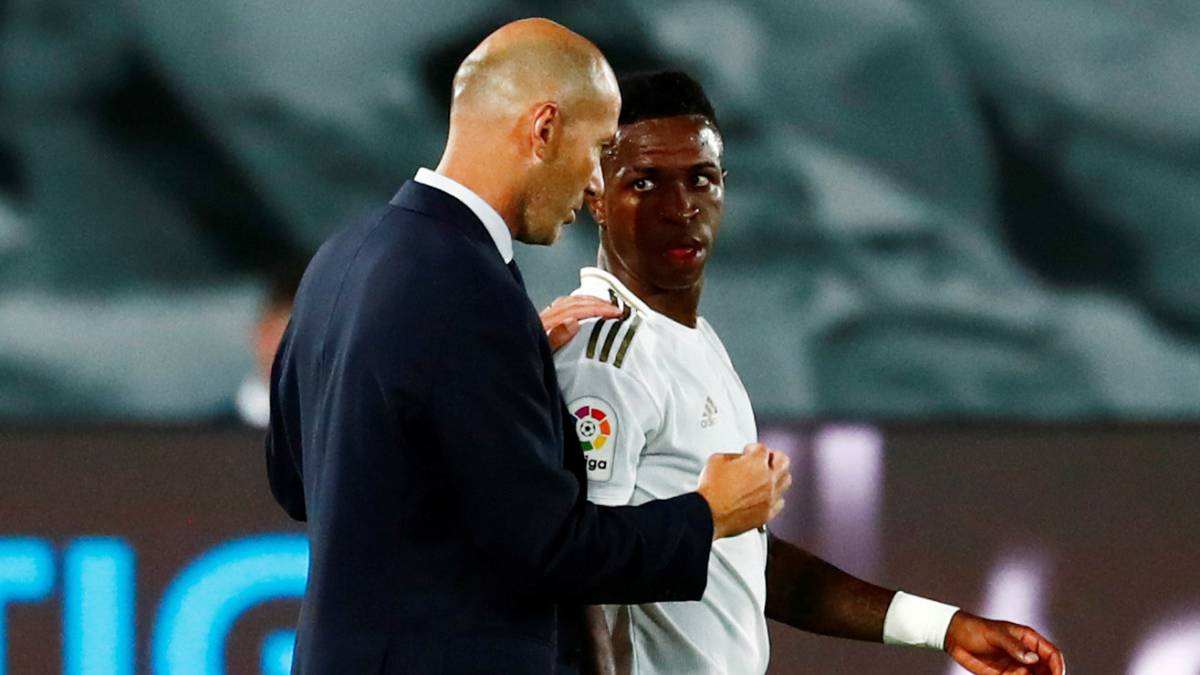 Once Vinicius (19 years old) recovered from the serious injury he suffered in March 2019, Zidane paid great attention to his ways in training. The coach saw a lot of potential in him, but also a wide margin for improvement, so the advice, especially for the completion, was continuous. After a few months, at the beginning of this season, Vini, to whom his colleagues had spoken wonders of the Zizou coach, did not miss the opportunity and, to ZZ's surprise, decided to ask him for extra help after the group sessions.
Zidane, a boss with a psychological gift for humane treatment, and his technical staff picked up the glove. Depending on what the schedule allows, since then they usually rehearse the definition two or three days a week. Vinicius also takes homework, where he watches videos, analyzes body postures for hitting and contact surfaces with the ball. He studies every detail that influences those final meters that have made him a brilliant performance and that in Brazil, on his ascent to the first team of Flamengo, were not a problem.
Audiovisual support is not only for professional purposes, but also for recreational purposes. Vinicius, who by age almost did not see Zidane live, has been looking for his videos on YouTube since the Marseillaise began his second stage on the white bench. He enjoys them as much as the proximity of the mister, who at his worst moment, when in November he did not summon him, was affectionate with him and explained the reasons for his absences. For this reason, aside from his dream of succeeding in Madrid, he never contemplated an assignment in January.Same weight, more explosive
Zidane celebrates this Vinicius just as intrepid but, at the same time, calmer, more mature in decision-making and, very important for the coach, more supportive in defense. Against Mallorca, when the Frenchman changed the scheme and the position of his great star, Hazard, so that Vinicius entered him in eleven, the attacker was the Madrid player with the most balls recovered, 9. In addition, he made it 1-0 and led the records of fouls received (3), occasions created (2, like Benzema), dribbles completed (2, like Modric), anticipations (2, like Ramos) and back passes (2, like Bale). However, because of his daring, he lost 13 possessions.
In the club and in the locker room, Vinicius' physical state, already explosive, stands out. The key is kept by his confinement, during which the attacker worked tirelessly. He did not want to lose the bellows that he had worn in February and March, still less knowing that Hazard would be available with the resumption of competition, and he joined the routine designed by Dupont to that of his personal physiotherapist, Thiago Lobo, which he signed in April 2019.
With Lobo and Wesley Menezes and Luis Filipe Menegate, two childhood friends with whom he lives, he exercised in double session every day of the week, with a total of three and a half hours daily. The mission was to strengthen his muscles, define them, be more fibrous, but starting from the premise of not gaining mass because he does not need it and, on the contrary, he ran the risk of losing that vital speed for his rides and dribbles. Its weight, therefore, has hardly changed. With the care and teachings of Zidane and his dedication outside Valdebebas, Vinicius, who has participated in five goals in his last seven starts, asks for a place in the eleven.
Photos from as.com