"Barça will regret leaving Kubo on a layup for Madrid"
Joan Vilà, one of his discoverers and supporters at La Masia, attends AS. Experience in finding talents to spare: he molded and forged Xavi Hernández.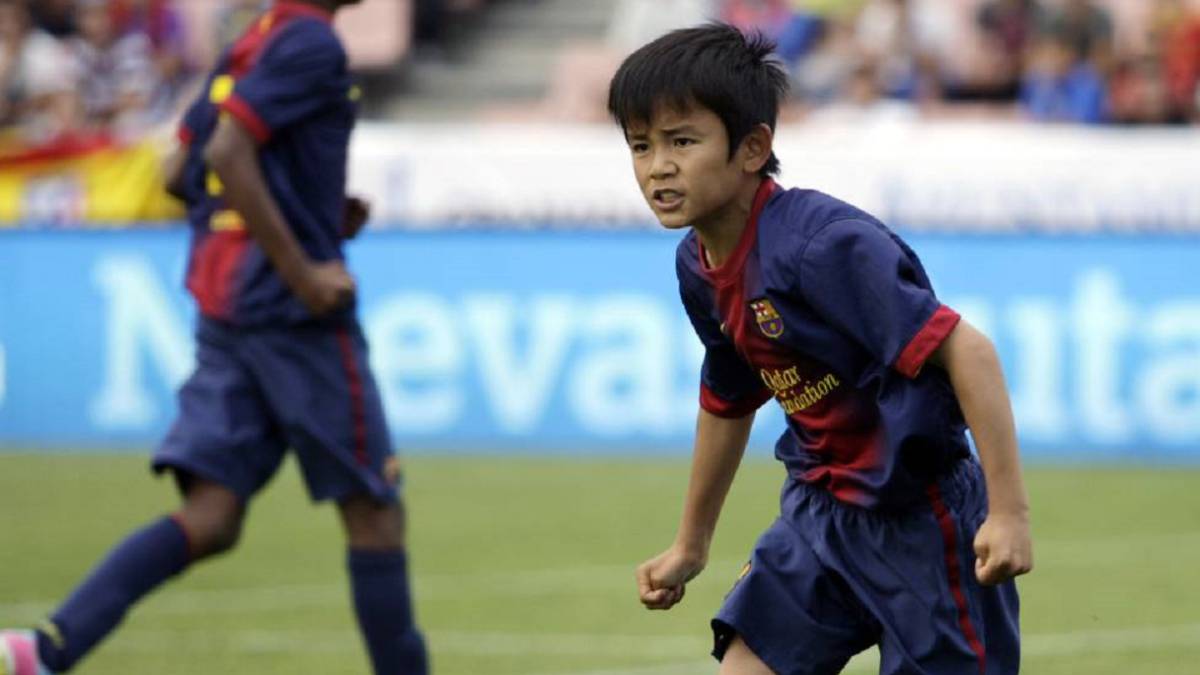 When Joan Vilà is asked about Take Kubo (19 years old) he frowns. Crosses are still made because of the way Barcelona let out such talent last summer: a player trained at La Masia, who arrived at the club at the age of eight and who has Blaugrana DNA imprinted in his genes. "When Take realized that Barcelona was not betting on him and that he was not making an offer, he burst into tears," recalls Vilà, still convalescing and recovering, after spending two weeks in the ICU because of the coronavirus. "The doctors told me that he had only a 10% chance of getting out alive, but here I am," he reveals.
How did Barcelona discover Take Kubo?
A home coach, Oscar Hernández, made a report in 2009 about the player in Japan. He explained that he had found a different player, very intelligent and with great talent. I personally went to Japan to check the functioning of the Schools and took the opportunity to follow up on it. I reaffirmed that he was a different player, that we were facing an exceptional player of impressive talent. It must be borne in mind that we were talking about an eight-year-old boy.
What surprised you the most?
His intelligence on the field and how he translated it into every game action. He anticipated each play, he was fast physically and mentally. He stood out above the others.
And with the addition of the discipline of Eastern footballers?
Yes, but it is not its great virtue either. He is a very disciplined player, but that does not limit him to also be creative and great. The Japanese player often prioritizes discipline over talent. That is not the case with Kubo. He has a great capacity for improvisation and genius, without renouncing discipline.
Are you left-handed basically?
He feels more comfortable when executing his actions with his left leg, but he can be considered almost ambidextrous. You worked a lot with your right leg.
What did Kubo learn during his time at La Masia?
Innate talent has been increasing since he entered here at the age of eight. He learned to play in associative football, to create superiorities ... Everything has made him grow in his creativity and confidence. At 19 he is a very complete player.
Do you still have contact with him?
Yes. I have great affection for him, both professionally and personally. I follow him and I can say he is playing really well. With unusual confidence and performance.
Do you think Barcelona will regret their decision not to sign him?
Yes. It is one of the big mistakes the club has made in the last decade. We are going to regret and have let Kubo escape and have left it on a silver platter for Real Madrid.
How serious is it?
Yes. It is an improper mistake of a club like Barcelona. Letting out such a talent is very serious, but even worse if it is a striker, who are highly coveted and sought-after pieces on the market.
The dream of seeing Ansu Fati and Kubo together again with the Barcelona shirt disappeared…
When I think about it I feel real helplessness. Two kids from the house, culés to the core, forwards, with a great talent, yours at almost zero cost, and you let one of them escape. We are talking about two dominant players, who will be a reference in their teams very soon. If not the best in the world, they will be very close in the next decade.
What is Kubo still missing?
Things always have to be improved, constantly. He must gain physical and strength for his confrontations with the defenders. But he is already a very brave and determined player in all his actions. He's not afraid of anything. He lacks a bit of physique. It is not very high. But otherwise, he is a very well-made player. With the talent and intelligence to be among the best in the world very soon.
Photos from as.com