Two records for Ter Stegen
The German goalkeeper had never been back on track in five league games without conceding a goal and will also overcome his best unbeaten streak on Saturday against Celta.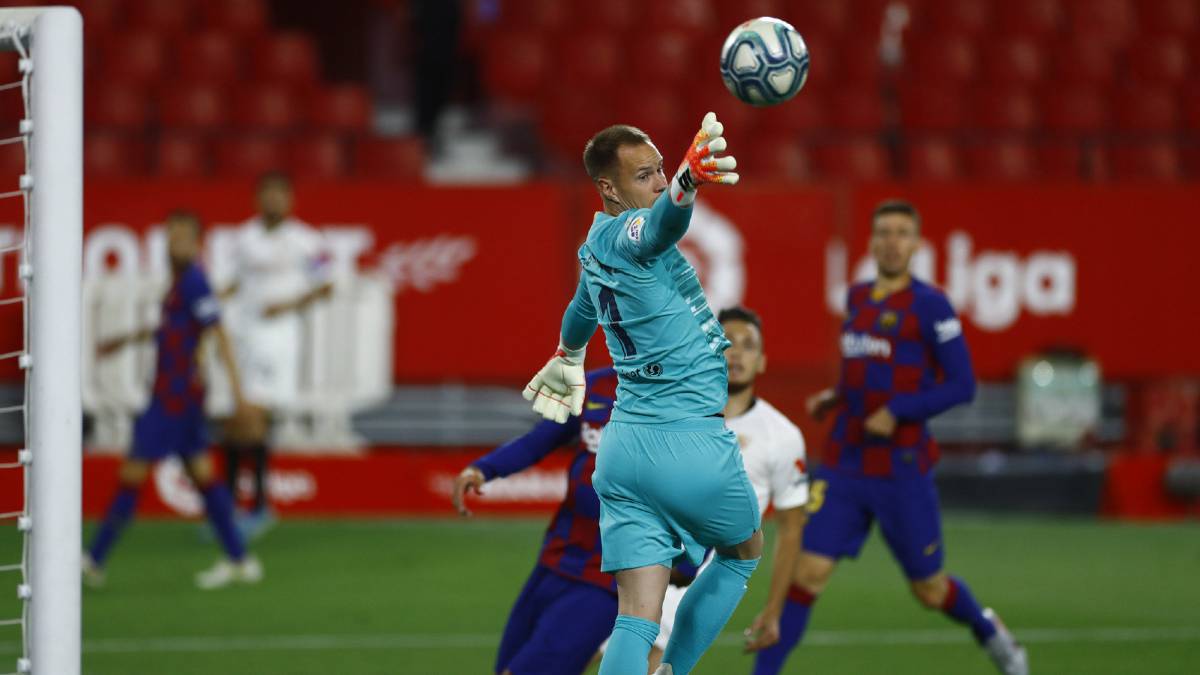 German goalkeeper Marc André Ter Stegen reached a new personal record against Athletic on Tuesday: adding five games in a row in LaLiga with a clean sheet. Until now his best records have been four games without conceding a goal: Villarreal (0-2), Deportivo (4-0), Real Madrid (0-3) and Levante (3-0), in the 2017/18 season, and Villarreal (2-0), Espanyol (0-4), Celta (0-5) and Levante (2-0), in 2018 / 19.
This season already has a total of five consecutive unbeaten matches: Real Sociedad (1-0), Mallorca (0-4), Leganés (2-0), Sevilla (0-0) and Athletic (1-0). In fact, Ter Stegen has not picked up a goal from the back of the net since the classic at the Bernabéu on March 1 when Mariano scored in the 93rd minute, putting the score 2-0. Thus, the German goalkeeper has been locked for almost four months.
This course already accumulates a total of twelve LaLiga games without conceding a goal, which added to the two in the Champions League and one in the Copa del Rey, account for a total of fifteen matches with the 'do not enter' goal.
This last streak placed him with a balance of 450 minutes with the goal at zero, thus equaling his best numbers in Barcelona. In the 2017/18 season, the streak began in August 2017 in the Spanish Super Cup, starting in the 39th minute, after conceding the second goal of Real Madrid (2-0), the work of Benzema. From here he added 90 minutes at Barça-Betis (2-0) in LaLiga, another 90 at Alavés-Barça (0-2) and at Barça-Espanyol (5-0), adding 90 more in the Champions League against Juventus (3-0) and ending in the 39th minute of the match against Getafe (1-2), because of Gaku Shibasaki. In total 450 minutes.
So, next Saturday against Celta in Vigo, the German international will overcome his current unbeaten minute streak. Although Óscar García's team scored as soon as the match started, it would be counted as one minute on the official record, totaling 451 minutes, and thus exceeding his best record since joining Barcelona in the 2014 / 15.
season
Photos from as.com