Only Courtois, Carvajal, Varane, Ramos and Benzema have been starters in all four games since the LaLiga restart. And all five have been vital in the four consecutive wins.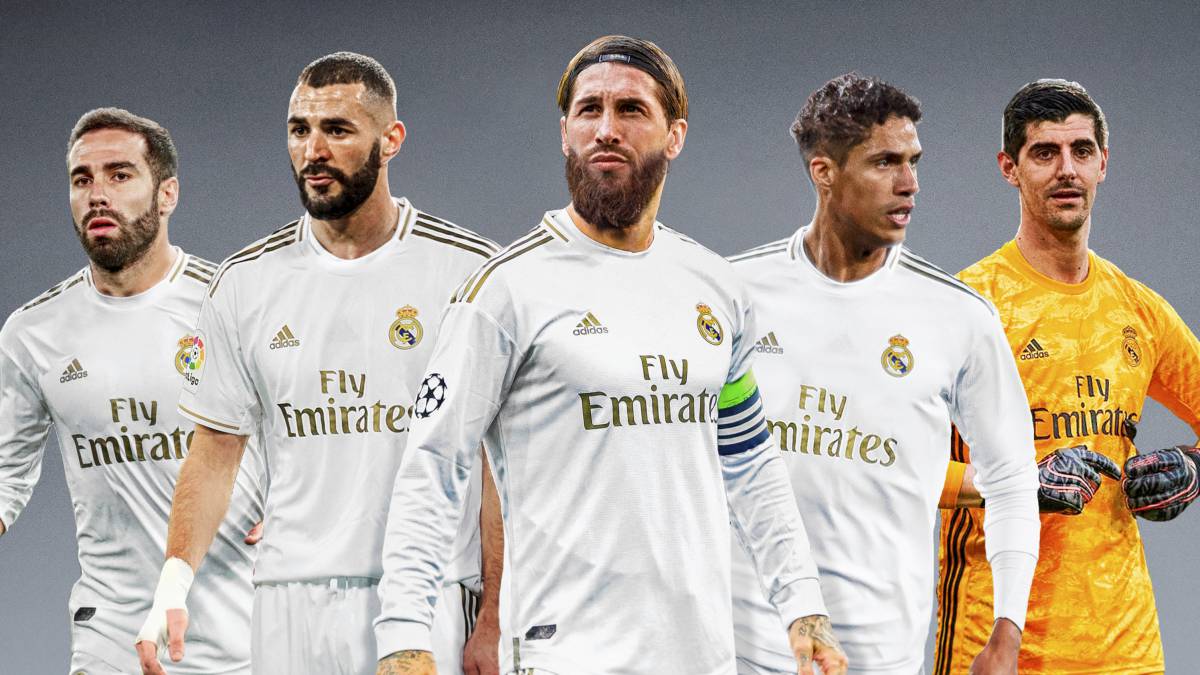 The 110 games in 39 days with which LaLiga wants to save the furniture of the season after the break due to the coronavirus crisis force almost superhuman efforts on the part of most soccer players. Also at Real Madrid, who has faced this restart of LaLiga with four victories in as many games, ten goals in favor, two against and 12 points out of 12 possible that have boosted him to the first place in the classification, which he will keep safe if he wins in the seven remaining goals until the end of the championship.
Madrid's first four games, against Eibar, Valencia, Real Sociedad and Mallorca, took place in 12 days; With tonight's visit to Espanyol, there will be five duels in 16 days. So far Zidane has shot 21 men, all available from the first team except for the substitute goalkeeper, Areola (without counting the injured Lucas Vázquez, Nacho and Jovic). Although not everyone has told the same thing; there are only five that have been starters in each of the four matches played so far. They are the five of Zizou: Courtois, Carvajal, Varane, Ramos and Benzema.
As expected, they are also the five footballers with the most accumulated minutes since the championship restart. Courtois and Varane accumulate 360 minutes, 100% of the possible ones; Benzema, 341 ', only rested just two moments against Real Sociedad and Mallorca; Carvajal, with 315 ', was traded at halftime against Eibar as a precaution after spraining his ankle, but since then he has played it all; and Ramos, with 300 ', rested half an hour against Eibar, with the game on track, and another half an hour in Anoeta after a painful blow to the knee by Isak. The other 16 footballers used by Zidane since June 14 have played off the bench at least once.
Zidane's dependence on these men is logical. Courtois is the goalkeeper of the Marseille coach, who came to cause Keylor to leave by clarifying the issue in goal. After the transfer of Odriozola to Bayern, Carvajal has no substitute on the right, to the extent that when he came out as a precaution against Eibar, Mendy, left-back, took his place; Militao has lost a good part of Zidane's confidence for that role and Nacho, the other option, is injured. That absence of the youth squad and the doubts that the Brazilian generates also affect the non-rotation of Varane and Ramos in the center of the rear
And finally Benzema, who with Jovic injured hardly has any competition. He has Mariano behind, to whom Zidane has given 19 minutes divided into two moments; the Spanish-Dominican does not pose a threat to Karim, Zizou's favorite striker, as he recently made clear: "He likes soccer, associates with everyone and well, in the best possible way. Then people are interested in him scoring If he does not score it is already bad, I do not share it. It gives us a lot, if he scores a much better goal, but I am not interested in a 'nine' that scores a goal and does not appear in the game. Karim has both. " In addition, in that task of goals Benzema has returned on a good note: two to Valencia and another to Real Sociedad, for the moment.
Second line
In a second line of importance so far, as far as minutes are concerned, there are eight other footballers. Kroos, with 298 minutes, finally rotated against Mallorca, although he came out in the second half to tie the victory; Casemiro complied with the vermilion, otherwise we would probably talk about the Zizou six; Valverde (259 ') and Modric (246') dispute to be the third leg of that midfield; Mendy (226 '), with her defensive solvency, beats Marcelo (179') for the moment; and Vinicius (210 ') and Hazard (205') are almost tied and Zidane seems determined to stop making them compete, at least for the moment, because against Mallorca he aligned the two in an ultra-offensive proposal that yielded irregular fruits, but which translated into three points with a goal included from the Brazilian.
Photos from as.com