The week of the hot benches in Spanish football
Betis, Espanyol, Almería, Lugo and Valencia have changed technicians in just one week. Parakeets have four in one season. Celades, the last to be removed.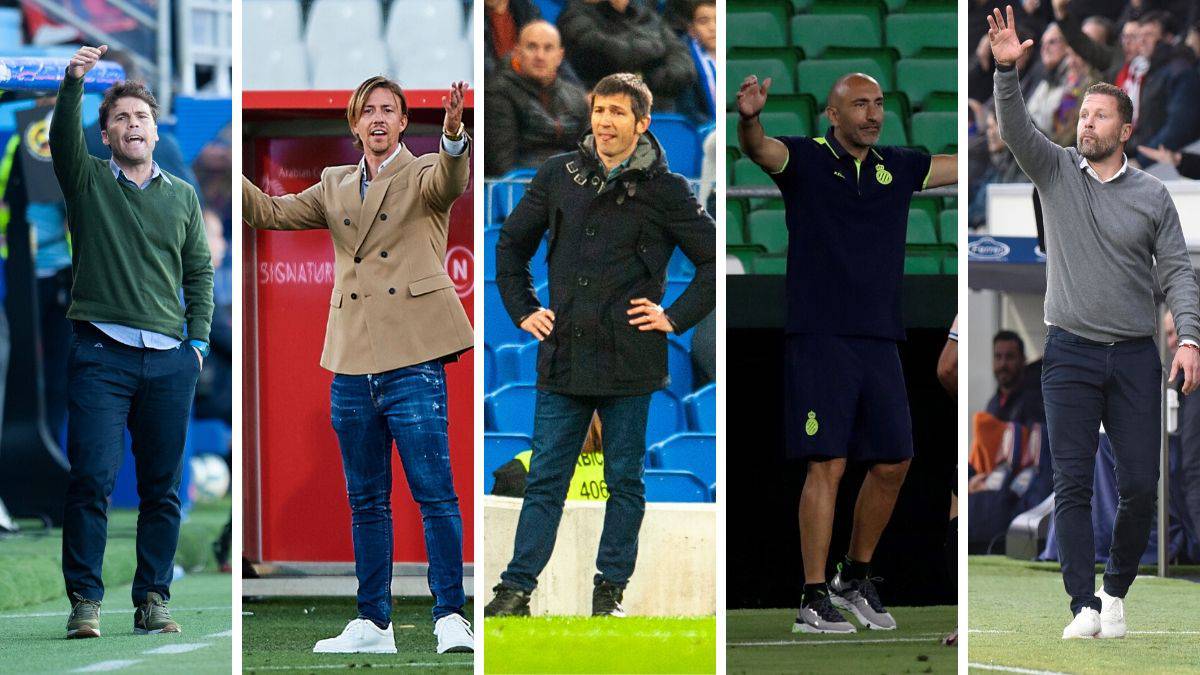 In football, it is often said that the results are the rule. Neither the return of the competition to end the season nor how compressed is their schedule have prevented the patience of some clubs from running out and ending up firing their coach. Five teams have fired their technicians in just eight days. Betis started on Sunday June 21. A more than questioned Rubi from the beginning of the season could not save the 'match-ball' against Athletic and was fired. Alexis took over the club verdiblanco. Dismissals at Betis have been a regular trend in recent seasons, having led four sports directors and eight coaches in five years.
Rubi's dismissal was followed by Guti's in Almería on June 26. The Andalusian club was going to start the season with Óscar Fernández at the controls. But, his stay lasted 50 days, from June 15 to August 4 and his departure was marked by the arrival of the sheik of Saudi Arabia Turki Al-Sheikh and his decision to bet on someone he trusted, Pedro Emmanuel. The Portuguese lasted 14 days before José María Guitérrez took over the team. The Portuguese coach's strike was two months because on January 4 he took the reins of Al Ain from the United Arab Emirates. While Guti, after 21 games and becoming a leader, was dismissed when the team did not reach direct promotion positions and did not achieve good results at home. In his they chose Mário Silva to face the triumvirate on the bench in which he is accompanied by Nandinho and Jesús Muñoz.
One day after announcing the departure of José María Gutiérrez, June 27, Espanyol hit the helm and fired Abelardo and appointed Rufete as coach promoting the third dismissal and the arrival of a fourth coach in the same season, a fact that had not occurred in the parakeet club since 1989. The 2019/20 season of Espanyol began with David Gallego until the eighth day to make way for Pablo Machín who lasted ten days in office until Abelardo.
took over.
When it seemed that at noon on Monday, June 29, the last to change his bench was on Lugo this Monday, June 29, the news arrived in Valencia. Albert Celades, who came to replace Marcelino, was dismissed and Voro took the team for the umpteenth time until the end of the season.
Hours earlier, the Galician team ranked 20th with 38 points, fired Curro Torres two days after risking his life against Numancia, out of the 18th decline with 41 points. José Durán, technician of the subsidiary appears in the pools as a possible substitute. This is the third change at Lugo after starting the season Eloy Jiménez and being removed after 21 days. Promotion and salvation tighten and no team wants to be left without meeting its objectives. Lugo struck Curro Torres two days after risking his life against Numancia
Photos from as.com