Wimbledon would have started today. We review the traditions of the All England Lawn Tennis and Crocket Club, still defined by the elites.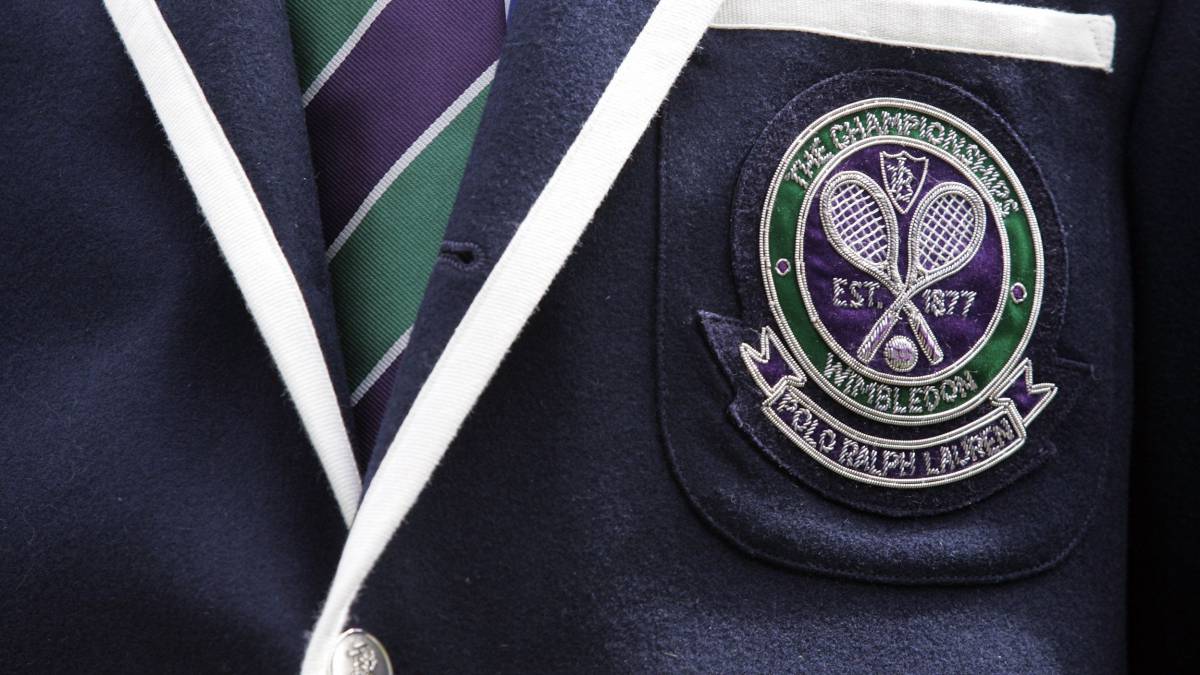 If there is a place in the world where tennis continues to be that sport played by the elite, that is the All England Lawn Tennis and Croquet Club. This center, better known by the name of its population and by the tournament it hosts, Wimbledon, keeps its traditions intact. Here tennis has not become popular. In fact, to be able to play on your grass you have to be part of such a select group that the fastest way to step on this grass is to lift the grand slam trophy that all tennis players ever dreamed of.
"Sorry, this is Wimbledon", and nothing changes here. Tennis players dressed in white, like those seen in the museum images, having tea and very elegant; the grass perfectly cut to eight millimeters and without any bald spot; those scrupulously placed and varnished wooden posts; the same repetitive periods to mow the grass (something that only changed during the Olympic Games, to be able to renew that immaculate carpet); the morning schedule that starts the games later than in the other tournaments, its Sunday of rest in the middle of the championship ... Tradition is what defines the All England Lawn Tennis & Croquet Club and is also what sets it apart . Here tennis is still what it was a long time ago, a sport that was born back in the 16th century among the noble people who could dedicate themselves to leisure and entertainment: an elite.
One of the regulars in the All England Club, in fact, was Albert Frederick Arthur George, better known as George VI or the monarch and father of Elizabeth II, protagonist of The King's Speech, played by actor Collin Firth. But not only did he play as a hobby, he also competed in the men's doubles table with Louis Greig, another nobleman, in 1926. And it is that since its creation, on July 23, 1868, more than 150 years ago, this It has always been a private club dedicated to cream. Nothing has changed.
In Wimbledon, as many know it for its location in that area of expensive urbanizations surrounded by security and nature, and also by the name of the only grand slam on grass played on the circuit, everything remains the same. Here tennis maintains its essence: it is only for a few. And within the crème de la crème, there is only room for about 600 members, divided into five categories: full, life, honorary, temporary and junior.
Of the former there are about 375. This number is due to custom as well, since before the member tier had only these seats. Life and honorary include people who have done a lot in the service of tennis, such as past individual box champions. John McEnroe knows a lot about this and British respect for standards. The three-time and always controversial American tennis player skipped the 1981 winners dinner and did not enter that Olympus. However, it was admitted two years later, when it was imposed a second time. In total, together they number around half a thousand members.
On the other hand, there are another hundred more members qualified as temporary, who are elected year by year and have no guarantees of repeating membership. These are usually active players who tend to make regular use of London facilities. They differ from the previous ones in that they do not have access to the privileged stand, they cannot introduce as many guests to the club nor do they have a vote in the Committee's decisions.
This same body is the one that chooses them, along with full members. But entering Wimbledon is not easy. Although the club is very hermetic and provides hardly any information, it is known that a good part of the squares are occupied by royalty (the queen is, in fact, its patron, while the Duke of Kent is the president), and it is rumored that Each partner contributes an amount of about £ 50,000 per year. Something that is within the reach of a few. Likewise, it is also said that the few vacancies usually have to do with deaths.
To be chosen as a member, many factors are taken into account, but having great enthusiasm for this sport and playing it at a high level influence a lot. In addition, the candidate (who must never be proposed with less than twelve years of age and is not eligible until seventeen) must be presented and seconded by two full members not less than three years old and supported by two other members of this category. And each member can propose only one per exercise, as well as support another in that period.
Why are there so few partners? At the All England Club they give a very simple reason: members are entitled to purchase a pair of tickets for each day of Wimbledon. However, if the facilities were opened to a more popular public, it would lose that exclusivity that the less privileged can breathe by doing the tour of its fifty tracks, the press room, the museum or the store, where up to eleven are needed euros to buy socks with the three colors of the emblem: green, lilac and white.
There are no three colors for tennis players. One of the most distinctive features of Wimbledon is the extremely strict dress code that players must follow. According to Tennis Fashions, this tradition of wearing white dates back to the 19th century, when players dressed in this color to avoid sweat stains on brightly colored clothing. According to the book, the rule was first imposed only on women because it was "unthinkable enough for a lady to be seen sweating." Although the origin is sexist, men and women follow the rules. What's more, in 2013, champion Roger Federer was asked to change shoes only because he had orange soles. And it could be worse, since if Wimbledon considers the hair on the player's arm to be very dark, he could ask him to bleach or shave it. In short, a total dedication.
Wimbledon is also synonymous with strawberries. That's why more than 140,000 bowls of strawberries and cream are distributed each year for spectators and players. The most curious thing is that all this fruit comes only from a Kent farm. Every morning, before dawn, two teams of 40 pickers arrive at the farm to collect more than 100,000 strawberries for daily consumption.
A little more than half of the strawberries consumed per day is the number of balls used throughout the championship: about 54,000, which are inspected and replaced every 7/9 to keep them in optimal conditions. When not in use, tennis balls are even placed in a refrigerated container so they look flawless. How far away are those few leather balls that the artisans made in Paris for the jeu de paume, the game of the palm, considered the origin of tennis.
The funny thing is that it is a huge amount but one of the days is not played. At Wimbledon there is a rest day in the middle of the tournament. For the players? No, for the grass. As it is the only big one that is disputed in this type of surface, it stops on a Sunday for it to recover. The staff take the opportunity to water the grass and prepare it for the second week of games.
This quest for perfection makes Wimbledon the cathedral of tennis. A tournament that has been held at the All England Lawn Tennis Club since 1877, and has been on the ground today since 1922. Since then, it has grown and developed. New courts have been built, and the famous Henman Hill with its big screen. Of course, it has never been enough. Since 1924 a draw has been held to obtain tickets for the championships. Participating in it does not automatically entitle applicants to a seat, but only a place in the draw. It is not possible to request tickets for specific days or sessions, as these are chosen at random.
In summary, if someone is thinking of watching a game in this tournament or joining this distinctive club, the easiest way is to train to earn the right to become a member after lifting the Wimbledon trophy.
Photos from as.com