Setién, from the dressing room: "You find out about many things"
"We all have to give up a part of ourselves, including the footballers, for the good of the team. I have no problem admitting that it is a new situation," he admits.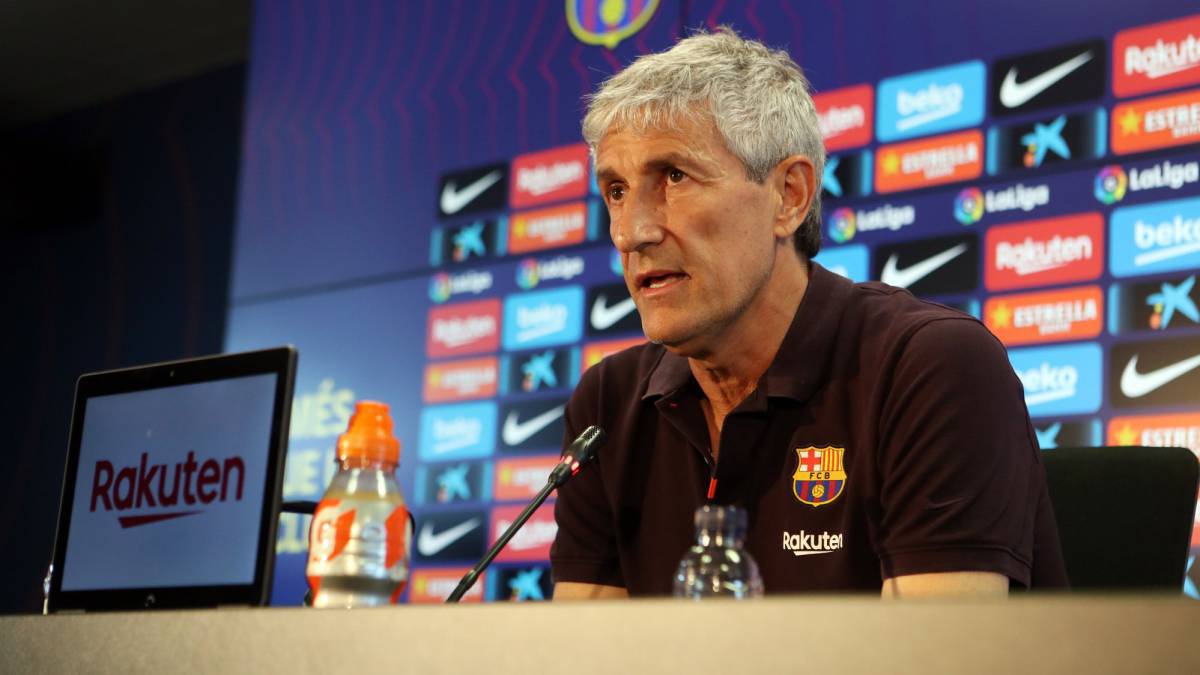 Quique Setién faced one of his most difficult press conferences this Monday since he has been a Barça coach. The Cantabrian, with the team just a stumble from saying goodbye to the championship, spoke in the preview of the match against Atlético de Madrid. These were his reflections.
-Due to the difficulty of the rival, do you have the feeling that it is the most difficult match left?
-We have all seen that the matches against Atlético are disputed, difficult, there are usually alternatives, they are a great team identified with their way of doing things and they are going to make things difficult for us. But the rest of the matches will be as important as this one. Winning has already become a decisive question because it is true that everything can happen, but the margin is less because there are fewer games. We will give due importance to this match, but like everyone else.
-Do you feel that managing this is being more difficult than you thought?
-No. It is true that there are always controversies because, just like in life, we all have our way of seeing things and thinking. But this is the usual. I was not an easy player at the time either. You have your vision of things and what it is about is convincing that you have to defend a common way. But I understand it as something natural. I think there is good communication and I do not give importance to specific questions.
-We know that after the game there was some tension in the locker room. Is the relationship of trust broken?
-When there are no victories and when an isolated move like the one of the lack happens, because everyone takes advantage. This is the circus in which we are mounted. We are concerned with more general aspects. The relationship with footballers is good. There are specific moments when there may be differences, but I do not perceive any problem that is worth mentioning, far from it.
-Following this line, yesterday there was a tense meeting with the players. Then Piqué said that this is not over. Are you worried about your future?
-We have meetings more often. Yesterday we talked about many topics but we focused on the topic of soccer, on doing things better. The situation we are living in, in which we do not transform superiority into goals, ends in nervousness and frustration. But it is something that can be changed if we get a slightly looser victory.
Do you feel that it is you at Barça or that these stars rule too much?
We all have to give up a part of ourselves, including footballers, for the good of the team. I can not tell a side that it is offensive to stay to defend. This is a team and as such it must act. And sometimes you have to sacrifice certain personal things for the benefit of the team. And the reality that I, there are things that by knowledge, I have no problem admitting that it is a new situation, and that I am in a period when you find out about many things and gradually do what you want to do. But this has nothing to do with the players. These are processes that time places everyone in their place.
Are you focused on Arthur?
I'm not aware of what Arthur's mother said, but he said the same thing I said the other day. We expect the greatest commitment from him until the last day he is here. He is still a Barcelona player until the end of the season and has promised that he will be one more and will fully achieve the goals that we have set. He is a boy who will be honored until the last day.
Are you weaker than when you arrived?
Not at all. I feel the same and I will feel until the last day. The first thing I have to do is release my consciousness and I'm doing what I can because things are going well. And that calms and relieves me. Sometimes the results don't depend on me. You already know what football is like. I think we are doing a good job and we are improving. Victories hide many things and defeats carry these. There are moments and moments. When you win, you enjoy; and when it loses, it grows.
There is a lot of media noise around his figure and his future. With the players, Arthur flying. Can you prepare a match like this?
Of course. Noise is up to you, I stay out of it. I focus on the things that I have to focus on. I don't know what moves until the information office tells me something. I am focused, I know how it works and I try not to wear myself out like footballers, who I think do the same.
Do you still think that Madrid can score points?
We can control what we can control
How can they attack Simeone?
At Atlético not only scored goals for Betis, but neither did the rest of the teams. They are solid and they are not easy. This is the history of Atlético in these years. It is very difficult and you will have to move well and between the lines to have lucidity and precision to move in tight spaces. And then the ability he has to play in transition, set pieces ...
Could Griezmann be thought to have lost specific weight in the team?
About this lineup, the reality is that eleven can play. You constantly asked me why Ansu, Riqui did not play ... And sometimes they will play one and others, another. Depending on the game and what I understand they can solve, that and what I see in training induces me to play with one or the other. But everyone is important, everyone has options. There are players with a special hierarchy, but all of them may or may not play.
What can you take advantage of hydration breaks, can it even hurt you?
I already said that. Sometimes it suits you and other times it doesn't, which is better for the rival. We have done things well and, except for specific details.
What happened between Messi and Sarabia?
Nothing, especially. An indication and that's it. I don't know what you want me to tell you.
Doesn't winning tomorrow mean goodbye?
In mathematics it was not very good, but the reality is that you have to try to win all the matches and that whatever happens has to happen.
Photos from as.com