Setién: "The 2-2 came from the jump of a player ..."
"I think football has been a little unfair to us. We are not at the point of lucidity that the teams have. It seems incredible that Gerard's action was not a goal."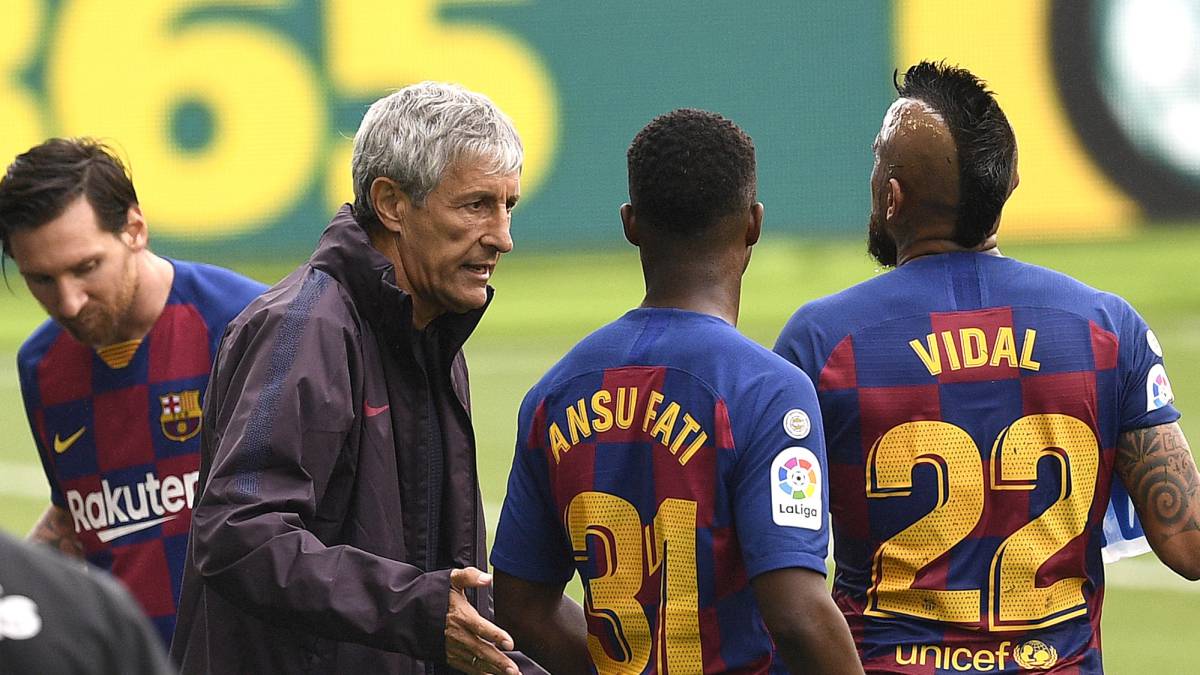 He also spoke at a telematic press conference after Barça's draw in Balaídos that leaves the Catalans in the abyss in the fight for LaLiga with Real Madrid.
Why haven't they managed the game in the last minutes?
We have surely lacked the ability to manage the ball. They were difficult moments in which they have bet to go forward. We should have managed better, but we must give credit to the rival because they have quality, decisive players. And they have risked. We should not have come to that situation. In the first part we should have been more comfortable on the scoreboard.
To what extent do you think LaLiga gets much more difficult?
It is true that eleven days ago we were two points ahead and if Madrid will take the advantage. Every time we are going to have less margin of error and we will have to win everything and hope that he makes some mistake. But we will try to keep adding all the points and we will try to have more solvency.
Grriezmann has once again been a substitute. What's wrong?
I don't see if the transfers are expensive or cheap. Last week we opted for one lineup and this week for another. Last week you asked me why Ansu didn't play and this one for Griezmann. They are decisions I make and they are technical. And they are not capricious.
What does Barça lack to make a complete match? Why don't they give a coup d'état?
You are a little right. We lack that forcefulness to generate the game we make in goals. But it's costing us. Getting it right sometimes is not easy. He has streaks and we can see it with this team that we have faced today. Now Celta is in that positive bust and they have scored goals for us. The situation is not for us. It is costing us, it is weighing us down and you are generating nervousness because you see that it is difficult for you to score. Hopefully things will change and improve.
Why does the team have such a hard time away from home? Suarez has said that it is the coach who must give explanations.
I can say a thousand things, but there is no single cause why these things happen. We try to defend ourselves with the ball and there are times when you can't attack. Sometimes we go into precipitations, into losses, and then there are rivals like today who have good players who take good solutions. We would like to be more solid in many ways. We are a team that wants to win and play on a rival field, but sometimes there is lack of coordination. A bit of everything, but there is no single cause.
Has soccer been unfair to the team?
I think so. We are not at the point of lucidity that teams have. It seems incredible that Gerard's action was not a goal. And this last one of the goal that they have marked us. A jump from a player who has entered the ball there. Barça have done many things well. The game should have been more comfortable but we missed it. We have to correct things.
Will Ansu and Riqui go with the subsidiary?
We will see how events unfold. Today they played, they were there and we will see what happens.
Barça has expressed itself better with Riqui on the field, could he stay in the starting line?
I would not compare one player with another, Riqui with Arthur. Equal in a moment a player comes better and sometimes another. Sometimes it is not easy to decide. The important thing is that they have it well.
Photos from as.com