San Emeterio: "If I win, I will celebrate as a League"
The forward and Jaume Ponsarnau appeared at a press conference before the semifinal match to be played this Sunday against Baskonia.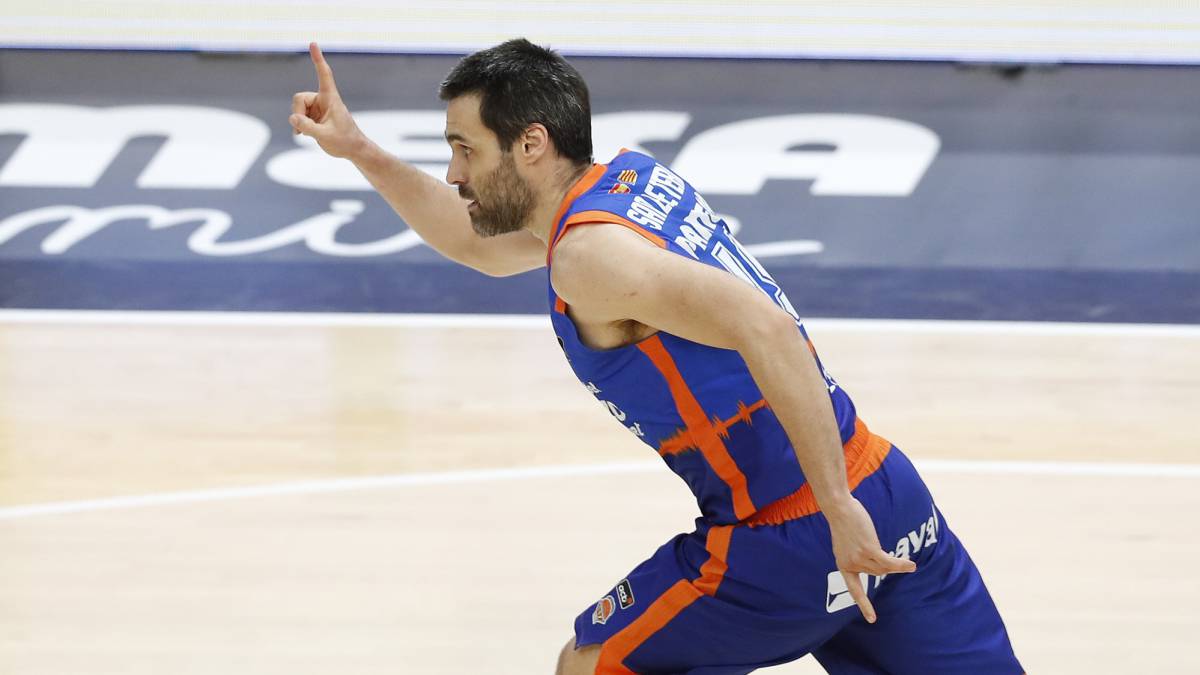 Jaume Ponsarnau, coach of Valencia Basket, and Fernando San Emeterio, forward, offered their impressions before the Endesa League semifinal that will take place tomorrow (20:00) against KirolBet Baskonia. Both were questioned about the validity of this League that is being resolved with a short tournament, in a single venue.
San Emeterio: spoke on the following topics:
How do you deal with the semifinal ?: "Isolating yourself from everything and focusing on the match. Looking forward to being in a final which is what we are playing tomorrow. "
How are you physically ?: "We try to recover well. We have a very long team. We focus on recovering and on tactical instructions. They have had one more day and in the last they did not play anything. Sometimes you don't know if this is better or worse ... lose the competitive spark. Let's see how it affects teams. We have been able to dose efforts, this allows us to get well at this point. In the end things come as they come. People are being very professional about taking care of us, knowing the physical risk. We have taken care to arrive in the best possible conditions ".
Do you think this tournament is a League ?: "If I win I will celebrate it as a League" .
Personal action against Gran Canaria: "Glad to have been able to help the team and wanting to play another ACB final"
Baskonia: "It has the Dusko seal fully implanted. The break has been very good for them, they have recovered injured. A very physical team, with aggressive defense, always playing to the limit, Dusko's philosophy. We have a similar philosophy that we are going to try to impose. "
Help to host? Are there more people in Valencia matches ?: "It helps to know the court but it is also rare to be on your court without your people, or on a different bench. If you give me a choice, I prefer it to be played here. In all matches, all teams have the same number of equal managers. If there is more, it is because they live here and they have an easier time coming to the pavilion. "
Ponsarnau: "Abalde will do everything possible to get there"
How do you face the possibility of entering another final after what you experienced in 2017 ?: "Not thinking about how special all this is but preparing the team to play against Baskonia . I was privileged to live that but now we are here "
Baskonia: "We play against a very strong team that has a lot of aggressiveness, has a lot of ability to steal and that can give you problems in imposing your fluency. We have to be as dynamic as possible, assuming that there are going to be losses and that these do not generate doubts. We must identify that Baskonia is a team with a defensive philosophy more similar to ours than against the teams with which we have played. At offensive level we will have to play differently. It is a team with the ability to overflow, penetration and they run, many and many, with the ball. It will be necessary to have a physical display and maximum energy. We are only going to beat them by playing well. "
What qualification would you give to this League ?: "Without a doubt it will be a KBA that whoever raises it will be exceptional. We are dedicated to this because we have a competitive mindset, like the 12 teams. And the 12 of us have come to win it. I don't know what qualification to put on it but whoever wins it will be the best. "
How is Abalde ?: "We are doing well because the hours pass and this is good for recovery. But the injury is somewhere that hurts. The good thing is that it is an injury that is difficult to get more. We must look for the limit of when the pain is bearable because otherwise it would be very limiting. He is going to do everything to stay and the dilemma we will have in deciding if he will have a limitation that cannot help us. "
Baskonia more rest: "The advantage is that they did not risk anything in the last match and they were able to give rest to players who were touched. What of the day more than us this is so from the beginning. We knew it. We wanted to take advantage of the fact that we had a long squad, so that more players could pick up the competitive pace. We came with players with a long time without playing. We knew that if we passed we would have one less day of rest. "
First phase: "In our group there have been teams that have done very well. Burgos has been at an extraordinary competitive level. Zaragoza perhaps not so much competitive level but game tips with talent and efficiency and we suffered it. And Andorra was also a rubber match, in which it cost us both teams to adapt. And Madrid played the best game against us. We wear significant wear, we have been growing, it has helped us to improve and it has required us to evolve. We have also built important trusts. "
Who will take the step forward if Abalde is not there ?: "The step forward is for the team, like yesterday. We don't like to customize much. It's about finding prepared players. The rival is demanding. We do not have to regret not having Alberto but to be happy to have other virtues to exploit ".
Photos from as.com