"Carlos Sainz has it all to be competitive at Ferrari"
Andreas Seidl, McLaren boss, to AS: "With what he showed in 2019, he has everything to be a great driver." Talk about the financial crisis and the future of the team.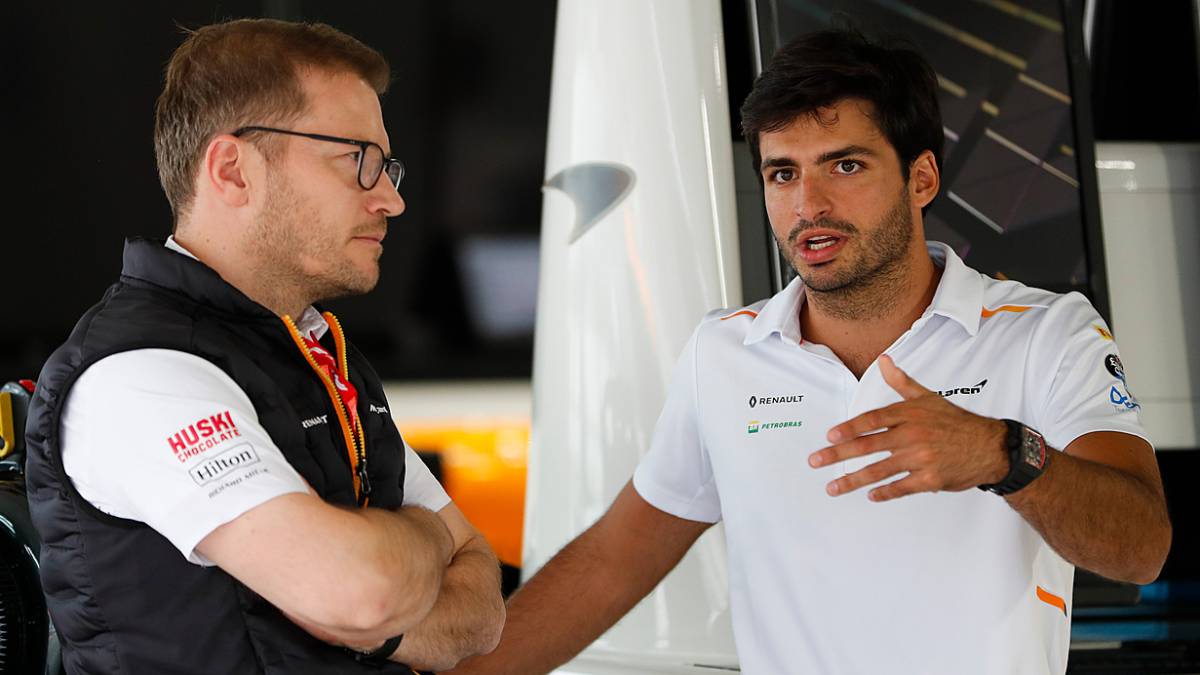 Formula 1 returns this Sunday with the Austrian GP, but they have been troubled weeks in Woking while McLaren faced serious financial difficulties solved in the last hours with a loan from the Bank of Bahrain. Andreas Seidl, head of the team, shares impressions with a small group of media, including AS, about the return of the competition, the situation of the British firm or the future of Carlos Sainz, who will leave the team in December for Ferrari .
-Were you surprised by the negotiations of Ferrari and Carlos Sainz?
-We have always had transparent communication with Carlos. After his solid 2019 it was no surprise that other teams were behind him. He told us soon himself, and we allowed him to explore the opportunity for clarity. With everything Carlos showed last year, plus the experience he has from his past in other teams before, I think he has everything to be a great driver and has everything necessary to be competitive in Ferrari.
-He is a pilot who is involved in the development of the car. The next departure will affect your role in the team?
-Carlos is professional and we too, I don't see any problem. We will work the same, maximizing our results as a team and with the pilots. As for working together, I don't see any changes either. It is best to have an open and transparent relationship, Carlos is known for his contributions to the development of the car and we do not plan to change anything in that regard.
-Why did they make the decision to sign Ricciardo so quickly?
-It is simple, my responsibility together with Zak is that we have a 'top' lineup. It worries me this season, but it worries me even more in the future. We did not want to start the moves at a disadvantage and once we learned that Carlos wanted to explore the opportunity to go to another team, we started conversations with Daniel, continuing the ones Zak had three years ago. I am happy with the result, he is a proven race winner and that is a reference that we did not have in our lineup. And I think along with Lando they will be two great McLaren ambassadors in and out of the car. At the same time, there is a season ahead with Carlos and Lando and I hope we can fight for fourth place in constructors.
-Was Ricciardo aware of these financial difficulties?
-As always, I am direct and transparent and Zak too. We had an open discussion and Daniel was informed of what was going on. We never doubt that McLaren will be on the grid next year. They asked me a lot if I was worried about McLaren's financial situation, and of course it has been a difficult period, but I was in constant contact with Zak and they have always looked for the best investment options that will put us in a good position. This will place us in a financially sustainable position and being an independent team, will allow us to compete on a more balanced playing field.
-Does the McLaren financial crisis have an impact in the short term? Are plans delaying the construction of the wind tunnel?
-Really, they do not affect anything for this year or next, we follow our plan set in winter. At the beginning of this crisis we had to stop all infrastructure work and even now, without knowing what our income will be this year, we must be cautious. As you can imagine, I am insisting that everything get going as soon as possible, it is key because we have a deficit compared to the big teams.
-Can this break benefit a team?
-I don't think so, and neither for next year. I expect the same situation between the big three and the middle zone. Yes we can hope that Racing Point is very strong because of how they have worked with Mercedes. It will be an intense fight, but I don't think these balances will change until 2022 or 2023.
Photos from as.com