Real Madrid 1x1: Benzema and Casemiro, magic and solvency
The Frenchman opened the way to victory with a heel; the Brazilian returned after his sanction giving security behind and danger above. Isco did not clash.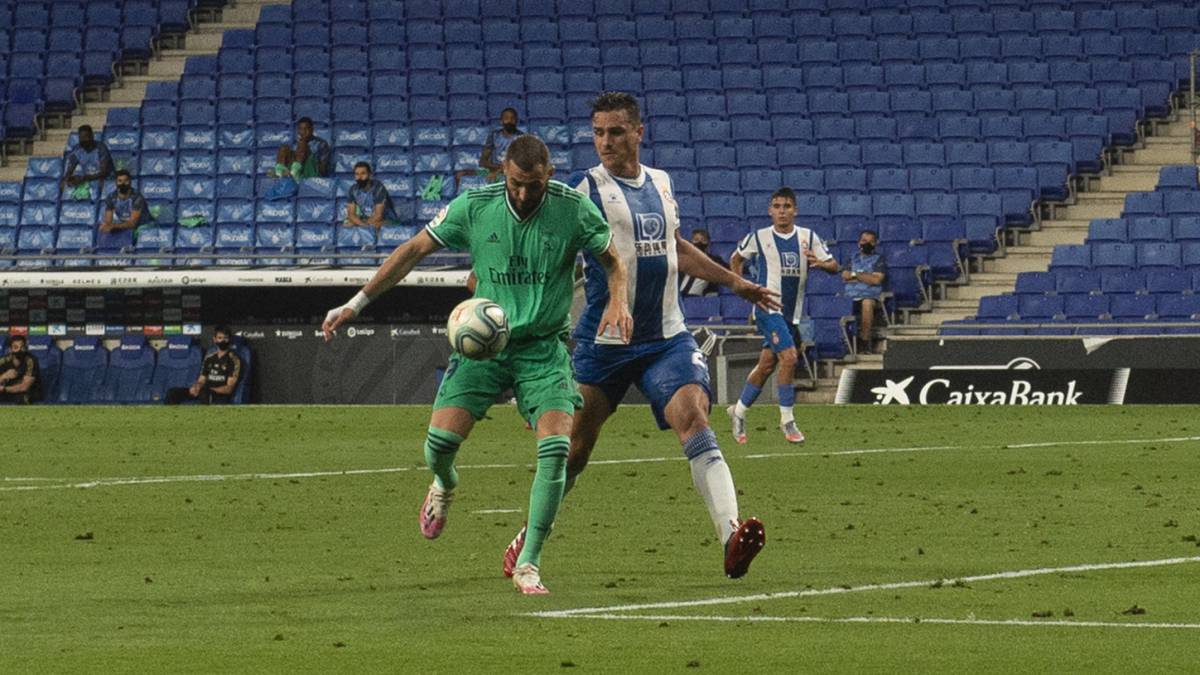 Courtois: He saved Madrid again with 0-0, taking his hands in a direct free kick from the side whose difficulty lay in the number of players who threatened to touch the ball and deflect it; solved it well. Already in the second half he blocked well a soft shot by Wu Lei, a more complicated direct foul by De Tomás and a centered kick by David López.
Carvajal: it was difficult for him to go deeper, like the entire white team, although in return he offered enough security in defense. He got an ugly stomp from Pedrosa. It shows a lack of freshness, it would be good to rotate a game to charge batteries.
Varane: problems to contain Raúl de Tomás in the first minutes, he gained weight with Ramos over time and ended up minimizing the Espanyol strikers before the break.
Ramos: like Varane, with some problems at the beginning to contain De Tomás and Wu Lei, but improving with the passing of the clock. In attack, very present. He was about to score with a header after a volley from Casemiro that left him stunned, how powerful the shot was. Then he participated in the 0-1 action, prolonging the ball that Benzema converted into assistance for Casemiro.
Marcelo: He could not give depth in the first half as he likes or combine much with Hazard, more focused on tasks in the playmaker. And in the back he left copious gaps that Espanyol almost took advantage of, especially through Wu Lei.
Casemiro: the best of Madrid in the first part, his return showed not only that he is vital to give balance, but also to harm the opponent. He was about to make one of LaLiga's goals from midfield, with Diego López confused; the goalkeeper reacted on time and took out a saving hand. He tried several times to finish off, with a header, a volley ... And he ended up seeing the door in a pure nine-action, appearing in the small area to clinch Benzema's colossal heel pass.
Valverde: in his place, as a right midfielder, it was difficult for him to intervene as he has done on other occasions. Providing a lot in defense, but not too much in attack, although it is never out of place and its presence energizes Madrid in the middle. Sticking to the lime does not help. With the entry of Rodrygo, he focused his position and improved.
Kroos: less brilliant than in other games, especially at the beginning, although he gained weight with the passage of minutes and was the main guarantor of possession of Real Madrid.
Isco: surprise in the starting eleven, it was located above all to the left to give amplitude to the white game, although going down a lot to the initial construction. It is far from its best level, but it still taught certain tricks in circulation. He left the place for Rodrygo at 63'.
Benzema: he repeats a lot that that a nine not only has to dial and on days like this you have to surrender to the evidence. Casemiro scored the 0-1, but the goal is Benzema, who picked up a header from Ramos and transformed it into the best assist in LaLiga with a heel / spout that left the Brazilian alone. An action that is well worth a League. Then he was about to score in an acrobatic shot with little angle, with a slight aroma of that goal by Cruyff against Atlético.
Hazard: less focused on the wing and more on the playmaker, he swelled to fight balls and receive fouls; that its small figure does not deceive, its game of backs is imposing. He was able to break his scoring drought with a shot in the volley area that Diego López cleared, after a racket in the small area. He transferred the position to Vinicius at 63'.
Vinicius: entered at 63 'for Hazard. Zidane got him assuming that Espanyol would launch the attack and leave spaces, but that was not the case and Madrid's controlling football is not the best for him. He saw the yellow through an ugly entrance.
Rodrygo: entered at 63 'for Isco. On the right, he sought to overflow combining with Valverde and Carvajal and he was seen much more than Vinicius.
Photos from as.com