Pueyo: "We are satisfied to maintain a block that has given us so many joys"
The Bilbao sports director made a positive assessment of the season that ends today and fired Schreiner, Rafa Martínez, Sergio Rodríguez and Cruz with honor. It has rejuvenated the group and provided it with more physicality.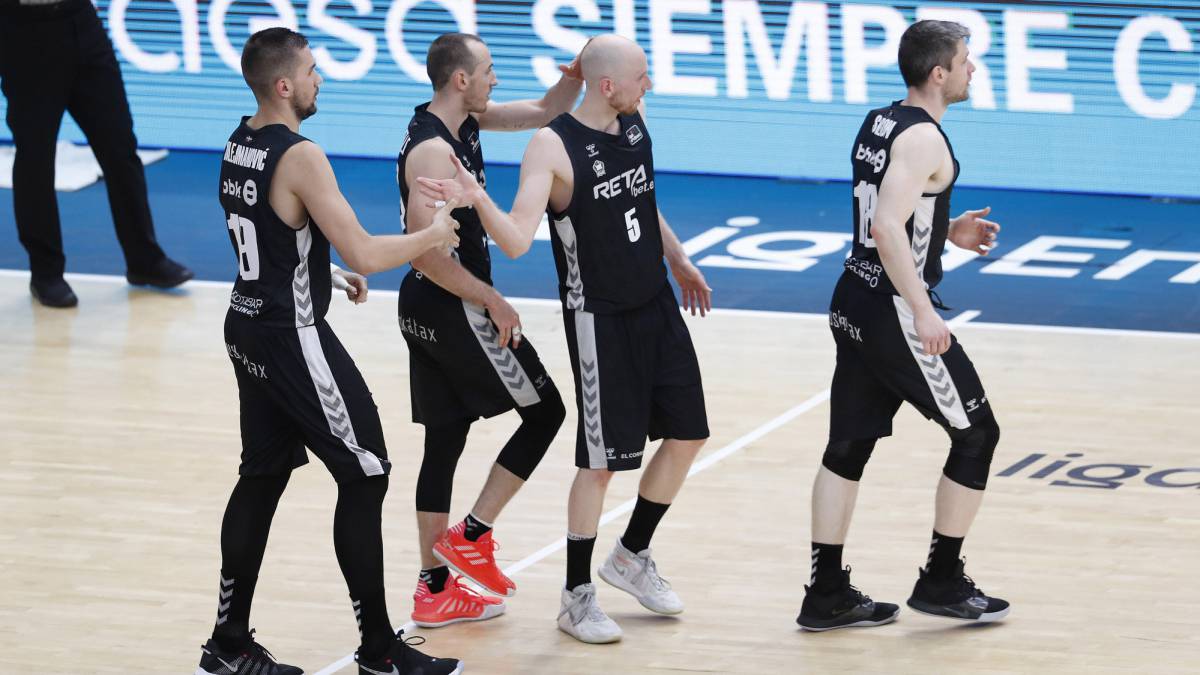 The Bilbao Basketball sports director, Rafa Pueyo, has made an assessment of the season, which was concluded on Thursday 25 in his case with the elimination in the final phase of Valencia, an ACB experiment that is coming out at a thousand wonders but that has caught the Vizcayans greatly diminished, by the fright of Haws and the injuries of Schreiner and Kulboka and the rehabilitation of Brown. The latter gave Mumbrú a one-minute candy against Unicaja for his desire to see himself in front of his friend Bouteille. "The team has performed very well, the results have accompanied. When that happens, it is normal to keep the block. The captain of the ship, who is Mumbru, and the main forces have earned it: we are pleased to maintain a block that It has given us so many joys, "says the RETAbet leader, who has confirmed that Schreiner, Rafa Martínez, Sergio Rodríguez and Cruz are leaving. He has not revealed it, but instead Hakanson, Zyskowski, Álex Reyes and Dos Anjos will arrive.
Pueyo has been full of praise to those who leave. Starting with Schreiner, who leaves his mark on Miribilla. "He is a professional with all the letters and in capital letters, he leaves a very good memory, he has demonstrated a lot of professionalism, he helped us in a very difficult moment to ascend, he was a fundamental piece not only for the triple, and for this year to have been successful and we have not had to suffer in downhill positions. " His knee was damaged at La Fonteta and Bilbao Basket will put all the means for rehabilitation and to be ready for the start of the next course. Rafa Martínez has also marked a dreamy year, but he himself said that his knees are "for Cuenca" and playing two competitions the same season slows him down a lot. He will hang up his boots or ask for a 'last dance' in Manresa.
On Cruz, he pointed out that he has a great future in Spanish basketball. He helped rise with his great offensive game, rushing the bottom line like no other, and in ACB he has lost the limelight, "but we are happy, when he has had to help he has done it and surely he will have some good offer." He will not go far to be with his partner, Laura Quevedo, from the Araski in Vitoria. Sergio Rodríguez's case is different: the club wanted to renew it, but an agreement was not reached. And in the case of Lammers, sought by Alba de Aíto and with a very low termination clause, the club continues to negotiate to raise it and extend the contract for another year. No word has yet come that this armor will be credited, but if that happens, the machinery would obviously not stop.
"The season has been atypical. We are very satisfied with the overall balance, just as we would not have maintained the fifth position with a normal development, we would have liked to be able to continue competing with the entire squad, but it was not possible. In general it is positive the balance and in the final phase we have competed as best as possible with the circumstances, "adds Pueyo. "The team has shown a lot of character and has competed against most of the rivals. If they had been in full, we could have had more options," he adds, placing special emphasis on Zaragoza, Tenerife and Bilbao, who were third, fourth and fifth when The break came because of the pandemic, they have not reached the semifinals and Madrid itself, favorite of all, has failed. "It is not a tournament to take stock of the entire season," is the conclusion.
The main core of the group is perpetuated, as happened last year after the promotion. "We were clear that we wanted to keep the block, trying to renew the players as soon as possible so that they did not receive offers from other teams and the movements were clear to us, there was no reason to wait. With the pandemic they have thought about its stability and tie a contract before waiting for a possible offer, "adds the sports director, who with the additions has tried to rejuvenate the squad and get more physical.
With Mumbrú, renewed for two years, there were no doubts. "He is taking steps as a coach," Pueyo remarks, "as it should be. Nobody is born with experience or wisdom in any field, he had a very difficult year, it is not easy to ascend and there was pressure. The promotion was a real objective and he fulfilled and now At ACB he has felt more comfortable, it is a competition that he knows better. He is improving, gaining experience, I am sure that next year he will be a better coach and two competitions a week will give him a new vision to follow his progression ".
The near future marks a participation in Champions, but no dates are known, nor in ACB, because there is still no confirmation if there will be 18, 19 or 20 teams. What is confirmed is that the Bilbao Basket squad will consist of 12 players and up to 16 can register in the Champions League, so the other four chips will be from youth squads. One of these will be called in the European tournament because five training players are required. At the moment, the Miribilla offices celebrate the notes of the junior Miguel Ruiz in the F12. "He has taken advantage of the opportunities, on Tenerife day he played a great game. He has a lot of work to do to be able to compete at this level", concludes the sports manager.
Photos from as.com