Pesic: "Pierre Oriola gave us the freshness we needed"
"Oriola cannot be Mirotic, nor can Mirotic be Oriola," explained the Barcelona coach. "Today he gave a message to the players who don't have that many minutes."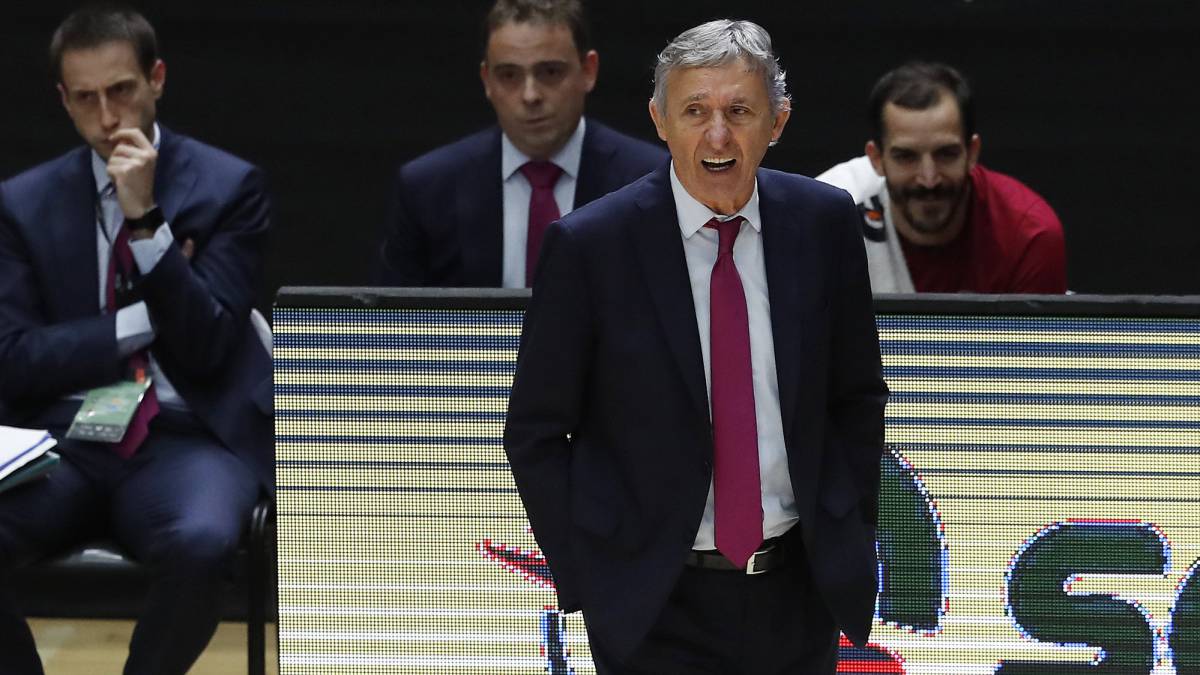 Coach Svetislav Pesic stressed that Pierre Oriola's "winning mentality" was key in Barça's victory against RETAbet Bilbao Basket (73-85), a victory that, in the absence of a day, mathematically classified the Barça team for the semifinals of the Endesa League.
"We were lacking freshness and thanks to Oriola's great game we had that freshness and winning mentality," stressed the coach about the Catalan interior, who signed 23 points, 9 rebounds and a rating of 29 in a game in which, without Nikola Mirotic, who was not registered for this meeting, spent more than 33 minutes on the track.
"Oriola played his way. He cannot be Mirotic, nor Mirotic can be Oriola. Each one has his style. Today is an example that will help Oriola in the next matches and is also a message for the players who do not receive his minutes, "explained Pesic.
About the match, the coach of the Barça team had an impact that his players lacked "freshness" after having previously played against three "high intensity" rivals such as Joventut, Unicaja and Baskonia, and doing so today against a Bilbao Basket that practice "team basketball" .
"It was necessary to be on the edge and in this game we have seen that it is not a problem if the players want. Although sometimes you want, but you lack freshness. It is not an excuse, it is reality. In the end the team has given its maximum especially when We were not in a good situation, "he said. To conclude, Pesic commented that, despite being inconsequential at the qualification level, Thursday's clash against Iberostar Tenerife will be" important "to" improve individually, as a team, gain confidence and give opportunity other players. " "Ending a good feeling is the best preparation for decisive matches," said Pesic.
Mumbrú: "I am very proud of my players"
RETAbet Bilbao Basket coach Alex Mumbrú said he ended "very proud" of the "effort of each and every one" of his players in the defeat against Barça (73-85) , on the fourth day of the final phase of the Endesa League, because "they fought until the end" against one of the favorites for the title. "It was a very intense match and while we had gasoline we held up well. In the second half, Barcelona He has made an eight point 'break' and it has been difficult for us to return. We did it, but we were already fair. We have not been able to win, but we have given everything, "the Catalan coach congratulated. Questioned about the refereeing work, Mumbrú pointed out that the Trio of collegiate did "a good job" in a game "difficult because there was a lot of contact". The 'men in black' coach also referred to the work of junior Miguel Ruiz, who after playing 16 minutes in the last game against Iberostar Tenerife he was barely four minutes on the on court against Barça. "We are forming a quarry and this involves knowing when players like Miguel are ready or not. We also have to protect them. Today was costing him and if we continue to make him play his frustration will be more important. We have to know what games he can play to continue growing as a player, "he explained. Mumbrú, finally, pointed out that despite the fact that they no longer have mathematical options to qualify for the semifinals, they will face the appointment on Thursday against Unicaja (18.30 hours), the last of the tournament for Bilbao Basket, as "one more game." "We have to keep improving as a team every day and playing good basketball. We have one match left and we must try to recover physically for a match that will be difficult because Unicaja is a very physical team, "he concluded.
Photos from as.com