Pedrosa: "Pol must take advantage of this great opportunity"
The KTM tester takes for granted the signing of the little Spaniard by Honda: "His rival will be very strong, we all know how strong Marc is."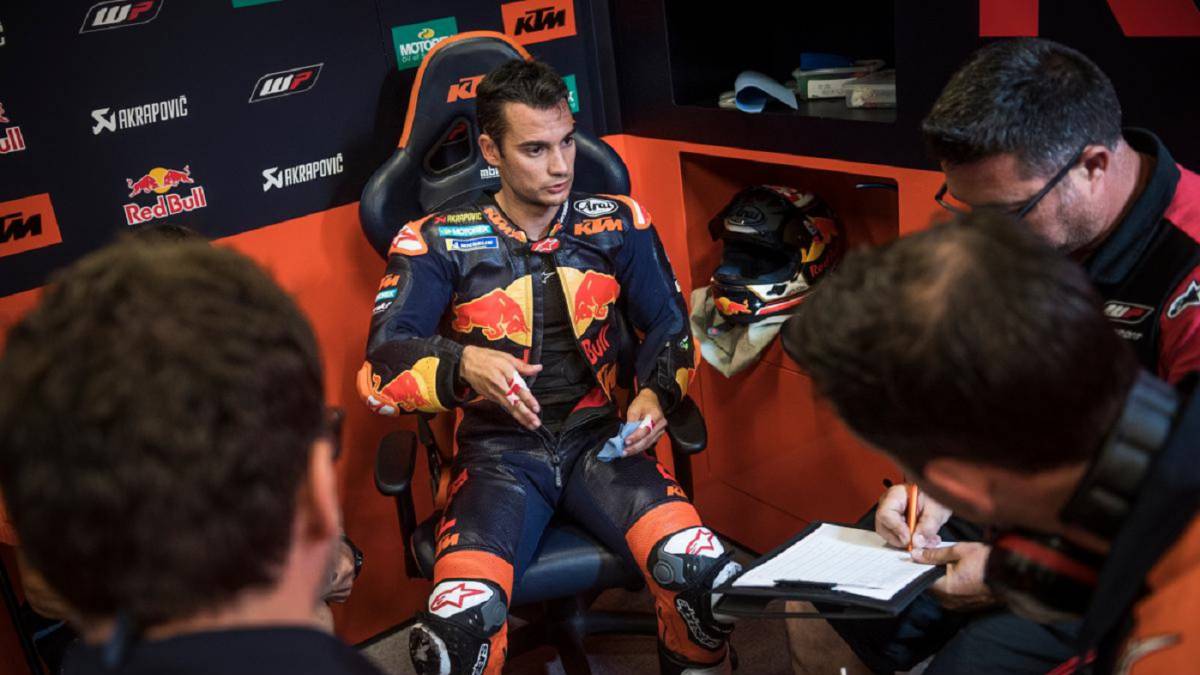 The KTM test driver Dani Pedrosa has described as "sad" the announcement by Pol Espargaró to leave the Austrian team to surely enroll, although not yet confirmed, the Repsol Honda team as companion to the current MotoGP champion, Marc Márquez.
"Pol was the strongest rider at KTM, the most expert. It is sad to lose him but I understand him, and it is a great opportunity for KTM to search the limits of the bike with those two young riders, Binder and Oliveira," he said in a talk on 'motogp.com' with Jorge Lorenzo, Yamaha tester.
On a personal level, Pedrosa, with a background in HRC, understands the Catalan's decision to leave KTM. "I think there is not much I can advise Pol Espargaró. He must take advantage of this great opportunity he has. His rival will be very strong, we all know how strong Marc is, but if he is motivated by it, it is good for him," he said.
"For KTM it is a great moment because it will have two good young riders in the category, Binder and Oliveira. This means that if they grow they can get good results, they have been growing in recent years. They have competed with each other strongly, and will help them improve his pace race by race. It is a good solution for KTM ", he commented on the future of the Austrian firm.
On the other hand, he explained how it was time to choose to retire as an official pilot. "Without being able to win, it is difficult to find the desire to compete. I am very satisfied with the work at KTM, when I see that it is useful and the bike improves," he said of his new work.
"For me, it is a challenge to be in KTM because it is not the best bike of the moment, and it is a challenge to improve it and make it faster in any track or conditions. If in the future I notice that the bike is more prepared, and KTM will consider a good time, maybe a 'wild card', "he predicted.
As for the past, and his rivalry with Jorge Lorenzo, he assured that the 'pique' made both of them better. "The rivalry with Lorenzo made me win many races, I was highly motivated but Lorenzo was also motivated for the same reason, and he also won. It was tense, and difficult to have a good relationship, but it was good for the sport and for ourselves. it gave the necessary fire to be ahead of the rest in MotoGP, "he explained.
"Our rivalry was getting spicier, the snowball was growing in the press. Lorenzo came to MotoGP, immediately he was fast and made 'poles' and won races, the war resumed. It is true that it was very difficult for everything It worked well and we were friends, at that time, "he recalled about the open war he had with the Balearic.
However, starting in 2012, mutual respect appeared, and today they have a good relationship. "I think that a certain friendship began in 2012, in a closed and even championship, we were normally first and second and respect was born, we knew what it cost to be there. It is very difficult to achieve results, you know what it costs, and to start looking like this , with respect. In 2013 Jorge fell, he was injured, I went to see him and I wished him the best for the operation. The next day, I fell and I was injured, "he said.
Photos from as.com