Osasuna caresses the permanence
A goal in extremis by the bigoleador Enric Gallego gave the victory to the Navarrese against a Leganés who deserved more in Pamplona but was not lucky in front of goal.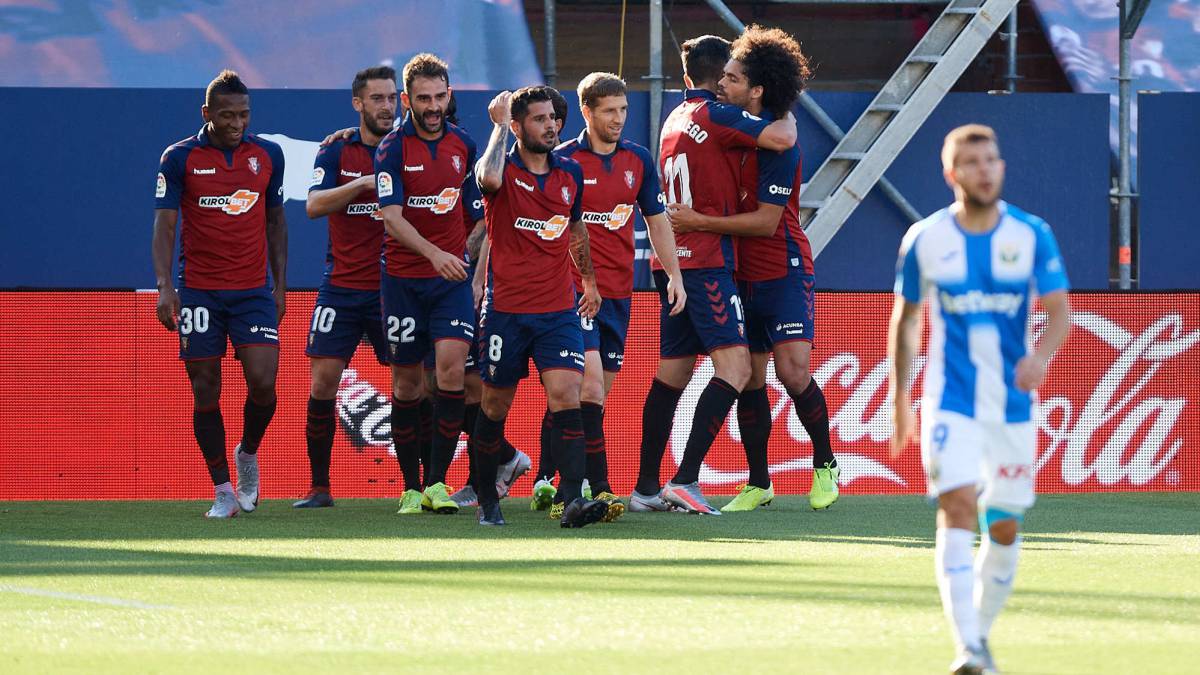 Despite practically ensuring salvation by winning at Mendizorroza, the Rojillos wanted to certify it mathematically against Leganés. The Madrid team arrived wounded, with 13 points less than the rojillos and with the obligation to seek victory to rush the few possibilities they still have to achieve permanence.
From the first bars Osasuna showed that he wanted to take control of the game, and Aguirre's men had a hard time stepping on the opponent's area. It took little, eight minutes, for a nice braided play to arrive between Adrián and Rubén García, who gave it to Fran Mérida and this put a good cross so that Enric Gallego will debut as a red-top scorer scoring Chilean. Those of Aguirre did not lower their arms and were approaching, with some danger, the goal defended by Herrera. However, Osasuna was superior. Leganés tried to take advantage of a ball that was loose in the area, but Rodrigues did not succeed in the auction. The rojillos lost a bit of control of the game and the Madrid fans were unsuccessfully looking for a draw. Herrera made a good save of a ball from Bryan Gil, after a counterattack by the visitors. The Navarrese came to rest, regaining superiority on the field of play and with an advantage on the scoreboard.
At the restart in Leganés, he came out looking forward. They were playing a lot and in the 49th minute, after a good play by the right wing of Aguirre's team, Avilés, after dribbling several opponents, with an unstoppable cross shot with his right leg, established the tie. A few minutes later, Rodrigues forced Herrera to show off. There was a lot of fabric to cut and the cucumbers stalked the red goal. Osasuna seemed to show the physical wear of the first half. Leganés tried it in every way, the tie was not enough and the Navarrese suffered. Cardona had it in the discount after a barja pass and also Galician. Cuellar made two saves, but Gallegó scored with a header when the game expired. Although not mathematically, it can be said that Osasuna will continue one more year in First.
Aguirre: "Bad luck? No, I believe in yields"
Javier Aguirre, Leganés coach, did not want to hide in bad luck to explain his painful defeat against Osasuna. The pepineros fell in the 95 'in a game in which they dominated the rival, but in which two defensive failures and a lack of punch weighed down Madrid's performance. "Talking about bad luck is an excuse. I believe in performance and capabilities. " Despite the fact that salvation can go to 10 points if Eibar beat Granada, Aguirre insists: "We will fight it as long as there are mathematical options."
How was that goal in the end? The locker room will be broken ...
You imagine well. It was hard. We made merit to get at least one point. They are, once again, very soon ahead. It's hard to tow. The team recovered. I try. He saw the goal of 1-2 close by. In the last breath, they beat us. Man with man. There's nothing more to say.
Would you like to have an entire season in Leganés seeing that Leganés finally plays what you want, even if he is missing a shot?
Right now, believe me ... I respect your question, but I remain in what is missing. I don't have time to think about anything other than Tuesday's game. See what games are good and see how Sevilla gets there. Get out of this bad streak. Time is running out.
Have you been pissed off after the competition lap at any time after I re-entered? If you were angry ... with what?
I think that the five games, it is true that there was no prize ... one has moods ... especially in training you get angry ... for some mistake, lack of concentration or attitude ... but after the confinement they arrived with desire . We have been undermining the results. That fighting spirit ... you see how you fit the goals ... it hits you so hard ... You don't know where to get them. We need to recover because we already have games. Angry, we all have. It is normal. But they haven't given me many reasons.
Is this perhaps one of the cruelest defeats of your career?
Indeed, there have been bad times in my career. Note that the team does not have much to reproach him. Perhaps the last goal, which will win you man to man ... There are the marks assigned ... In the first goal we lack strength in the area. It is a goal of any luck. It seems that everything bad happens to us. But that would be a complaint that would sound like an excuse. The rival was better on the scoreboard. In operation we have even competed with Barcelona ...
It is cruelty that the two goals were from Enric Gallego, whom they wanted to replace En Nesyri.
We when we left In Nesyri, yes, we look for things ... but we cannot talk about many things that have already happened. I am happy with what we have. It is clear that we have problems to mark. We had occasions and the rival did not forgive.
Is salvation already complicated?
Look, you won't hear me talk about misfortune. This is to score or not to score. Point. I don't think bad luck. But I don't believe in that. I believe in performance and capabilities. We played well ... sometimes the opponent is better. It is true that we have received rare goals: Mallorca, Valladolid, today's ... are things that happen once every two tournaments. It's strange, but that's the way it is. In 95 'we should have been better. They've known me for a long time. I am not a complaining person. Absolutely. I agreed to come to Lega, then we suffered two losses, now our scorer has a muscle problem, Guido was left out ... the four who make goals, were left out ... we must make others have a goal. Several had occasions ... this does not end until mathematically there are no options. Keep rowing.
Today the goal has been scored by Avilés. How have you seen it? Is the goal rehearsed?
It is rehearsed, of course it is rehearsed. You have the talent, of course, but you work. Hugo Sánchez, was here five years pichichi. I made chilenas like churros. And in the selection, when I was with him, he rehearsed every day. Not one was missing. Talent plus work equals success.
Photos from as.com