Oriola: "I'm just trying to spread my spirit of sacrifice to the team"
He is indifferent to having Madrid or Valencia in the semifinals as a rival because "they can both win a single match just like Barça do to them".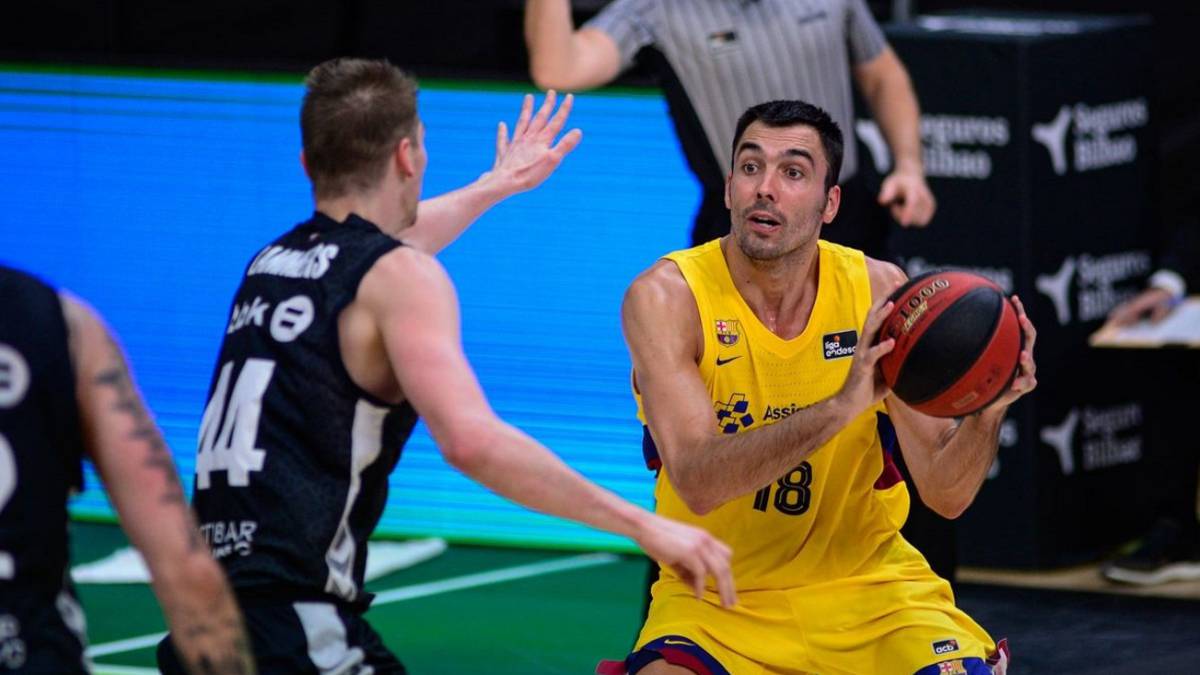 The Ivorian center Pierre Oriola had the most difficult ballot since arriving at Barça yesterday, occupying the position of the great Barça star Nikola Mirotic, reserved as a precaution by Pesic.
Y Pesic gave him the start, the fourth time this season, and he made the best game of his career: 23 points, 9 rebounds and 1 assist for a rating of 29, equaling that extraordinary game of the 2015-2016 season when he played in the Basketball Sevilla.
It was on December 13, 2015 on the Seville track against Joventut, which ended the local victory after an extension (106-101), adding 23 points, 9 rebounds and 2 assists for a valuation score of
.
Yesterday, his contribution was decisive to overcome Bilbao (85-73) and reach the semifinals of this atypical Endesa League and as Pesic said at the end of the match: "Oriola will not be able to be Mirotic, but Mirotic will not be able to play as Oriola does" .
He does not consider himself the team leader or anything like that and explains that "yesterday's was a good game for me. When I finished, I spoke with coach Luis Guil, training now in Japan and he told me:" It was a 'Pierre-style' match , stuck and hard, with more trade than anything else. "The truth is that I am a specialist in this and, beyond points and rebounds, what I try to do is keep the whole team connected." When I'm on the track and I do this 'click', the team also does it and I try to spread my sacrifice, my work and my effort to everyone, "he added.
Regarding the time of Barça, he considers that, "I think that as a team we have done things very well so far. We are already in the semi-finals on the fast track, alongside Baskonia, and mathematically as first in the group."
"Tomorrow's match against Iberostar Tenerife is inconsequential", he continued, "but it is one more game to keep improving, have good feelings and add minutes. We will see how the players who accumulate the most minutes and for what they have not had so many that they can play and have their moment ".
Tomorrow they will close the group stage and expect Barça to achieve their fifth victory. "Logically, you do not think about tomorrow's game mentally as if you were playing something, but we must continue to improve on the line of play we have and prepare what comes to our face on Sunday. The truth is that you already think more about the semifinal than in tomorrow's game. In addition, we will have two days to recover the physical and mental wear of the group stage, "says the Catalan player.
This final phase is particularly special for him because "playing in Valencia is always very special to me. In the season I was here (2016-2017) I played three finals and won the league. Every time I entered the Pavilion I remember this title and I wish I could repeat it this year on this same track. "
Regarding whether he would prefer Real Madrid or Valencia in the semifinal, he said that, "I am indifferent because they are playing very well. They can beat you in a match just like we do to them. This is not a playoff and any rival it's hard. "
"The team's feelings are positive, we are going from less to more and we are getting better physically, harder and more intense in defense, which is what the coach wants. Now the games to be won are coming: the semifinals and the final "ends.
Photos from as.com