"The managers cheat children to go to Europe and they survive poorly"
The Colombian Arkea-Samsic rider harshly criticized managers who take advantage of young cyclists in his country.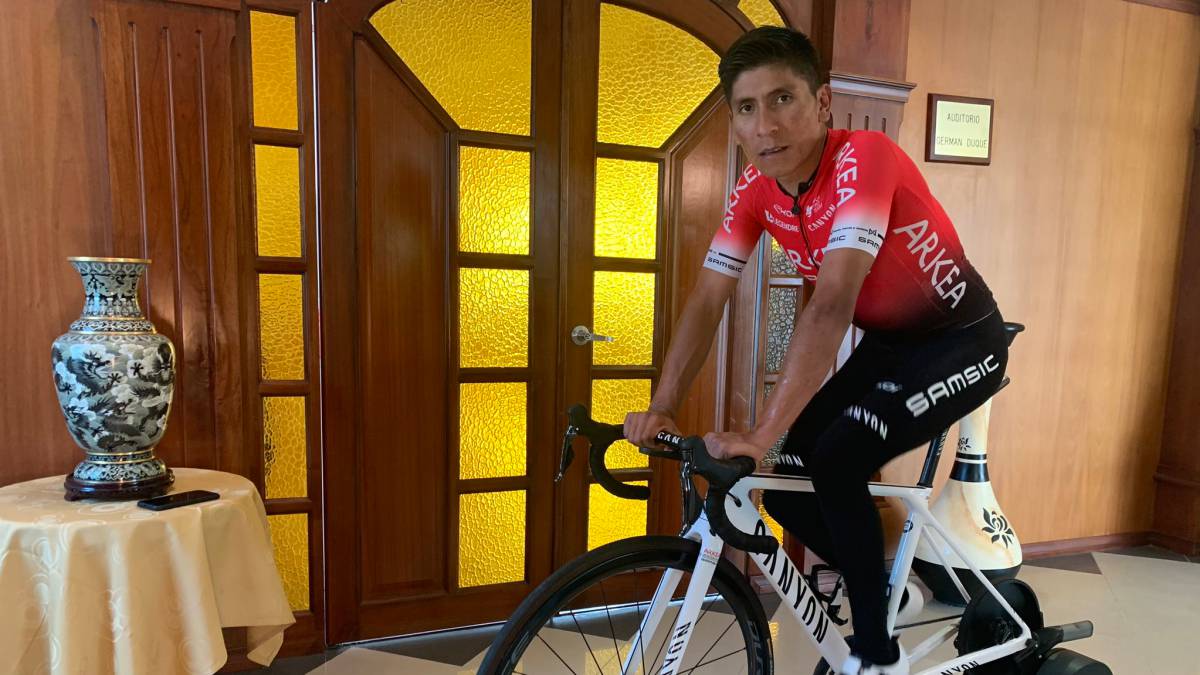 Nairo Quintana (Cómbita, Colombia, 30 years old), current leader of the French team Arkea Samsic, denounced the problems of managers who recruit the most promising youth riders in their country "deceiving them with contracts signed by parents" to take them to Europe, where, with some exceptions, "they suffer malcomiendo, malviviendo and even ending many with psychological problems and abandoning cycling and everything"
In the podcast El Leñero, Quintana was concerned about the situation that affects cycling in Colombia, caused by people interested in the business of finding champions, cutting the process of training children who are convinced with contracts to run in Europe. "People have arrived, I do not know what to call them, who offer children from 15 to 17 contracts with parental authorization to take them to Europe. They are told that they are the representatives who signed and brought Europe to Nairo, Iván Sosa, Rigoberto Uran, Egan Bernal ... cheating on them to accidentally find a champion and fill their pockets with money "
Quintana, winner of the Giro 2014, Vuelta 2016 and twice second in the Tour de France, commented on his intentions to advise the younger ones so that they are not in a hurry to reach Europe and avoid the clash with the managers. "Here we train cyclists, but there are teams interested in them very soon. I tell them to be calm because we know the people and the teams, we can advise them without problem. But the managers arrive and tell them that they are taking them to Europe with 15-16 years, hardly leaving the school and they put them over there in cellars in different countries, eating badly, living badly, and suffering, ending the children with many psychological problems and abandoning cycling and abandoning everything "
Quintana commented that "there have been few that we have been able to save and he expands the reasons for his complaint." They are signed without pain, they do three races there, but they arrive in Europe without having money for anything. I tell them to stay here at least until sub'23 of second year and thus they have two more years to take advantage of in the same category in Europe and to do school and finish their training ".
Nairo commented that "there may be exceptions, such as Egan Bernal, who won the Tour, but it is a unique case in history. Some want to go from youth to the Tour de France and that is not the case. They are all struggling for what they said or for what they were going to give them. " The ex-broker of Movistar says that some boys with 16 or 18 years of age may already have 2 million pesos in salary. "The boy may be a phenomenon, but a child cannot be given that amount, it is something that he does not yet understand, nor an avant-garde material being a boy in training. I tell you, calm down, that after the second year of sub'23 can make the jump, they are still children "
Quintana explained in El Leñero that "there are many who have returned to Colombia unsuccessful, frustrated, and that has been difficult to see. It makes me sad because I speak and some think that it is Nairo Quintana who bothers us, but we have good cyclists to look for teams and do race". "Now the selection for the Tour of the Future comes out. We must give opportunities to the young promises in training who are not in the ProTour teams to promote themselves, since those who are in the top flight are already going to important races."
Nairo Quintana spoke to the open grave about the problem that also affects the promising young people of Colombian cycling in his region, in Boyaca. "Youth cycling is well managed," but the action of unscrupulous scouts has also created difficulties. "" If you ask me, I give my opinion, but I am a cyclist ... I have no obligation. In Boyacá youth cycling is well managed, I help a lot and the Minister will help us in the project. Last year we had the problem with those exploited and lying people who wanting to screw up Colombian cycling by cheating the boys, they sign many and then they see who serves and who doesn't. I'm mad at the people on the show who lent themselves to all of this. "
The idol of the Colombian fans, winner of the 2014 Giro and the 2016 Vuelta, pointed out that "it is the parents of the children who sign the contracts for 5 years. It would be more logical that they sign them until they come of age, that they know what that there is and they can decide. " "A boy with 15 years in Italy ... without knowing the language .. we hear that Colombians are stealing, selling marijuana, that they throw food at them like a dog and then tell him to seek life like the others"
According to Quintana, "it is a reality the boys begging over there, looking for a dream, a future and they resort to unpleasant topics. That is bad for the country and the sport, thanks to these managers who take the boys deceiving them, and if a good one comes out, they rub their hands together. " "No one does anything," Quintana lamented. "I want everything to work well, sometimes I talk too much and they accuse me of controversy, I am angry about things that happen and nobody does anything, journalists can disclose it."
Photos from as.com