Llovet: "We have to make them suffer to add each basket"
The Morabanc Andorra forward says that tomorrow's match against San Pablo Burgos is vital because, in case of victory, his team has an opportunity to be in the semifinals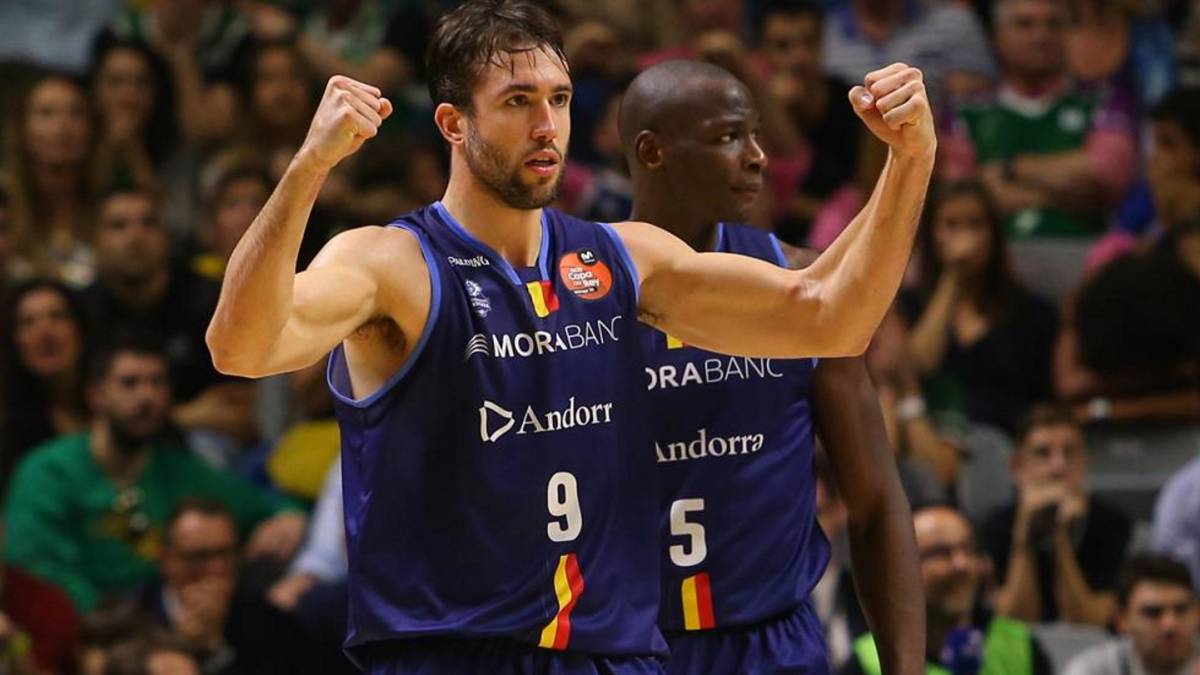 Morabanc Andorra and San Pablo Burgos play a lot tomorrow in their confrontation of the last day of group B of the final phase of the Endesa league. Whoever wins and if Valencia also wins will be in the semifinals.
Morabanc Andorra forward Nacho Llovet is dumping defensive and rebounding to help cover the losses of Diagné and Musli, with the support of Bandja Sy and newcomer Tunde Olumuyiwa
He considers that "tomorrow's clash is vital for us as well. After a poor start we have made a great effort and with the last two victories we have a very clear opportunity to go to the semifinals" .
"Burgos is in a good dynamic, they are doing good basketball and they had 50 percent in triples in the half part against Valencia. Tomorrow it will depend a lot on who takes the game to their field and because we play a very different basketball and each match is a world. They already demonstrated their potential by also winning Real Madrid and yesterday they were about to beat Valencia; it will be a very difficult match, "he acknowledges.
Regarding the important losses of the team and the great physical wear Llovet says that "now this is not taken into account and we do not think about it. but we have shown that we have known how to supply the losses. Now we have to make an extra effort and our goal is very clear to be in the semifinals and we only want to regain strength until tomorrow ".
"We have become psyched", he reveals, "that we had to be very focused because in the first two games we suffered errors of accuracy and concentration. Now we have two successful games and what we can control is the defensive work to be able to run and do the basketball we want. "
Insists that "the key is in the defense and we have to be tough in order to play fast. Burgos plays a very happy game, scoring points with different players and we have to make them suffer in each basket to bring the game to our field "
Being able to be in the semifinals was something that perhaps they did not expect at the beginning because "after the first two defeats we were aware that the possibility was low, but we were not going to give up and that was our mentality. We gave the surprise and now we have real options; we don't depend on any star fruit ".
"The only thing that is certain is that if we lose tomorrow we will not be in the semifinals. That is the first thing and, from there, it no longer depends on us, but Valencia also plays the classification and if it wins it favors us. Burgos, without being The favorite could surprise yesterday. The only thing we have to think about is what we will do. "
Being in the semifinals will be, according to the Badalona player, "it will be something historic for the club, but we are having a very good season and after also reaching the semifinals of the Copa del Rey, it would be a great step for the club and a pride for the that we are here. "
Although the break due to the COVID-19 pandemic Llovet affirms that, "the level of play of this final phase does not surprise me. It is true that it is an exceptional situation, but we had been training for a month and a half, as in a preseason ".
"The motivation of the team is maximum and we knew that there could be a surprise and we have seen that anything can happen. Everything is very open and in our group Real Madrid and Valencia were the favorites and now they can even be left out. No one win or lose before playing, "concludes the Catalan forward.
Photos from as.com