Kubo's 'no' to Barça: "Does Madrid really want me?"
The involvement of the white club, and especially José Ángel Sánchez, in his signing seduced the Japanese, who did not hesitate and also rejected PSG, United or Bayern.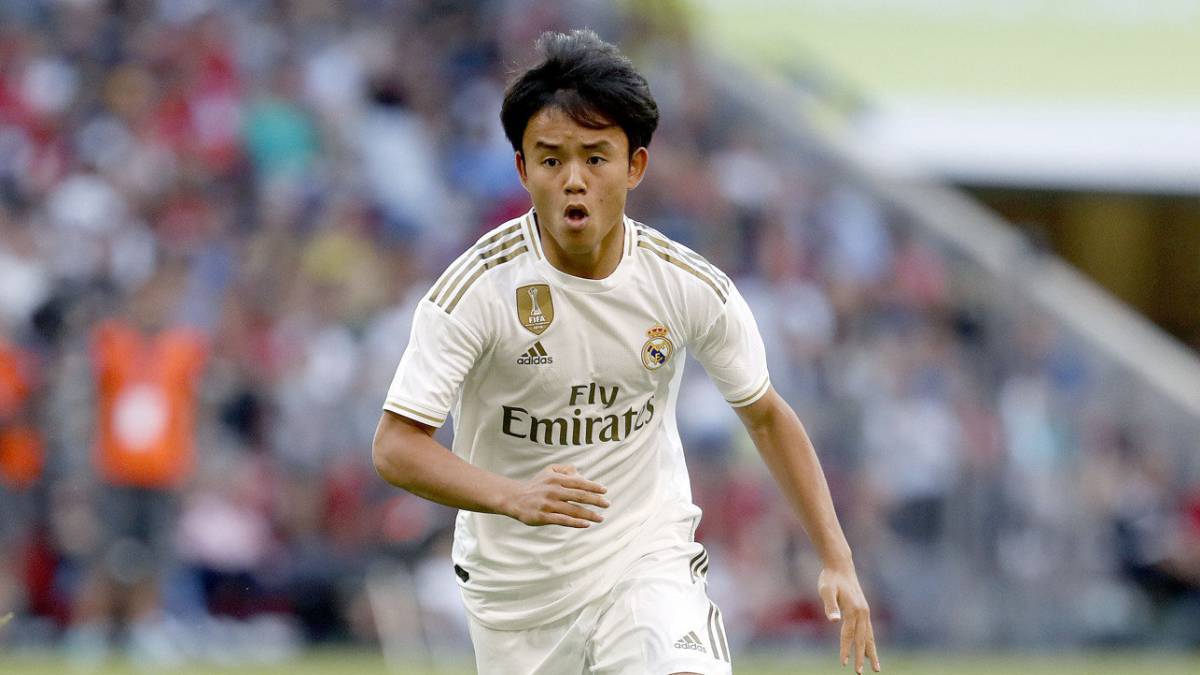 Few feelings baffle like losing something you had, which is what happened to Barcelona with Take Kubo. Even more so if that something ends up making someone you would least like to do happy, in this case Madrid. The story of the 'no' of the Japanese, who this Wednesday arrives at the Bernabéu with Mallorca, to play at the Camp Nou and the 'yes' to wear white has many details and a perhaps unforgettable problem: Barça neglected him and Madrid He went out of his way to sign him.
The beginning of the end came when Kubo, one of those harmed by the FIFA sanction on Barça, decided in 2015 to leave Spain, training at La Masia with no option to play matches, to continue enjoying football. He returned to Japan, to FC Tokyo, with a contract until June 1, 2019: on the 4th of that month and that year he would be 18 years old and, except for surprise, he would be hunted by the Catalans.
But before that, a lot happened, including a change in the player's agent, which changed the script. Take's progression was very hopeful and offers for him piled up as he came of age. Barça, alerted to the movements of PSG, who wanted to pay him a transfer to FC Tokyo in November 2018 for Kubo, invited the Japanese team in December to a game at the Camp Nou and their pearl to do a stage with the subsidiary. Bayern, Juventus or United were other of the many interested, practically the first and second row in Europe.
A meeting with Barça and Madrid
Kubo's trip to Japan and his family were clear on how to proceed with their new representatives, Roberto Tukada and Manel Ferrer, asking to respect the rules as much as possible so as not to expose themselves to a new punishment. That is why the businessmen decided to summon the suitors to June 2019, with the attacker's age of majority. There was only one meeting with Barça, in Barcelona, in March, with Bakero, Amor and a lawyer from the entity present. It lasted a little less than half an hour, they discussed the project and, with a spreadsheet with the salary ranges of the first template, the salary.
That meeting did not convince the player, whose agents informed Barça that they would do their job, part of which would be to listen to other proposals. Among them, that of Madrid, with its own name, that of José Ángel Sánchez, Madrid's general manager. Their intentions transferred to Tukada and Ferrer, they did the same with the footballer, who replied between disbelief and security: "Does Madrid really want me?"; "Yes," they replied. "Well then, Madrid, only Madrid," he chose. In May, in a habitual practice and one of great success for Madrid with its objectives, the managers received the environment of the player, who was delighted with the facilities and the good harmony.
They were verbally engaged in a negotiation that would have to give rise to the document linking Madrid and Kubo, followed by a significant sample of how the situation would evolve. Begoña Sanz, deputy general director, and Juni Calafat, head of international football, made an almost round-trip trip to Japan to introduce themselves to Kubo and his family, explaining the project. That contrasted sharply with Barça's strategy: Abidal was in the Japanese country in May for commercial and the following preseason reasons, but he did not remember Take.
The growing rumors about PSG and Madrid by Kubo set off alarms shortly afterwards at the Camp Nou, from where, aware of what might be coming their way, several desperate calls were made. But on June 4 Take turned 18 years old and on 10, after a lawyer and a doctor from Madrid had traveled before the Japanese National Team's trip to the Copa América, a deal was closed that at the Bernabéu they see as exciting and worrisome in Barcelona .
Photos from as.com