"Llorente is not Messi, but he plays as if his life were"
Cholo appreciated the game against Barcelona. "We know what happens in defeat, but not from the illusion when it is your turn to win at Camp Nou."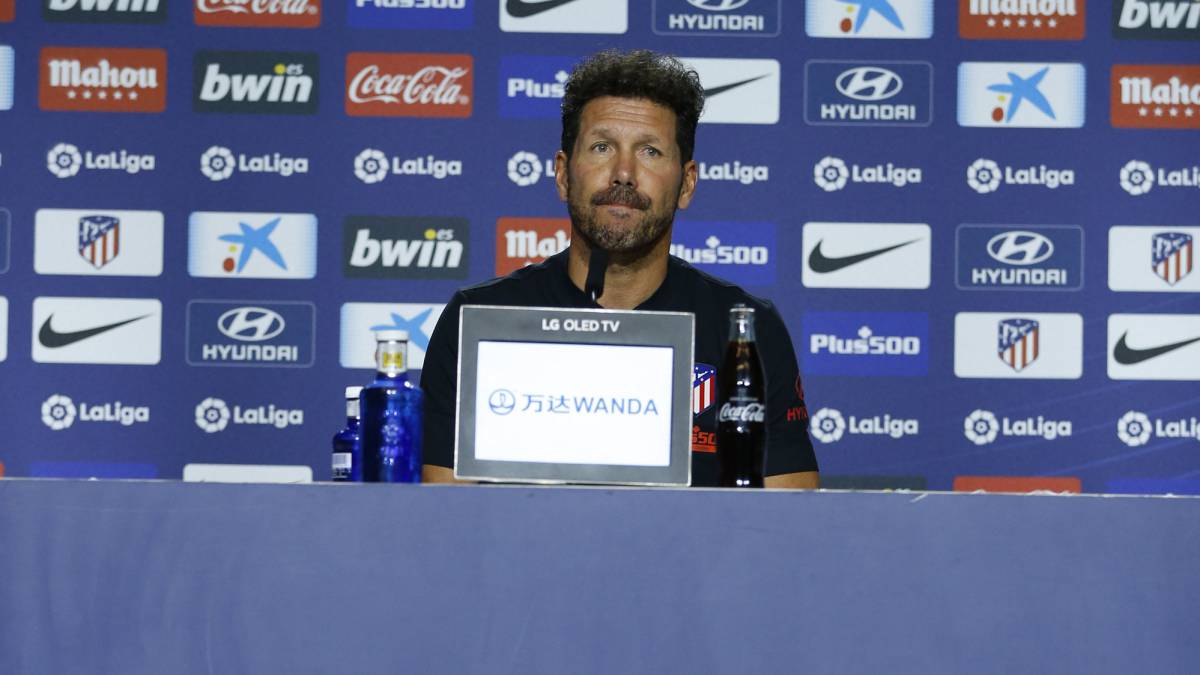 What does Saul bring to the team?
He is a very important player for us, capable of fulfilling many roles in the team and now he has settled well in the middle of the field, in the position that feels best. He is a player with great tactical power without neglecting all the strengths in his game such as arrival, distant shooting, ball play, defensive work ... and that makes him very important for our team.
How do you see Barcelona's dressing room problems?
I have no opinion about what happens in other locker rooms. Ours we have to keep protected, take care of it and manage the emotions of each one of the soccer players, which in the end is the most important thing. They play well, they are good soccer players but the most important thing in my team is the emotional part.
He has beaten Luis Aragonés in victories.
We do not stop to think about what is happening. The worst thing that can happen to someone is to look back and believe that that's okay. We look forward, we transmit the win, generate that internal competition and that strong group that continues to be despite a lot of footballers leaving last summer and that is the most important thing that we have ahead of us. I do not stop at what happened, football is today and you will not be valued for what you did before if not for what you do now. I have the same illusion as when I took the plane to come and we seek to continue focusing on the match by match.
Is this the best time to win at the Camp Nou?
I'm not holding on to dynamics, I'm holding on to tomorrow's game. It is very hard, one of the best teams in the world or the best and we will meet extraordinary footballers who have been winning the League for years on end and will not lower their arms until the end, because they want to win and they are very good.
How do you see Griezmann?
I do not see Barcelona often to open a fair comment on your question. I focus on Atlético which is the most important thing we have.
They arrive in good dynamics.
Every game with any very important team like Barcelona generates enthusiasm, enthusiasm and tomorrow will not change anything based on the excitement of the game trying to always take it where we can hurt and feel good in the match.
How would you deal with disrespect?
I would not tell you and I would try to resolve it naturally in training, with a coffee or in any informal chat to overcome an internal dispute.
What difference is there between the League and the Champions to win in one and not in the other?
If we go to the Champions League we don't win at the Camp Nou either, we tie one and lose the other. They are beautiful challenges, we know what happens in defeat, but not the illusion when it is your turn to win.
Are you at the best time of the season?
I don't stop at victory or non-victory. I stop at what happens as a result of working well in the quarantine, we came back with a plan that we could hit or not where everything goes as a result of results and everyone wants to participate. With five changes we have to contribute to all and we have been close to being tied or winning by more advantage, but we compete and it is the path that Atlético always had.
Can Llorente be Atlético's Messi?
He is not Atlético's Messi. He knows it well, from humility his work grows and looking for more options for the coach and the team. And if he plays 20 minutes from the bench, he enters as if life were going away in those minutes and if he is the same starter. We feel identified with that state of illusion. I hope he can keep it and he feels at a good time, hopefully we can accompany him putting him in the place that can perform better.
Will Felipe and Llorente play headlines?
You know me, we have played a lot of games against Barcelona. We are not going to vary from what we are, a strong, defensive team, with many midfielders and I think that only what they will have on the field tomorrow will come out.
What has changed the most in the return to competition for these results?
The forcefulness. The one we found in Pamplona, at the start in Levante, in that dose of fortune with Valladolid where we had had options to score, but finally it was in a shot that came in just inches, in a game worked like that of Alavés where we could solve it a ball stopped where it had been for a long time and we made it appear. The group is aware of the five changes where those who enter respond in a brilliant way will make us continue to be better in this tournament that is ending.
You will not have Koke.
It is very important, as one of those who best understands the team because of the number of years they have been with us and its importance is great. We have players with other characteristics and we will try to nurture the team with their characteristics.
After what happened in the hydration break, can Barça be more dangerous now?
I don't stop to analyze what they see on television. I focus on play. The first half against Celta was very good, with Ansu Fati going well on the wing, Riqui Puig moving to circulate the ball, with Messi and Suárez where they always are, deep wingers and I am guided by that. In the second half, situations started with tiredness, the rival began to grow ... but that first time was very good.
Photos from as.com