Hamlin, victory in the last race of the day in Pocono
Pocono became the first circuit in NASCAR history to hold three national series races on the same day.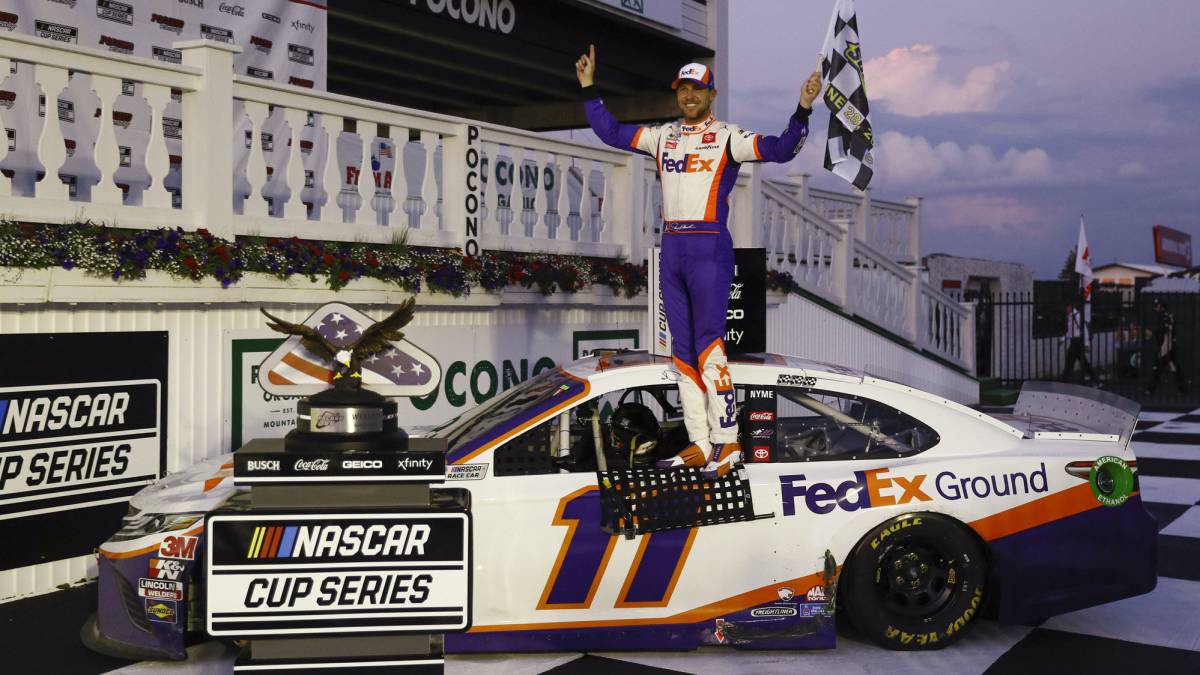 The checkered flag of the second round of the race at the Pocono Raceway went to driver Denny Hamlin. While the Mexican driver Daniel Suárez finished in 26th place in the race. Hamlin took center stage, especially when Pocono had to turn on the lights after the race ended in the dark.
Hamlin overtook Kevin Harvick on Sunday night to win the second Cup race of the weekend at the Pocono Raceway and change the result of the first round. The 1-2 finish for each driver is a sign that two of the best drivers in the championship are ready again to compete closely for the title.
Hamlin has four wins this season for Joe Gibbs Racing, while Harvick has three for Stewart-Haas Racing when they begin to separate from the rest of the drivers. Hamlin is racking up achievements as he pursues his first NASCAR Cup championship.
Today's winner has 41 wins and goes to 19th on the NASCAR race list, and with his sixth win at Pocono he equaled Jeff Gordon for most wins on the trioval track at just over 2 miles. Hamlin raced to his fourth win of the season to cap a day of high-level competition, with three NASCAR races and the stellar race ending at dusk.
The Pocono track has no lights, but the pits lit up and shone when Hamlin won for the second consecutive year on that track.
Hamlin had a late vibration in his No. 11 Toyota on Saturday that hampered his attempt to catch Harvick down the stretch. Approximately 25 hours later, Hamlin overtook Harvick and had a lead of almost three seconds once the SHR driver was caught in traffic.
The victory of the Daytona 500 Mile champion capped NASCAR's first triple on the same track. The drivers ran six laps before the race was suspended almost 51 minutes due to rain.
NASCAR ran several laps before the race finally turned green at around 6:15 pm It was a race against darkness to complete the 350 miles. The rain wreaked havoc on NASCAR's third race of the day.
Pocono became the first track in NASCAR history to hold three national series races on the same day. NASCAR's hope to capitalize on being the only major sport that takes place live every week with sports on hiatus after the coronavirus pandemic has been plagued by weather issues.
Sunday marked the ninth race of 15 this season with a weather delay, and three have had to change days. Jimmie Johnson, a three-time winner at Pocono, was honored on the track over the weekend.
The first three places in the championship are Kevin Harvick, with 2031 points; Denny Hamlin, with 2029, and Brad Keselowski, who has 2021.
Photos from as.com