"I do not know if I will continue at Unicaja, I cannot guarantee anything"
Luis Casimiro, the boxing coach, speaks after the victory against Bilbao. Mumbrú, Basque coach, also speaks: "We were already very fair."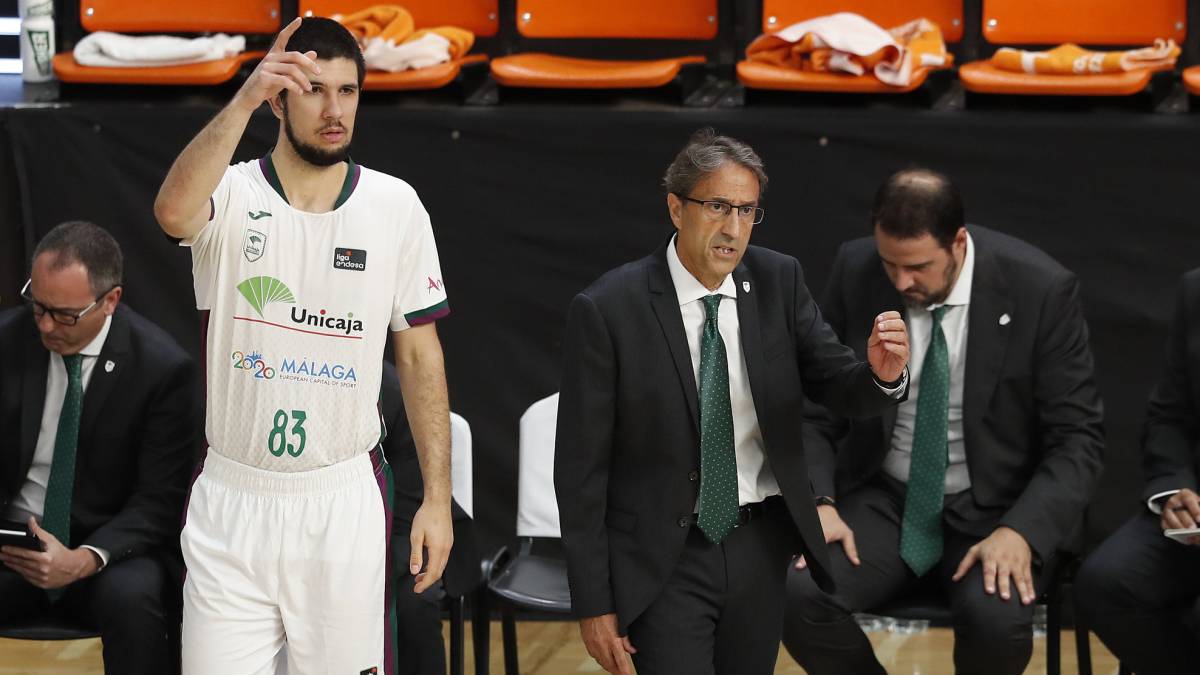 Unicaja coach Luis Casimiro assured, after finishing his participation in the final phase of the Endesa League with a victory against RETAbet Bilbao Basket (78-65), who still does not know if he will continue as coach of the Malaga team next season.
"I don't know. I ended my contract on June 30. Every time the president has spoken, he has postponed everything at the end of the season, with good judgment, to be focused on the competition. You have to wait to see the situations that may exist in the future, but I cannot guarantee anything, "explained Casimiro.
About the last game, which both teams faced without options to qualify for the semifinals, the La Mancha manager admitted that it was a shock "difficult to play because the environment -without the public in the stands- is difficult and on top of it is a mere procedure" .
"The team effort and respect for the work has been great and we have been able to maintain continuity and win the game. I am satisfied with the work," he stressed.
Casimiro also thanked his players for the "work" in a "difficult year" of which he stressed that, despite the "difficulties due to injuries", his staff "has been very good in terms of attitude and work ethic" .
"We must praise the professionalism of the players and of the club. We have left this final phase well. We have alighted from our league semifinal own mistakes in a game final against Baskonia. The work has been well done and those Specific and own errors have separated us from a semifinal, "he lamented.
Mumbrú: "We hooked Miribilla again"
RETAbet Bilbao Basket coach Alex Mumbrú, despite the defeat in the last game against Unicaja (78-65), finished the final phase of the Endesa League played in Valencia satisfied with that his team finished "without injury" and after "having competed and fought until the last moment" .
"It was a difficult game, especially mentally after five games with what it means to play when you don't play anything. The first part was little basketball, with both teams tired and in the second part they made a break and we were already very fair, "explained the coach about the match.
Mumbrú, on the other hand, confessed that participation in this final phase has been "emotional" for Bilbao Basket after the season "was suddenly stopped" by the pandemic after "a good year" and "two months" seeing the faces by computer ".
"What I am left with this year is that we have hooked Miribilla again. It has been a very good year in which many things have happened to us. It was emotional to finish and that next year we will be in the ACB again . Working from humility, to continue in our line and see where we are able to go, "he reflected.
Finally, questioned about Rafa Martínez, who today played his last game as a man in black and has not yet decided whether he will continue to be active next season, commented that "if he decides to retire here it will have been something very nice" .
"If he decides to finish here, it will be nice for him to retire at the house to which he has given so many successes, in Valencia and with the Bilbao Basket jersey. And if he decides to play, it is a decision that he must make," he said.
Photos from as.com