Borussia do not fire Achraf and prepare an offensive for him
This Saturday against Hoffenheim, the club will make a farewell act for Götze, who has just signed his contract. But not so for the loan of Madrid, because there are hopes with him.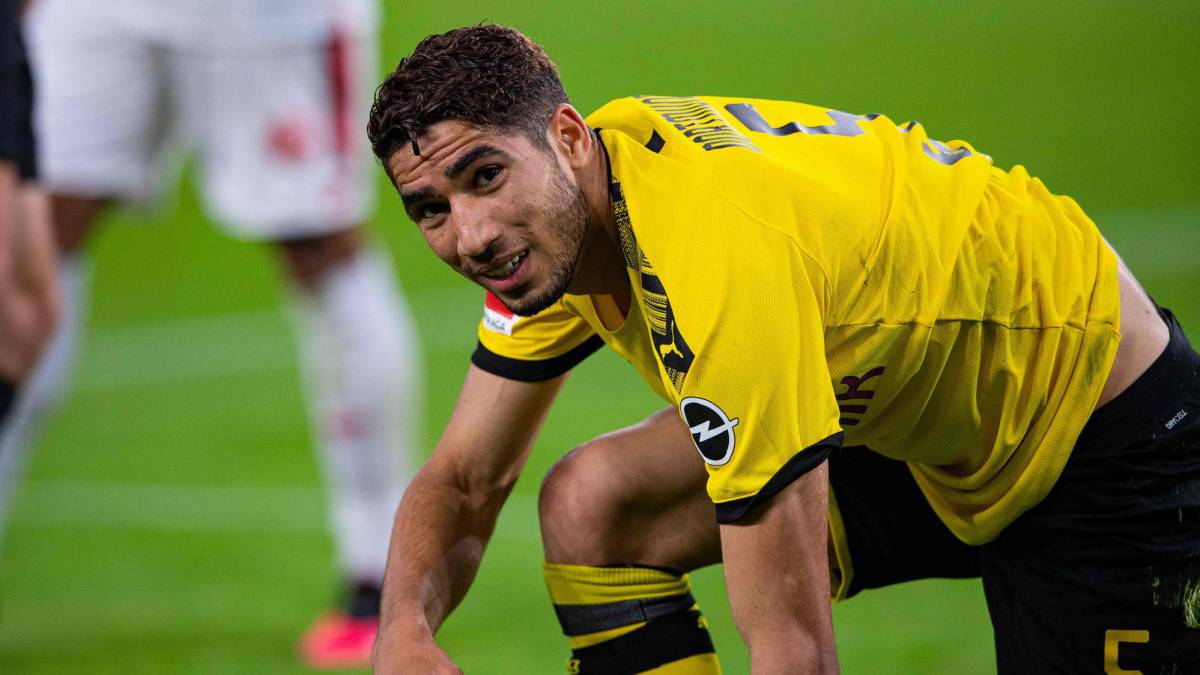 Borussia Dortmund pull down the blind this Saturday to their 2019-20 season with an inconsequential match for him against Hoffenheim; his rival does play a lot, the possibility of finishing sixth and avoiding a qualifying round for the Europa League. The Signal Iduna Park will see the pupils of Lucien Favre for the last time this course and the duel will have as a high point for the locals the farewell to Mario Götze. The German playmaker ends his contract and will not renew, by mutual agreement with the club, so an act will be held before the fans to thank him for his eight seasons with the 'Borusser' team in two stages.
But he is not the only Dortmund player to end his contract; Another that on June 30 ceases to be a Borussia player is Achraf, whose two-year loan ends in a few days and must return to the discipline of Real Madrid. For him there will be no farewell act, but it is not at all a sign of little respect or tension between the parties, but pure tactics: you cannot fire a player with whom, wait, you would like to continue counting at least a year plus. And that will happen this Saturday in Dortmund, although it is expected that the fans, in case Achraf does not continue in the ranks of the German team, dedicate a kind of "see you soon".
Borussia's sports director Michael Zorc made this clear in statements to WAZ: "His contract is ending, but we are interested in finding a solution with him and with Real Madrid, because we want him to be with us next season." The solution that Dortmund seeks is a new loan, somewhat complicated given the height that the player has achieved in his two seasons there: this course has scored nine goals and given ten assists in just over 3,500 minutes; The past was three goals and seven assists in 2,350 minutes. Favre's system of five defenders has made him fly and has attracted the attention of several greats from the Old Continent, such as Bayern Munich.
Achraf belongs to Madrid until June 2023, but his stance is very clear and Madrid already knows her: he wants to play and knows that, with Carvajal on the roster, his options to do so regularly are greatly reduced. He already assured it in an interview with AS in October 2019: "I am not going to lie, of course I would like to succeed there. I have grown up in Madrid, it is my home and I would like to grow there, but if not I will try to succeed in another side. That's my dream. " At this point, the options are: to renew him (his contract is the last one he signed as a Castilla player, whatever happens will improve his relationship) and to relinquish or transfer him with a repurchase option for several seasons, thus enabling his return when Madrid's right back requires his services.
Photos from as.com