A Tenerife in box leaves Joventut without options
The Canaries, who were already eliminated and a player without Marcelinho or Shermadini, were more consistent than their rival, who they send home.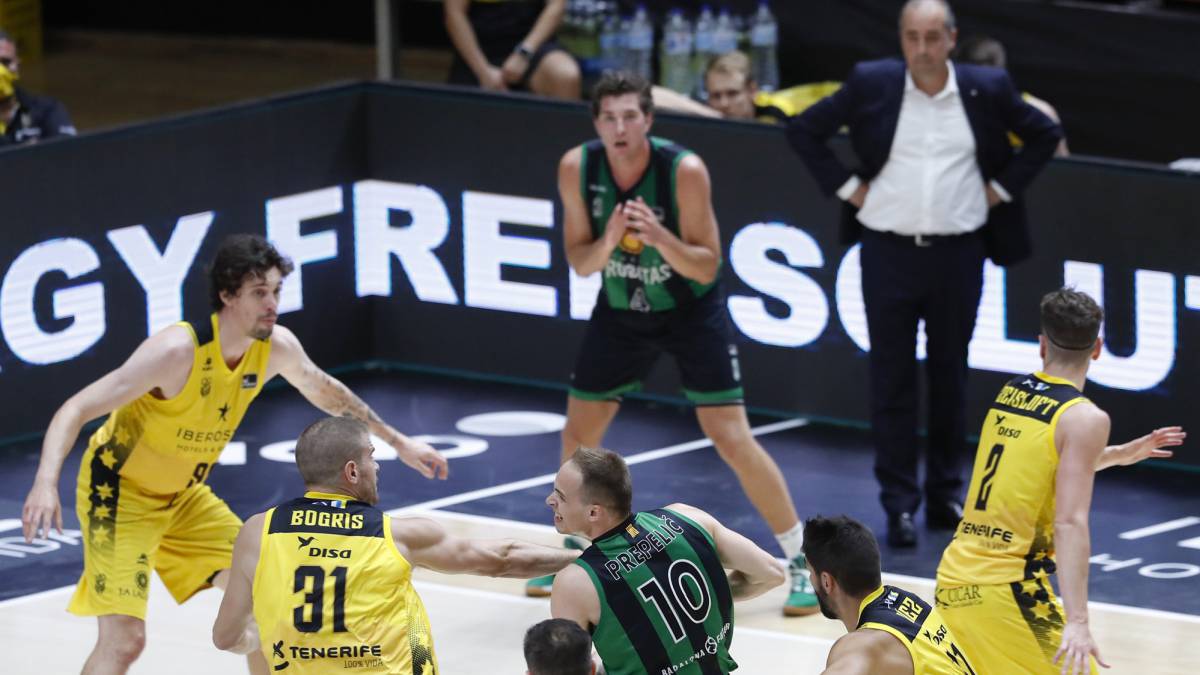 Joventut were playing tonight with the aim of staying alive on the last day and rushing their options to be in the semifinals, but they did not have their best day. After the good image in the defeat against Barça and beating Bilbao, against Tenerife they were combative only at times and very ill-advised, both in imposing the game they were not interested in and in the success from the line of three, a slab that ended by knocking them down.
They signed a 4 of 23 from the perimeter with their best player, Klemen Prepelic, making only 2 of the 10 he tried. Those successes came in the last seconds, when Penya was already playing desperately and managed to reduce the disadvantage to just two points. But that reaction of Prepelic came too late and along the way they had already left much of the victory that they finally failed. They started out losing in a game with a very high pace, in which penalties were called and in which Álex López dressed as Marcelinho: 5 assists in the first quarter, 8 in the end with 4 losses. La Penya fell asleep in the back and that caused a tremendous anger from Carles Durán in the first time-out he requested, although it would not be until the second set when they were really used in defense.
That and the failure to shoot three was what turned the game in favor of the Badalona, who in the second quarter only tried 2 of the 23 final triples. A set of 2-12 put them back two minutes from the break, where they would reach six up (29-35) with a final set of 4-18. But in the third quarter they returned to the old ways and what was wrong for them was that on the opposite side they did start to see the basket much larger. Zeisloft, but above all Lundberg (the best of the match) and Dani Díez hit several triples that were nailed like daggers into the rival's mind. As if this were not enough, the people of Tenerife took 11 offensive rebounds, many of them in the last quarter, which gave second chances in the end, bleak.
The last quarter was a I can and I do not want from Joventut, who allowed himself to be guided by Prepelic's hand, the one that has so many times made it difficult for him. This time the young escort did not have his night and although he finished with 18 points, most of them came from the personal line, which he went to again and again for the tough and studied defense of Iberostar Tenerife. The move went well for Txus Vidorreta, who managed to stop the rival star and with this, short-circuit his entire team in the final moments. Despair was noted to the point that the Catalan team received four technical fouls almost in a row when they were in the middle of the penultimate comeback attempt. The last one would already be a toast in the sun, with those two Prepelic triples that were already of little use.

Photos from as.com