Vettel goes to the confessional and clears doubts about his withdrawal
"I know I can do more, I have made mistakes I shouldn't make," says Ferrari German, ironic about his future in Formula 1.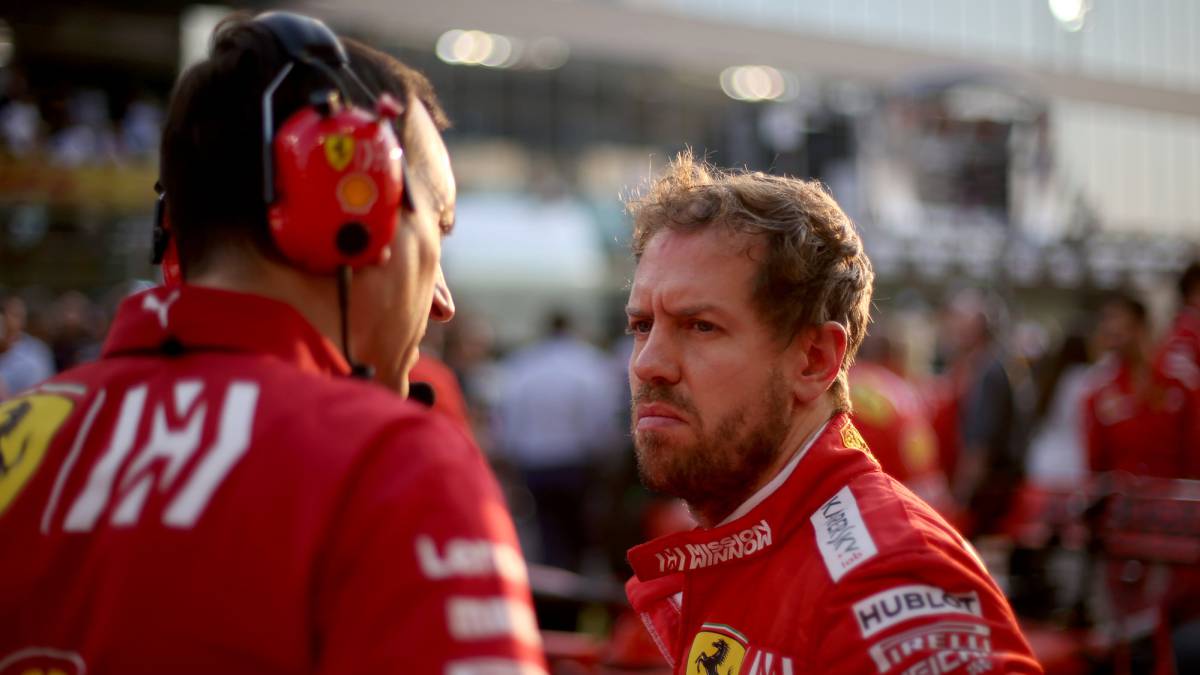 Sebastian Vettel's emotional farewell to his engineers by radio at the Abu Dhabi GP gave rise to certain speculations in the 'paddock' about whether or not it would be his last race. It is not usual for a pilot to interrupt his contract in Formula 1, although the frightened of Nico Rosberg has opened the door to many stages in the 'Great Circus'. But nothing is further from reality, 'Seb' stresses that he does not leave or give up. "I think I'll be on vacation next year, right? As journalists are always right, I guess it will come in the next few weeks ...", he says wryly, because in summer some rumored with that possibility, which was never possible, Nor now: "I do not consider a withdrawal in the short term."
The German, with four titles in his showcase, 53 victories, 57 poles and 120 podiums in 240 grand prizes, finishes the 2019 surpassed by his teammate, as happened in Red Bull 2014 against Ricciardo. But the Vettel-Leclerc balance is not very unbalanced: the Monegasque wins in poles (2-7), points (240-264) and podiums (9-10), sometimes by the minimum, but Vettel is ahead in the results Race to race with an 11-9. It was not a good season for his mistakes at the wheel (Bahrain, Silverstone, Monza, Brazil), but he refused and won again to cut a drought that exceeded twelve months and raised the flight in the second part of the campaign discussing the pace of career to the young Charles.
How do you deal with holidays and preseason? With reflection: "I have made a series of mistakes that I should not have made. But I am honest, I feel that I have always done everything I could do. I have been here for quite some time and I am sincere enough to admit that I should have made a better work. I know I can do more for my part. "" First I look at myself, I correct the points that I feel I have to correct in myself. There are things I can do better, that I know I can do better. what I think and obviously I will try to improve it for next year. "Although it does not predict major changes:" I don't think it takes a lot of science, it's in the details, in small adjustments and it's nothing big or very important. I don't need to pilot different, I know how to pilot. Of course I am not doing the same as ten years ago, but there is always something to improve on. "
With 32 years and three children in his home in Switzerland, the ambitions of a Formula 1 driver may change, but Vettel has been open to being part of the new Formula 1, the one of 2021, and wants to fight again for a World Cup with Ferrari. From their garage they recognize that it has been fundamental in the very rapid adaptation of Leclerc and that it is still essential for Maranello. "Leclerc prepares to win with Ferrari in the future, although Vettel may do it before," sources from the 'red' garage recognized. So contacts with Hamilton can also be interpreted as a wake-up call ... in a few months everything will be clearer.
Photos from as.com