Valverde: "Rakitic plays more because he is winning"
The Barcelona coach appeared in the press room, before the Real: "Pedro is a historic player of the club. We will see what the future holds."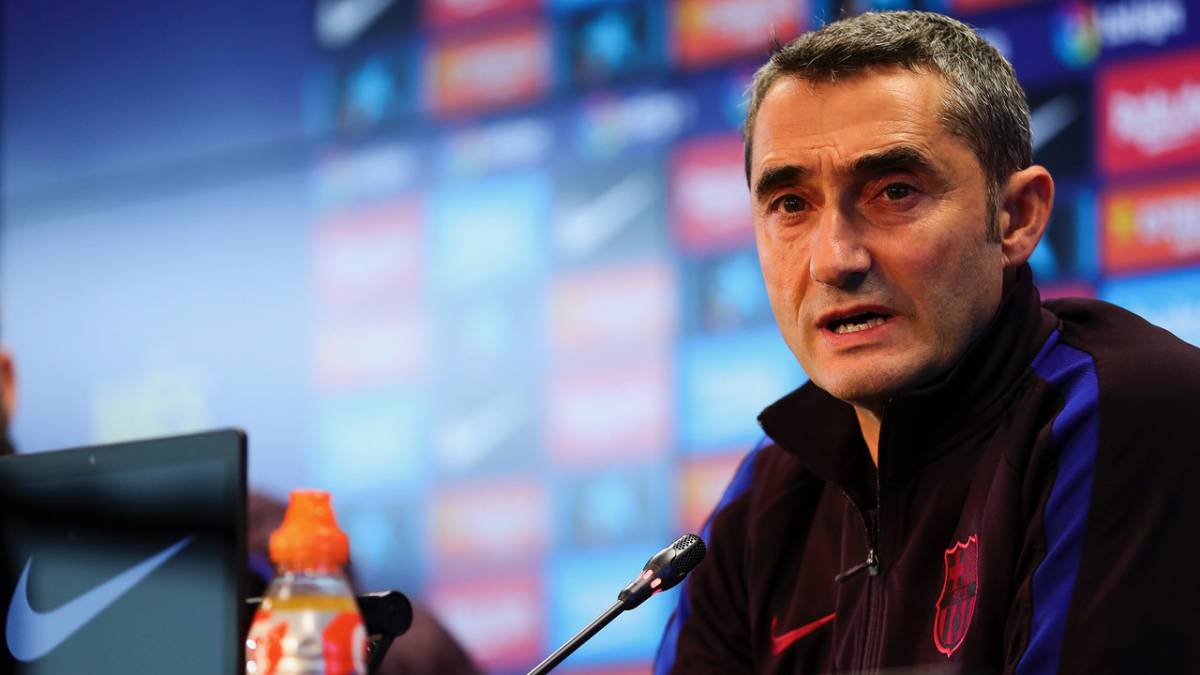 Ernesto Valverde, coach of Barcelona, appeared in the previous match against Real Sociedad. These were the impressions of the Txingurri.
Do you have the feeling that this is one of the most complicated games of the season?
It is always one of the most difficult visits of the team. The last two years we have won but we came from lost years and we add that the Real is fourth and is up, with important players going forward. And last time, we were pressed a lot in the Camp Nou and we found it very difficult to save their pressure. Tomorrow is going to be a tough game.
Are Semedo and Alba ready to play?
They have been training since the last League match. By Tuesday they did not have the discharge and we hope that today they can discharge and enter. They are training well.
More and more details of the Classic are known. Would you be willing to concentrate on Reina Sofía or Camp Nou if you ask for it?
We'll see. What we do from Sunday. We are not thinking beyond tomorrow. I know that the Classic takes a lot of headlines and a lot of information but I don't want to decentralize because the three points of the Real are the same as against Madrid. I know it is a special situation because it is a postponed match but we will study it.
Pedro says he wants to return to Barça. Would it fit you?
Pedro is a historic Barça player, we are not going to fool ourselves. One of the players with more titles in the club. We'll see what the future holds. It is loved by people.
If for security you are told that it is prudent to concentrate on the same hotel as Madrid, or be at the Camp Nou. Would it look good?
If for security reasons they tell me those things, they will start thinking about it. They haven't told me anything about security. Everything in its time.
The Classic is going to play. Do you have that feeling?
We're going to play in Donosti and I guess the next one will also be played.
Do you see Rakitic with the idea of staying?
I see him the same as others. We are playing many things and I know that when we are in the summer market I know what is going to happen and then everyone asks you about the winter market. Ivan has started to play and participate regularly and if he does it is because he is winning.
Can you detail what happens to Arthur?
I was asked about him the other day. He came from Brazil with some discomfort, the same as he had the previous year, and after the game with Atlético de Madrid we had to stop him because he had pubic problems. Let's see if we can recover it. For tomorrow, I doubt it is
What dangers do you see in Real?
Well, he has a plan. Press up, try to get the ball back and Merino and Odegaard connect well. As a block they are good team but from midfield up I see them very well.
Is it difficult to isolate Classic players?
-The truth is that, contrary to what people can imagine, I already know that the Classic takes a lot of information, the players are more aware of the next game than the Classic. More for what we have ahead. We are not too aware of it and when we have to face it we will think about what will happen in the field, nothing more.
Have you talked about the availability of players to collaborate with the security measures they are asked for?
That is going too far. We will try not to make much noise, go out to the field and play the game. We should not spend many questions of the Classic because on Tuesday we will have to talk about something.
How does Ansu take it?
He's fine, calm down. I think there is more noise outside than there is inside. We are taking care of the player to see if he overcomes the inconvenience he is having. But the rest we carry with absolute normality.
After Barça-Inter, Marotta said they wanted Vidal but that Vidal will not move from Barça. Does the chapter close?
What can I answer to information that comes out or does not leave us? Inter information comes out, they will know. In our case, the market has not opened, Arturo is our player and we will count on him if we consider it convenient.
Photos from as.com