The green sprouts that Simeone should hold on to
Despite the lack of a goal, 16 in 15 days of the League, Atletico already plays 90 'of the matches, the defense is solid and there are names that delude.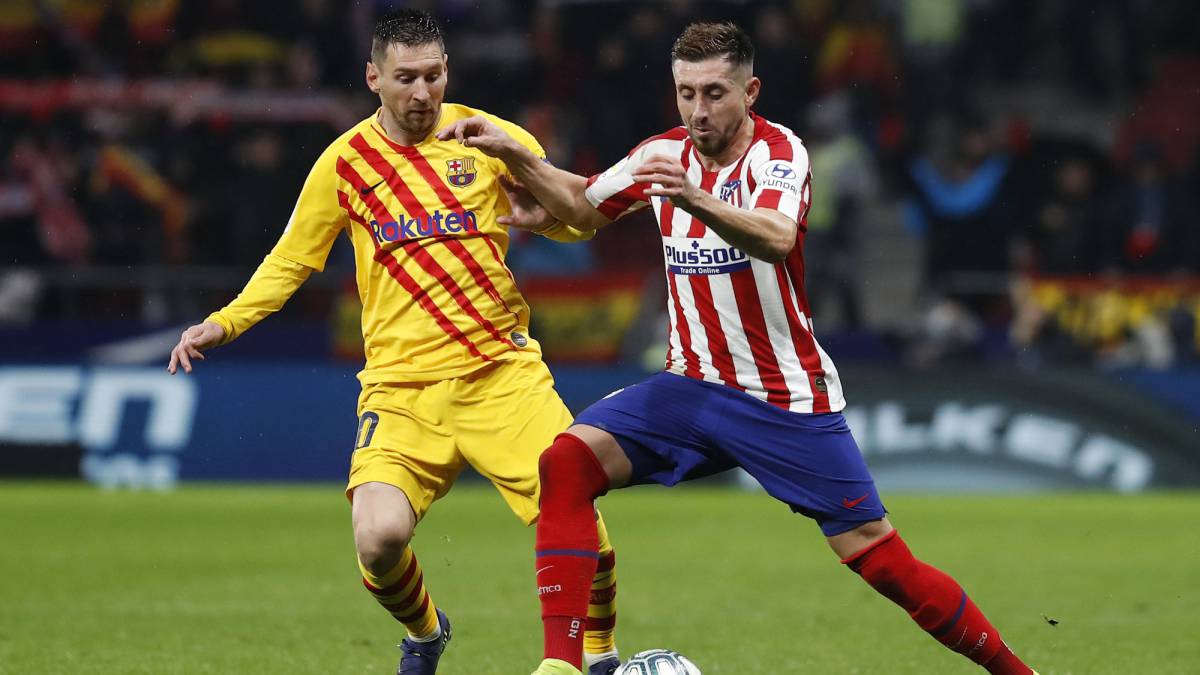 Atlético de Madrid will return today to training at Cerro del Espino, in the afternoon, two days after the defeat against Barça, with clouds there over his head and that word for the first time verbalized, transition. Atlético de la 2019-20 a foundation on which to build, not a project to continue fighting Barça and Madrid. The preseason passed, it was just a summer dream, the red-and-white reality in December is that it is not yet qualified for the eighths of the Champions League (it has the last day, against Lokomotiv) and that it is sixth in the League. A position he held not so long ago, three seasons, 2015-16 ... that finished third ... fighting as always with Madrid and Barça. Because there is a stone that weights, the lack of goal, the terrible lack of goal, 16 in fifteen days of the League, but also green shoots. That already plays 90 minutes, that does not mark but does finish, that there are proper names that excite.
Matches at 90 minutes
"We have to go for the games from the first minute so that today does not happen," said Saul after the match between Atlético and Valladolid. A game that the rojiblancos tied, without playing the first part, a custom that has been rooting throughout the season. He passed Alavés, passed Leverkusen, neither of those two duels won ... And the team has learned. Against Granada, Juventus and Barcelona, their last three games, a change in trend that Saúl demanded in those statements has been felt. Atlético no longer throws the first parts. He already plays 90 minutes.
He does not score but he finishes
Atlético has no goal and has also lost Costa, the striker that Simeone asked for for three years and on which all the hopes of the goal were in Atlético (he made five in preseason), but not even things They were dating him (2 goals in 15 games, with a very poor average of 0.13) nor does Simeone seem to be able to count on him in a while: he spent two weeks in the operating room to have a cervical disc herniation. Morata, who chained six straight matches, has been the last three without him. And nobody has taken his witness. However, here the bud with the most intense green of all that Simeone can grab: yes it finishes. And that is new. When I played games just 45 minutes away, I didn't. But against Granada he did it on 17 occasions, 15 went against Juventus and another 17 on Sunday against Barcelona. 49 in total. By statistics, now that you finish off, the goal has to come.
Own names
That there are. In the first place the defense, the Felipe and Hermoso couple settles before the casualties of Savic and Giménez, and sits a lot. If the Brazilian central seems to start from the first game he played in full, for his contribution from above, both in defense and in attack, with anticipation, seniority, a luxury, the best signing of the season so far. Beautiful, by his side, has completed gray matches (Turin) but every time he is having more rennet and with an exquisite ball output, with large diagonals, towards Trippier, towards Morata ... He played his best game against Barcelona. As he gains confidence, he sees what Atlético signed: a guarantee center. The last one is Herrera, the signing that, perhaps, was more difficult to enter but once inside, it seems impossible to remove it. It is the figure that the team needed in the center of the field. From experience, from seniority, by game. He asks for it, delivers it, steals, distributes. The Cholo already has the starting pivots, Thomas and Herrera.
João Félix
He still lacks regularity. At the moment they are flashes, sparks, but it needs time. As Griezmann did, as Agüero did. Atletico was a month without him, for a sprained ankle, and did not accuse him: six games with three victories for the rojiblancos, two draws and a single defeat (against Leverkusen). He has played 117 minutes in the last three games, each time with more presence, although he missed his change in 66 against Barcelona. When you achieve regularity, the team will be able to take the leap of quality that it seemed it would have in summer when the word transition still did not occur to anyone.
Photos from as.com