Stoichkov premieres marveling the new San Mamés
He will go to the box at Athletic-Eibar this afternoon. "I will never forget the manor of the stadium," he said. He handed President Elizegi a replica of his Golden Ball. He will be with Ilbon Urizar Azpitarte.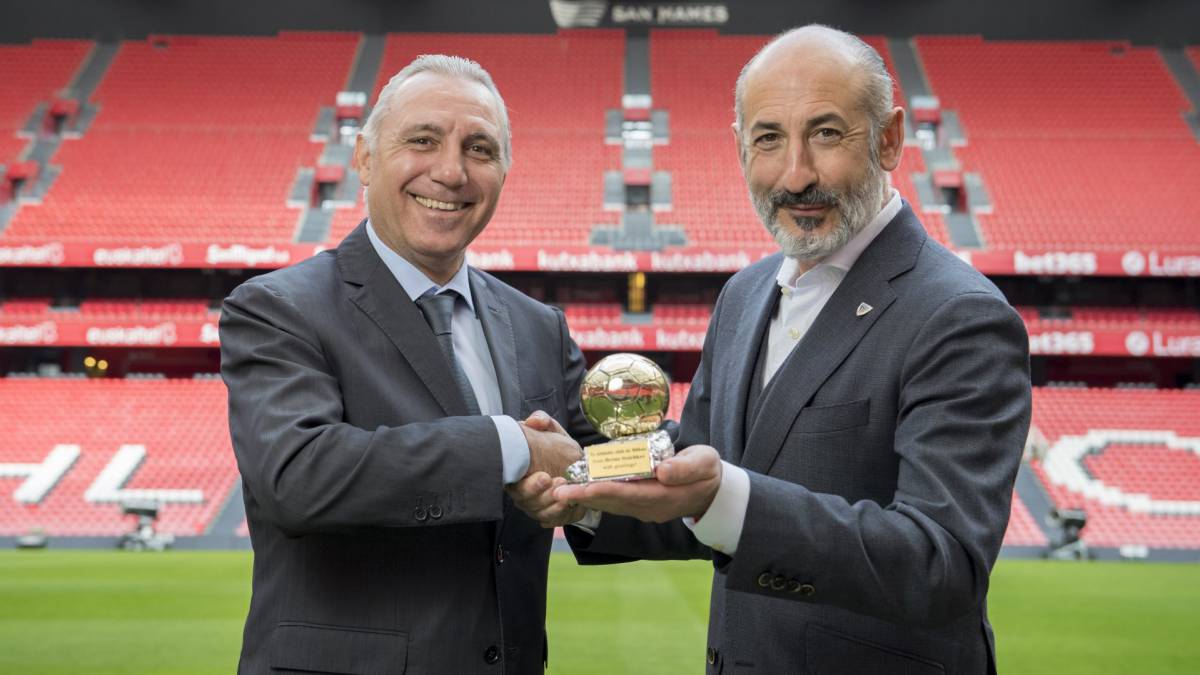 This afternoon's derby between Athletic and Eibar will feature a luxury spectator in the box. This is Hristo Stoichkov, a winner of the Golden Ball and a player very dear to San Mamés when he wore the Barcelona shirt, for his momentum. The Bulgarian is visiting Bilbao since last Thursday to record promotional videos for Univisión, the American channel for which he works, of the EURO 2020 to be held in San Mamés next summer. He has had the opportunity to coincide with Ilbon Urizar Azpitarte and star in another chapter of reconciliation. This one will also be in the box. A long time ago he already apologized for the famous stomping that he gave to the referee in 1990, when both were active, and who went around the world.
The Bulgarian player has been able to be with several players in Lezama and yesterday visited Ibaigane and the new San Mamés for the first time. He talked with Iribar and Stoichkov gave as a thank you a small replica of the Golden Ball that he conquered in 1994, in addition to a Barcelona shirt with the dedication "I will never forget the lordship of San Mamés". President Elizegi, on the other hand, gave him a personalized Athletic shirt with the number eight, his favorite. "It is a great honor, a precious detail," the president reacted upon receiving the precious reply.
Stoichkov called the new "jewel" stadium and recalled his times in which he ran through the old stadium, which occupied part of the site where his heir now sits. "I like to remember the images that the people of Bilbao left me at that moment," he gets excited.
Photos from as.com