Simeone puts four men and Arias and Lodi on the sides
The eleven against Villarreal would be composed of Oblak; Arias, Felipe, Beautiful, Lodi; Saul, Thomas, Herrera, Koke; João Felix and Morata.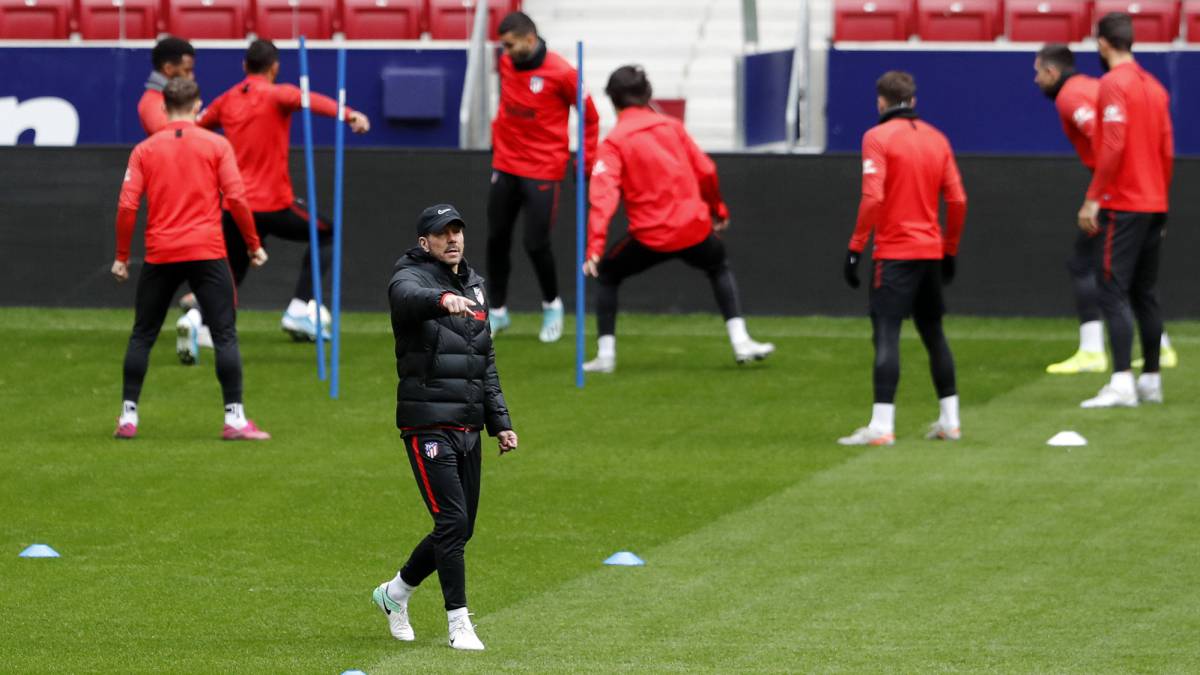 Atlético has trained in Majadahonda with its sights set on the match against Villarreal. And Simeone rehearsed with a possible starting eleven for Friday's game. And two are the main novelties of the eleven, Arias and Lodi, who in principle will be headlines. Arias will take the place of Trippier, who will have to rest after having played the last matches. And Lodi, substitute against Barcelona, will start again. Arias did not play since last November 6 when he started against Bayer Leverkusen.
There will be no big news in an eleven in which Herrera will follow. The Mexican has convinced Simeone and it seems that he has gained ownership. The Argentine coach will put a four-wheeler in the center of the field against an opponent who always gives the rojiblanco team a lot of trouble.
And in tip Simeone rehearsed with João Félix and Morata. The Portuguese left some flashes against Barcelona, although from the coaching staff they know that they should go to more as the games go by. João Félix and Morata will repeat at the point of attack. On the bench, Atlético's coach will have Lemar, Correa and Vitolo if he wants to revolutionize the match. The eleven against Villarreal would be composed of Oblak; Arias, Felipe, Beautiful, Lodi; Saul, Thomas, Herrera, Koke; João Felix and Morata.
Vrsaljko trained with the rest of his teammates while Giménez did not. Hermoso did not do the first part of the training, although he later joined it and made the tactical session of stopped ball plays.
Villarrreal: bad place for Atlético's reaction
Atlético seeks to regain victory after three games without winning. He tied against Granada and lost to Juventus and Barcelona, although offering a good level of play and having chances to win. Atletico, six points from the head of the table, and now out of Champions League positions, needs to win, but the stadium of La Cerámica is not the easiest place to do it. Atletico has not won four seasons in the Villarreal fief. Since April 29, 2015 the rojiblancos do not win there. Then they did it for the minimum, with a goal from Fernando Torres.
In the last four seasons the Cholo reaped a draw and three losses. For some reasons or others, Villarreal chokes Atlético. Last season there was a tie to one goal, with so much rojiblanco of Filipe Luis. In 2017-18, the Madrid team fell 2-1 with two Unal goals that turned the game around after Griezmann's goal. In 2016-17 there was no mercy on the part of Villarreal: 3-0, with so many from Trigueros, Dos Santos and Soriano. In 2015-16 he was an old acquaintance, Leo Baptistao, who gave the victory to his team.
In total, nine losses, five draws and three wins is the balance of Atlético in the Villarreal fief.
Photos from as.com