Salvador: "We have no room for maneuver in the market"
The sports director of the Levante magazine with AS before facing Granada, the only team where he has worked beyond Orriols.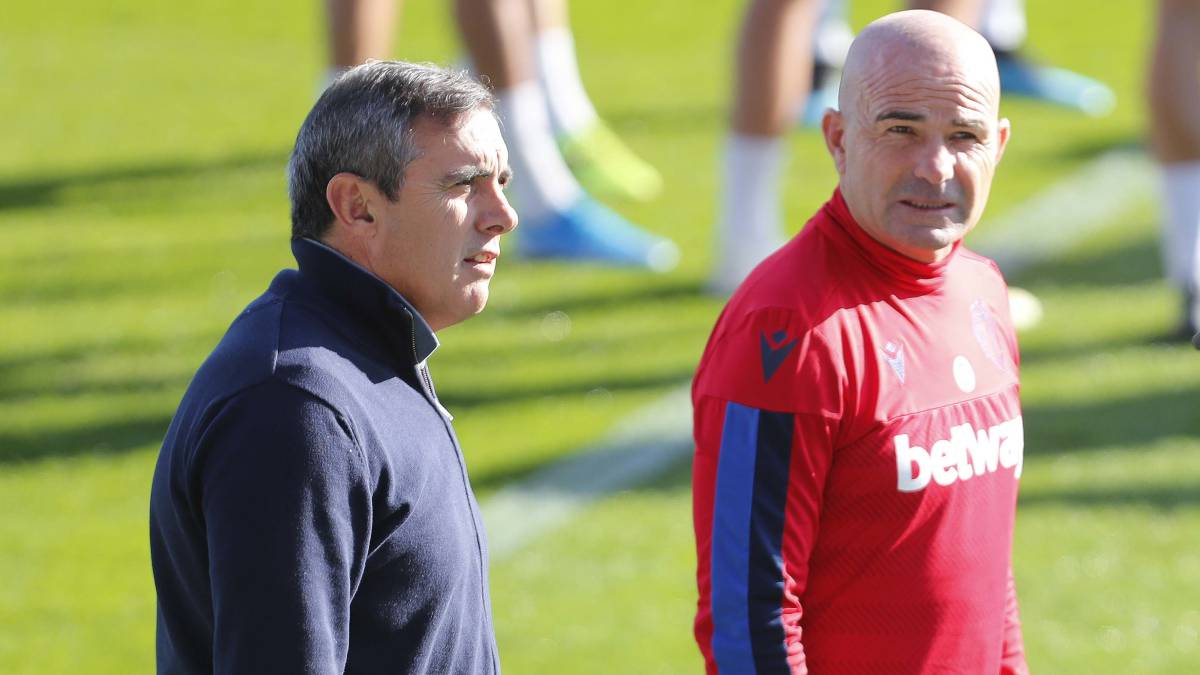 -How do you see the team on their return?
-We are within the expectations, of the points. We are seven points (from the descent) and now is a delicate moment after the two defeats for how things happened. But this continues and now we look forward to the game of Granada, waiting to see if we can claim as we did after the game against Espanyol. Where we show that we can beat anyone.
-What do you think of the sentence of Levante-Zaragoza? You were the sports director of that time.
-Well look, I who was at that time in the Levant did not have any indication of anything, nor knew anything, nor noticed anything. So justice has been done for me. I think the players have had a very bad time, but in the end justice has been done because there is no evidence at all. But the drink that the players have passed ... and it is also very clear that Levante had nothing to do with all this. I'm happy for the sentence
-What is your assessment of the derby? (Levante got 2-0 and the game ended 2-4)
-The assessment is that we make a very good first part. Yes, it is true that we had a fairly high pressure after the first two goals. But the team was fine, I was able to continue, arriving well, with self-confidence ... we were playing against a very powerful LaLiga team. In the 48th minute we get that goal, which is true that you face the second part, Valencia at least, with another idea. It is not the same to overcome a 2-0, knowing that with 2-1 with another goal you already tie it. From there it is true that we had a bit of lapsus, a play by Morales that stopped Jaume ... and then we get two goals practically in counterattack, which is where we have to improve. Ok, you are a little bit upset about that issue, but you have to continue. Now it has been a while, we must continue and think that our goal is to try to spend as little trouble as possible and not live the troubles of last year. Yes it is true that we come from two tough losses, but this team is trained. As I did after Espanyol, again demonstrating that it is a good team winning in San Sebastián and Barça. I trust this template.
-Now that you have been in office for a few months, how do you rate your return?
-I am eager to work and very excited, that comes first. And the second is that I have found a totally different club from when I left. With many players, that I was not used to taking them out in my time, because many people came on loan or for a few years. We lived a little more day by day because we did not have the budget that is now managed, which seems very good to me. It has been hard because they have had to take out many players on loan. But very happy because there was an interesting block. Last year I saw practically all the Levante matches and it is a very colorful team. We have suffered to keep the block and I think you can do beautiful things. It is still early, yes it is true that there are certain aspects to improve because we would like to be higher. But you have to put your feet on the ground and the first thing is not to suffer to maintain the category that is what gives us life.
-And what balance does Radoja and Duarte do, signings with Salvador stamp?
-They are two players who were in the market with the freedom card, they came free. That today, two First Division players, is complicated. We knew that due to circumstances they had not disputed many minutes but we understood that they could provide us with at least competitiveness in some positions. And the situation did not let us undertake transfers. Today in Primera it is very difficult to sign players from the free category, and more with the advanced market. Because now maybe you can anticipate in January with a player who is free on June 30, but we arrived the same June. It was very difficult. But there has been a player who is playing everything (Radoja) and Oscar is not counting on so many minutes, but you also have to understand that the competition in the central position is tough, with players who are giving very good performance such as Vezo, Postigo when it's okay, Cabaco ... He has come to add, to fill in the plot that was a little discovered and to compete with his teammates. He has had bad luck when he has had the opportunity to have a few games in a row to prove what it is, the injury has come. He could now have had more minutes and could prove how good a player he is. But look, this I had not seen in my whole life, having the five injured centrals. But now, little by little, we will recover them.
- Do you value the hiring of a plant with a subsidiary file?
-Not today. In the central post we will recover Postigo, the following week we already have Cabaco and after Christmas we practically have the four centrals. If everything goes well with Róber, too. We will not have six plants in March. Not today. Nor is it a priority, there are others ahead.
-How does a sports director feel without room for maneuver?
-I have returned to my house, to my club. Because I worked in Granada and made very good friends there, but my club is Levante. I came with great enthusiasm, I knew where it came from, how it came from and what I had to do. And I found different situations to my previous era because taking three or four players on loan in a summer is very complicated. And more when you arrive new and have no deal with many of their agents. Because I can demand a representative who has brought me a player, but there were representatives who did not know them personally. It has been harder than normal for that. But other than that, I am very excited and confident that this project will go ahead.
-Do you work on any formula to reinforce the team?
-We can't. It is unfeasible. The president has already said it, we have no margin in the Financial Fair Play. The only option that could be would be to sell it to a player for club needs. But at the moment there is no offer and we do not value it either because it would be a sale of an important player for us and if we did not do it in the summer market, we had more room for maneuver, we will not do it now. That is what I think if Levante does not have that need. And with the players who are playing less time we have not talked because there is still part of the first round and the whole second, they can still be important. If a player comes and asks us for a start and is positive for two or three parts, we would value it. But today we have no ability to maneuver in the market because the Financial Fair Play does not leave us.
-El Levante must sell for a value greater than 12M, are you already planning the sale of any asset?
-We have not entered so thoroughly. If you ask me what I prefer between selling an important expensive player or selling three for the same price, I prefer that the less we play the block the better. So if I had to leave someone, we preferred that he did it for a good amount than with other players that reached those figures. We are in it, we know what the situation is, but today there is no offer or possibility, as far as I know, that someone has come to take an interest in a player and pay a transfer. It is still soon. If we are talking about summer, it is still early. But the reality is that we are obliged, because otherwise they can sanction you and take a budget for next season, to undertake a transfer or two to be able to be in normal conditions.
-Do you feel that last summer Levante had too much respect to undertake a great transfer?
-From the first day I met with Quico, the president, he already told me that they did not value, but an obligation arose that was already agreed, to sell any important player. More than anything because they did not want to weaken the team and wanted to have a little more level to not suffer this season. That made it clear to me. Another thing is that they pay a clause or that there is a gentlemen's agreement in which it was sold if they reached an amount (Campaign). That was not the case and at no time did we put anyone on sale for the players that are now being used more.
-How do you face the situation of Dwamena?
-The situation, independently on a personal level, is complicated and very hard. The others are contract, legal, and I leave it to the club's lawyers. In the Levant he passed a medical review and now we have to carry with it the consequences, which is a disgrace for everyone. Because it is a disgrace. That is a more legal issue. The same thing happened to Zaragoza. It goes there, passes the medical review and they will also be trying to solve it legally. It is a subject that escapes my hands. I can inform myself by our lawyer but everything is still in the air.
-What will happen to Aly? He is training with the subsidiary, without file.
-It is very difficult. He doesn't want to play in the subsidiary, so there we have a problem. We could use it to play in the subsidiary, but he doesn't want to. We are looking for a solution and hopefully between this month and next month we will reach an agreement. But the player in no case wants to be playing in the subsidiary. Let's see if he changes his mind, but in principle not. Nor did he want to give up, there have been many changes of opinion of the kid and we will see if in the end he focuses and see if it is clarified with what he would like. We have made an investment, we had it since I was a minor when I was in the previous stage and has been without competing, treating it very well, until being able to register it. I can also understand the player, but let's see if we reach any kind of agreement. We would like to play in the subsidiary, but in no case does he value it and for us it is a handicap.
-Explain from your perspective the Levante quarry project. (Three players of the subsidiary have debuted in the last day, none formed in Buñol)
-It is a long-term project. There have been many additions to the B, Sergio is working very well in school. It is a more long-term project. Yes it is true that three players have debuted but more for script needs than for club conviction. That is long term, it will come. Just like when we were out Iborra, Rubén, Camarasa, Iván ... I think that over time there will be good news on that subject. But it is too early to announce it because you had to practically assemble a new equipment, you had to adjust the contracts a bit. Now we are in a very complicated situation with the defeat in Badalona and we are going to try to improve that in the medium term, or in the short term, speaking of the next year, if any kid has the opportunity to climb up be due to sports merits. Beyond the casualties and circumstances that occur during the season
-One of those players seated in the first team is Roger, who responded again with a double. The striker claims more affection from the club
-The first premise when I arrived at the club, and there is the president to corroborate it, including Paco, David (Navarro) and I said that Roger was a fundamental player in this project. He is a player who has demonstrated his scoring ability, his ability to work, his day to day, on the field ... I don't care how it is off the field. And the subject of love ... what is love? The love is when you get home, the family. Here he is a professional. Same as everyone else, and the treatment is with everyone the same. Goals goals or not goals. He is a professional soccer player and I don't understand what he says about love. I arrive in Buñol and I greet the coach, the players who cross the greeting and that is normal.
But at all times, and the president is there to corroborate it, the sports management of this club blindly from day one said that Roger, if it were not for a need of the sales club, with an offer that was irreproachable, was going to be a player very important and we were going to see it. Maybe you can go wrong. But he was convinced that a player with that scoring ability that he has and above his attitude on the field is normal to get those fruits. He is a player that I love and I say it here and I have always said it. Another thing is that four or five years ago, in the first round, there was a coach who did not put it. But being the club renewed it several times. And he had to give up because I can't force a coach to put the players. It was transferred and it has also been good. Look at him now, he is a very important player in the First Division and if he continues this streak and this way of playing, he will surely have many offers. We will even sit down to talk to him. Today he is a fundamental player
-I understand that there are several players upset with their role. Do you feel that way?
-It's not that I feel it. But I have been a player, I have been in the sports direction for many years and it is normal that players who have a sports cache, who come from strong teams and who have had another role in those clubs, maybe here they are not having the importance that they They expected and it is normal for them to feel that way. But the only thing I can say is that today it is very difficult to play as a starter in Levante with the template that is currently. You have to keep working, I think it's a phrase, this is very long ... but they have to be professional and demonstrate in the field and in the training they can play and that's it. I can't say anything else because those who are playing. Now, for example, with everything Roger is doing it is very difficult to get him out and enter another player. It's complicated. I'm not noticing it, but I'm sure there are players who, with the role they are having, don't look important in the squad. But for us, even if they are not playing, if they are not important at the moment, they are because of the costumes and they will be because we have not yet started the second round and there will be games of great demand, where fatigue accumulates .
-Is Vukcevic on the market?
-No, it's totally uncertain. At no time have we addressed Vukcevic or his representative to tell him that the best thing would be a transfer or exit of the player. Never. I only talked to the agent once, he called me, to ask me about his situation two months ago. I asked him in what way, and he told me he wasn't playing much and I explained that he was playing another one now. I told him that we were not valuing anything, but if he brought me an irreproachable or interesting offer for both parties, we would discuss it with the Council or the president and we would value it. But today we have not valued that output.
-Next rival, the Granada where he was before returning ... how was your experience there?
-It was a bit strange. They are two different ways of working. When there is an owner who is not in the day to day, or an executive or the president is not in the day to day, everything goes very slowly. It takes many permits. To do any management cost God and help. Then he came, he wanted to do it all in one day, he went back and nothing was done. It has been an experience in which I think you have to take the positive. Yes, it is true that they have an excellent Sports City, there are people working that are excellent, but it is very different. Today, if it has not changed, what is Levante itself has grown a lot and Levante is a club for me top.
Because it's also my club, it's my team. I feel it differently. You feel that because you are a professional, but the way you work is very different. Here there is more direct contact, things get much faster when they are clear, there are more meetings of people who make decisions. There we suffered a lot from that. We were more abandoned. Yes, it is true that I had a great coach, a team in which I still play eight assiduously of my stage and have shown that they are very good players. That match is going to be difficult. Because Granada is patient, he is always involved in the game and in a moment, as happened to Alavés, he gets three. Do not stop. It has stopped ball, counterattack, combination, it is a team that defends very well and the transitions make them fast, in attack and in defense. It is a very well worked team, with a great coach. We believe that we have more quality from the center of the field up, but you have to be very patient and not faint. As we lose the papers, in two minutes they can hurt us.
Photos from as.com