Sainz, fit for the Dakar: finishes 2nd in Saudi
The Madrid and Lucas Cruz left leaders with three seconds of advantage in the last stage of the Sharqiya Rally, but gave 1:20 over Al Rajhi.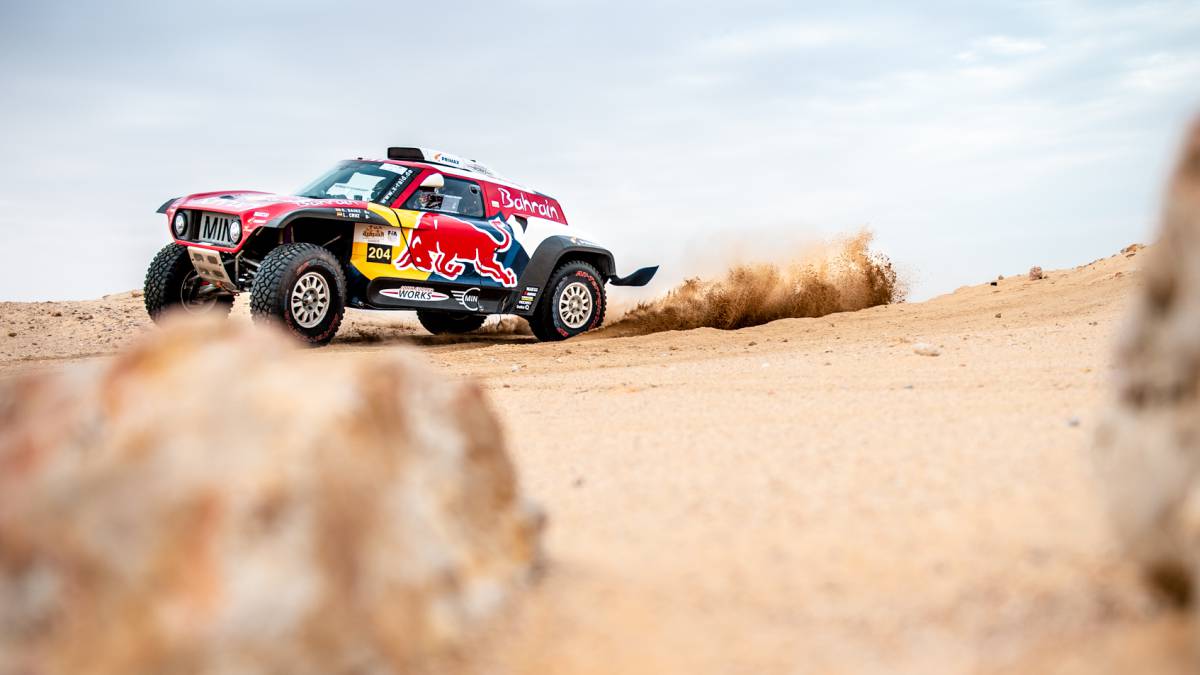 Three images perfectly summarize the passage of Sainz through Saudi Arabia prior to the Dakar. The first, putting the Mini on two wheels during the prologue in a wild action. The second, fighting wheel to wheel with Al Rajhi to win the longest special as if it were the last corner of a race in a circuit. And the third, posing with Lucas Cruz, his co-pilot, on the Sharquiya Rally podium. A fantastic photo to finish if you first experience in the Saudi desert, but that did not take place on the highest step.
That belonged to Al Rajhi, who once again imposed himself in the sand of his country without Sainz being able to prevent it, and that which was close. The Madrid started the last day as a leader for only three seconds ahead after the organization returned three minutes on Friday for a poorly appointed control step that made him waste that time. It had 171.60 km of timed section ahead to try to take advantage of that tiny income, but when they crossed the finish line, Al Rajhi did it with advantage.
1h 08:56 for Yazeed and 1h 10:16 for Carlos. One minute and twenty seconds apart between the two in the final day that remains at 1:17 in the standings. It was not made with gold, but the Spaniard can be satisfied to debut in Saudi Arabia by putting the main referent of the championship against the ropes and, in fact, being his only rival because the third who completed the podium, Al Qassimi with Peugeot, The rally ended almost nine minutes from Sainz and more than ten from Al Rajhi.
The only bad news that the Mini X-Raid team took from their participation in this event that closes the Saudi desert rally championship was the one starring Bin Seaidan with his terrible accident on the second day, which, fortunately, came out unharmed but not his chassis, which they were going to take back to the Dakar for Sainz and Peterhansel. Anyway, the Madrid, like Alonso, will arrive at the exit of January 5 in Jeddah knowing what it is to run in 'Dakar territory' and do it to finish on the podium. A 'spoiler'?
Photos from as.com