Rodri: "Simeone and Guardiola are two opposite poles"
In Manchester City midfielder says that "Cholo is consistency and perseverance; Pep is innovative, growing day by day."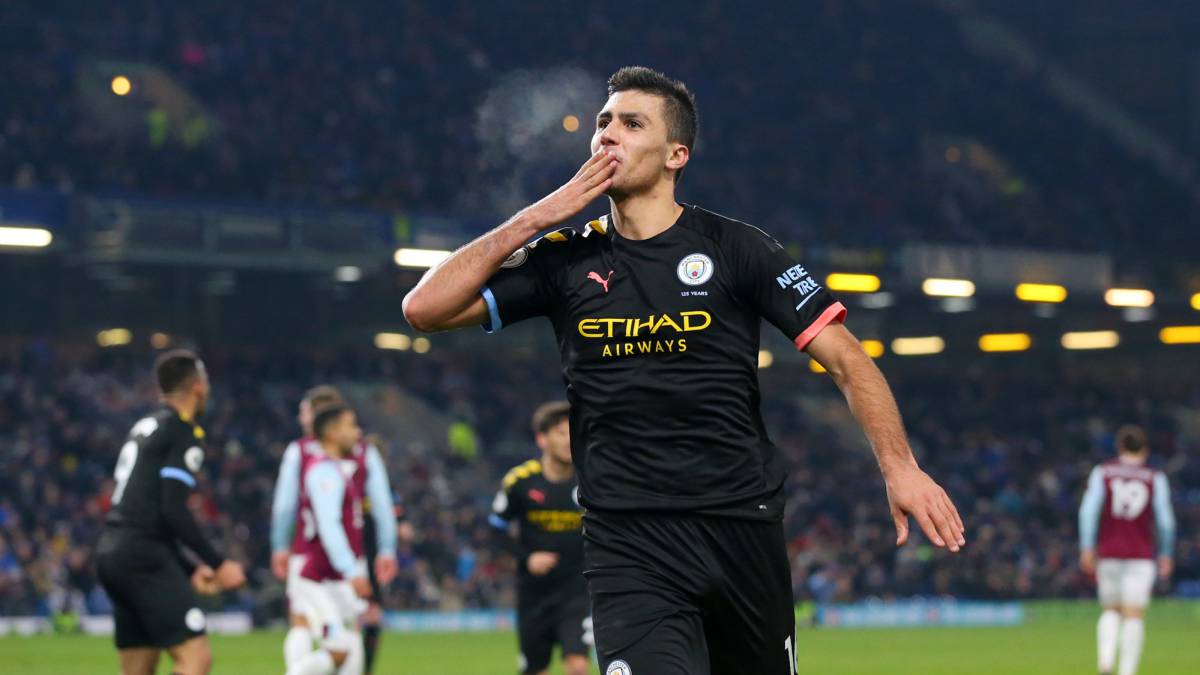 Rodri is completing his first great season at Manchester City with great performance. The Spanish midfielder has granted an exclusive interview to DAZN and Goal.com to review the latest news in the Premier and the influence that great coaches such as Guardiola or Simeone have had on him.
How is the adaptation to a club like Manchester City and a league like the Premier?
"The City is an exciting project, one of the biggest clubs in Europe, it is a dream to be here at an individual level, a challenge to grow as a player and a new experience in a new league like the Premier, which has a great impact on world level. Happy, the truth. "
In the club the figure of Pep Guardiola is always present, how is the day to day with Pep?
"Guardiola is close, normal, as I am Spanish I have a closer relationship. Sometimes it gives a feeling that it does not seem like a coach, it is like your friend, your colleague, get no distance between coach and player, try to shorten situations, talk with you and teach you. Always in a didactic and positive way. That speaks very well of him. He knows when he is doing well what he has to do and what he should do when he goes wrong. His speeches, his talks, are focused on life in general, to to improve ourselves personally and professionally. You feel in a group that cares about you. "
The sports pulse with Liverpool is still present in the daily life of the City ... Is it the most complicated opponent possible?
"On an individual basis I can say that Liverpool is the best team I have faced. They dominate the two areas, they are very aggressive. They dominate the lines well and that makes them a fearsome team. They are very good, but to all world can be won so we will fight until the end ... I don't know if the goal is to beat Liverpool, which is European champion, especially I think you have to look at yourself. If we look a lot at Liverpool we are wrong , better look at ourselves, go as in the Atleti and as Simeone, game by game. You can't stop breathing and that's what Guardiola instills in us every day, that every game is a final ".
He has trained under Simeone and is now under the influence of Guardiola, how are they alike and how do they differ?
"Simeone and Guardiola are two opposite poles. With 23 years of being trained by the two best coaches of the time it has helped me to grow a lot, in the defensive phase and in the offensive. We know that each one has a different way of seeing football, but both are two winners, they work 24 hours a day to improve the players ... both are great. Simeone is consistency and perseverance. Guardiola is innovative, growing day by day ".
Another really influential technical in the Premier is José Mourinho. Go back to a new club and it's news. How do you interpret your return to the benches?
"The return of Mourinho to the Premier is a joy, because he does again what he likes most. That is positive because he is a media coach but winner. He has won many things and for English football is positive. He leaves one ( Pochettino) and another one arrives (Mourinho), it's good for football ".
Where does your devotion to the position of midfielder come from? Where do you start your first steps in that specific position?
"As a child I always wanted to be a midfielder, because of my father. I have some funny anecdote. My coaches asked me and I said" I have to play midfielder "... Then, the first coach who set me in that position of Defensive pivot to be what I am today was Fran Alcoy, in the lower categories of Atleti, the second I had in the club and is a man I have a great appreciation. I already played football eleven and put me midfielder, he transmitted to me some concepts and I noticed one or two touches, I looked at Barça and the figure of Busquets ".
..But the childhood idol was Zidane, who was not a midfielder.
"Zidane was more an idol when I was little, then it is true that when you look at my characteristics, I don't have Zidane's profile. He played from three quarters forward, with more imagination and less responsibility. In my place of the field I have more responsibility. I look at Xabi Alonso, Busquets, players who have been a great example to improve ".
What is the most difficult part of being a midfielder in a team?
"The most difficult thing about being a midfielder is one, adapting to where you are. And two, reading where the game is, where to position yourself, how to shape yourself and how to read the situation. Each party will present it to you in a different way. You should analyze what happens in a match. The good midfielder is the one who can read where you have to position yourself to have a presence, both to steal balls, and to filter passes ".
But is the midfielder born or made?
"The midfielder is born, because you have to have a clear concept. And then it is done when you build and polish it little by little, because you have to have trainers to help you, to empower you, to give you confidence and ways to evolve in your game, but I think you are born with the qualities to be a midfielder "
He has played midfielder with Simeone and Guardiola. In theory, two opposite styles. What did Simeone specifically ask him to be the handle of Atlético de Madrid?
"Simeone what I mainly asked for was participation, we needed a lot to be fluent, I asked for daring and above all, the two transits. Being solid in both areas and in my position, one pulled a little more and the other, which was me, I there was more. Simeone asked to be solid in attack and defense. Be aggressive and vertical, because he understands football with speed and dynamism. He likes to reach the rival area with few passes. "
And how different is what Guardiola asks you from what Simeone asked for?
"In the end, don't you think it's so different with Guardiola than with Simeone. But now it's true that it changes the way I play, I'm a unique midfielder and we play more open, I have to move differently, at other times, I can't Always jump, if I jump in pressure and they beat me, there is no one to help me. I have to read when to leave, when to stay and that is more complicated because you play alone and nobody protects you. You are more alone. When you fail, you see more. But it's nice for my growth. Simeone and Guardiola have made me grow a lot ".
And Guardiola the office of mediocentro knows it perfectly. That helps, I imagine.
"Guardiola is very didactic. He has been a midfielder and has the ability to help you, but also with a forward or a side. He sees football very easy and understands that the player must make decisions for himself. Me as a midfielder has taught me that I have to drive more, to fix, to know how to choose the moments to go out and stay, it is helping me a lot. "
Photos from as.com