Morlanes and Trigueros claim the return of the pivots
The two midfielders mixed well with Zambo Anguissa in a three-media system in Mestalla, giving the team balance.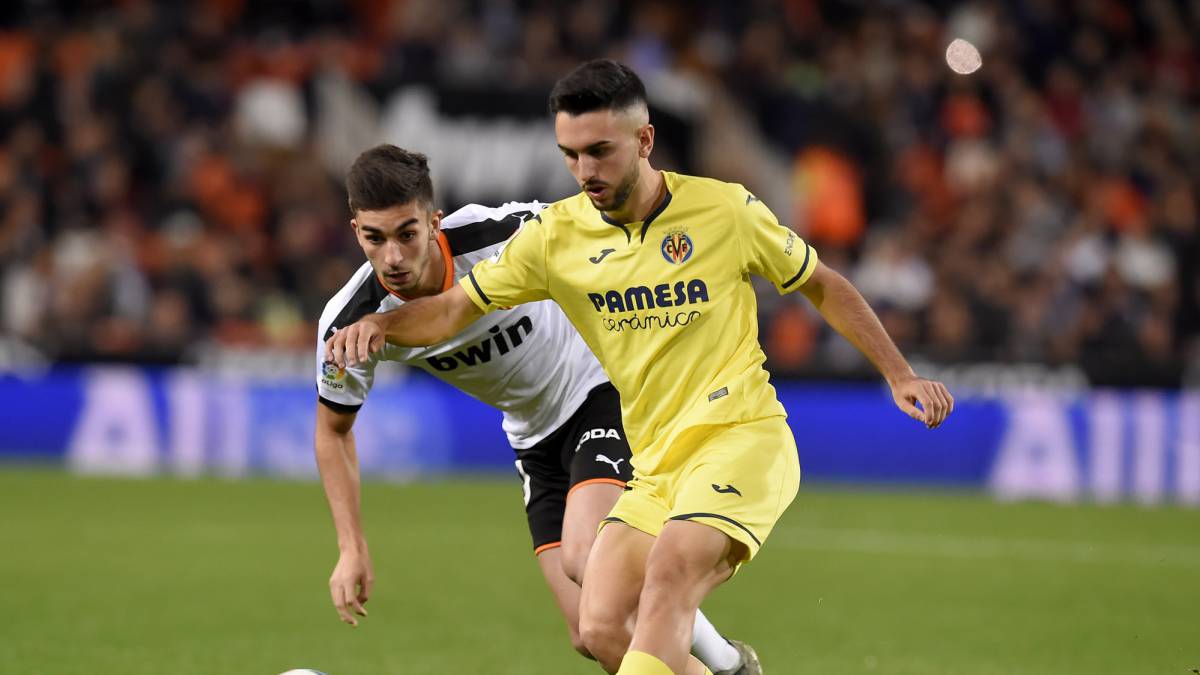 The Villarreal de Calleja began with a rhombus, passed to a double pivot, returned to the single pivot, to bet again on a trivote like that of Mestalla. Bets that the coach has been changing in these three campaigns in front of the bench, always looking for balance and greater control of the game.
This season the idea was going through a 1-4-1-4-1 system, with the idea of pushing up, having a first line of intense pressure, and with a lot of completion and glue. But the trend has caused the team to be unbalanced, with a pressure that does not drown the opponent, and that makes the team not balanced defensively.
A balance and control that was seen in a large part of the match in Mestalla, with a team that could handle that pace many times, and was able to steal many more balls than usual in previous days. A change that both control and recovery, had the middle three as protagonists.
It is worth noting that of the 508 passes that the team gave in Mestalla, the Anguissa, Morlanes and Trigueros trio, gave a total of 205 passes (40%). But the highlight is that the three players throw a success of 90% of those passes, being Anguissa the most prominent, signing 70 passes and a success of 93%. Followed by Manu Morlanes with 68 passes and a success of 94%, and with Trigueros as third, with 67 passes and 89% of success.
The team was much more balanced, and it was thanks to the return of the creation midfielders or the so-called pivots. But, in addition to having more ball and balance, these three players were able to recover 10 balls of the 20 that the team recovered or stole in Mestalla. A 50% recovery that even Calleja himself highlighted after the meeting. Anguissa was the most prominent with 6 recoveries, while Morlanes and Trigueros divided the other four.
Everything indicates that with the return of Iborra to the team and the good moment of Anguissa, it is Trigueros and Morlanes who play a place in that middle of the field. It will be necessary to see if with a double pivot or with three in the middle, although what it seems is that against Atlético there will be no more than
The Villarreal de Calleja began with a rhombus, passed to a double pivot, returned to the single pivot, to bet again on a trivote like that of Mestalla. Bets that the coach has been changing in these three campaigns in front of the bench, always looking for balance and greater control of the game. This season the idea was going through a 1-4-1-4-1 system, with the idea of pushing up, having a first line of intense pressure, and with a lot of completion and glue. But the trend has caused the team to be unbalanced, with a pressure that does not drown the opponent, and that makes the team not balanced defensively. A balance and control that was seen in a large part of the match in Mestalla, with a team that could handle that rhythm many times, and was able to steal many more balls than usual in previous days. A change that both control and recovery, had the middle three as protagonists. It is worth mentioning that of the 508 passes that the team gave in Mestalla, the Anguissa, Morlanes and Trigueros trio, gave a total of 205 passes (40%). But the highlight is that the three players throw a success of 90% of those passes, being Anguissa the most prominent, signing 70 passes and a success of 93%. Followed by Manu Morlanes with 68 passes and a success of 94%, and with Trigueros as third, with 67 passes and 89% of success. The team was much more balanced, and it was thanks to the return of the creation midfielders or the so-called pivots. But, in addition to having more ball and balance, these three players were able to recover 10 balls of the 20 that the team recovered or stole in Mestalla. A 50% recovery that even Calleja himself highlighted after the meeting. Anguissa was the most prominent with 6 recoveries, while Morlanes and Trigueros divided the other four. Everything indicates that with the return of Iborra to the team and the good moment of Anguissa, it is Trigueros and Morlanes who play a place in that middle of the field. It will be necessary to see if with a double pivot or with three in the middle, although what it seems is that against Atlético there will be no more than
Photos from as.com