"Fernando Martín was a great and special player"
This December 3 marks the 30th anniversary of the death of Fernando Martín, the first Spaniard in the NBA. We reviewed his career with his brother Antonio.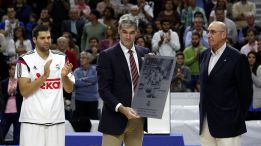 — What would have been the reaction of his brother Fernando Martín if more than 30 years ago he had been told that several Spanish players would one day be among the best in the NBA?
- Suddenly, like this, I wouldn't have been able to imagine it. But given the evolution that basketball has had in this country, I imagine that I would understand it better. When he arrived at the NBA it was difficult to think that many more people were going to go. Then, before Pau Gasol left, it was perceived that Spanish basketball was getting better and better.
— Three decades ago, what did you have to have to face the NBA adventure?
— In addition to quality, enough mental strength. The first to face a challenge always has the difficulty of opening the way, but if they ask Pau Gasol how was his first year in Memphis, he surely does not remember it as a path of roses. In the eighties, the NBA was different, neither better nor worse. And you had to take a couple to think about facing the adventure. First, have the quality and then, agree to leave many things to meet that goal.
— Had I been born 20 years later, how far would Fernando Martín have come in the NBA?
— I think that in the last century, with other circumstances, the NBA would have given him better things. So in this century I think it could have been better too. Fernando had the potential to have been a consistent NBA player, with a career of more than one season. But his character, his way of understanding life, of wanting to always compete, made him make the decision to return to Spain, which not only influenced sports issues.
— What led you then to leave the NBA?
— Several circumstances among which there were personal issues
— Is it true that in that season in Portland (1986-87) his salary was $ 150.00?
— Yes, I think about 145,000. It is obvious that he did not go to the NBA for money.
— On his return, Madrid equated his salary with that of some soccer players. It was the time of the 'Quinta del Vulture'.
— Yes, the difference between his NBA contract and the one offered by Madrid was very high and his return also coincided with the 'boom' of basketball in Spain.
— He was four years younger than his brother Fernando, how do you remember his beginnings in sports? Swimming, table tennis, handball ...
— Fernando was predisposed to practice, I don't know if almost everyone, but many sports. And in each of those who competed, he stood out. The sport also helped his personality and did a lot of good. I remember him playing handball at school (San José del Parque) and excelling. Before he had done it in swimming and then, also in school, he started playing ping-pong and was champion of school Spain. Finally he got into basketball. He had tremendous ease to compete.
— Was he also a swimming champion?
— Yes, champion of Castile. He swam to the breaststroke, just like me at the Jiménez Swimming Club. It was the first sport in which Fernando, being very young, learned discipline and sacrifice. A hard sport, with a training system in solitude and for many hours. He was ten or eleven years old and understood what the sacrifice was, the work and the results.
— In his school, in San José del Parque, he initially played handball, how was he discovered for basketball?
— The star sport in school was handball, they had a team. But the basketball coach, Mariano Bartivas, noticed him when they agreed. My older brothers, Ricardo and Pedro, played basketball, and in one of those Bartivas told him to try. The handball technician, who was the gym teacher, did not like that much. From that moment I think he decided on basketball.
— And from there to the Students almost immediately.
— Yes, just a few months. Mariano Bartivas, in addition to training at the school, directed the child A del Estu. In months he was under the command of Pablo Casado who was the youth coach. His rise was meteoric and reached the first team of the Students with 17 years (1979) and Real Madrid with 19 (1981). That was a lot of fun, we enjoyed everyone who was close to him. We went from going to the Estu matches to suddenly see Fernando there. In the first year, a very difficult experience did not disentangle; but in the second its evolution proved brutal. The second year is Vicente Gil, Juan Carlos López Rodríguez, Alfonso Del Corral, Slab Jones and him. They finished runners-up in the League and in the spring-summer of 1981 signed for Real Madrid and debuted with the National Team, in the Eurobasket of Czechoslovakia.
— Were you trying to follow your steps in basketball then?
— Yes, of course. It is normal that if you see your brother play that way you choose the same sport. In my case I never practiced handball, I was more involved in taekwondo and other things.
— Before Fernando Martin landed in Madrid, had he had a closed agreement with the Joventut?
— Who better told it was Manel Comas, but unfortunately it is gone. But no, the agreement was not entirely done. They had come to see him, also to my house to talk to my father, but there was nothing closed. In the end, there was a negotiation between all parties to go to Madrid (according to the information of the time, the white club paid ten million pesetas, about 60,000 euros, to Students) .
— Were you from Madrid since childhood or from Atleti?
— The most Real Madrid was my father. I can't forget that I grew up in Estu and then I played in Madrid. And the two clubs have marked me and I am very proud of both, although I know that neither Dementia nor the Berserkers like it.
— Upon arriving in Madrid, his brother scored 50 points in the Club World Cup in Brazil.
— A savage. One way of saying here is me in a group full of stars, of consolidated players, with a lot of personality. He was a young man of 19 years and that way of facing the first game in which Lolo Sainz gave him many minutes fell in the group. His presence, in addition, provided a breath of fresh air very important for Madrid: competitive claw. And for him it was an accelerated course, a master at full speed surrounded by people like Corbalán, Delibasic, Iturriaga, Rullán ... Only at his side you learned everything, you learned to understand this sport.
— And how did Fernando Martín understand basketball?
— Well, as I understood any other sporting activity: it is very good to participate, but here what is cool is to win and Fernando was like that, a winner. When they ask me to describe him as a player I always say the same thing: I've been with great players and always identify them, they are the ones that help you win championships. And Fernando was one of those. In the defeats, that Madrid looked like him because they would digest them together. Not everyone went to his room and ate it alone, but things were talked about to quickly remake the blow. I liked that. We were going to Moscow, it was lost and that same night they were trying to fix the problems, six or seven players gathered in a room. That was important.
— Leagues, playoffs, Cups, Cups, medals with the National Team… but perhaps he had the thorn of the European Cup. The unbeatable ogre was the Drazen Petrovic Cibona.
— Just as Barcelona met years later with a piece of equipment like Jugoplastika, Madrid collided with Cibona, a rival with a great competitive capacity. That European Cup, for putting a but, is what some players will always miss.
— What memories do you have of those duels of your brother with the Cibona?
— They were very hard duels. You tried to compete as usual, but his talent was tremendous: Drazen, his brother, Cutura, Knego ...
— Defeats also difficult to digest with Drazen Petrovic gesturing.
— It was another basketball and more things were allowed. I'd rather remember Drazen because of how extraordinary he was and not because of those difficult details to assume when competing face to face, five against five. But they passed and it wasn't nice, you ended up 'screwed up'.
— What was the relationship between the two when they agreed in Madrid (1988-89)?
— I remember a complicated situation with two very heavy players. Drazen's contribution was extraordinary, but in the end, to sum it up in some way, they had different ways of understanding how to lead the team to victory. In that they collided, it is a reality and it makes no sense to hide it. There were differences, Drazen had very clear objectives, but they were not arguing all day. The deal between them was not bad.
— In 1985 the Nets choose him in the draft, but he decides to postpone his march to the NBA for a year.
— There was a rule that said that a player who had played in the NBA could not compete in the FIBA championships and the following year the World Cup was held in Spain. That rule, which we now see ridiculous, prevented me from playing with my brother in an Olympic Games, in Seoul 1988. The rule and also that he perceived that the Nets were not the ideal place to go at that time stopped him momentarily. The following year, along with his agent, Miguel Ángel Paniagua, he decided to leave for Portland because he sees it clearer.
— Do you think the NBA was not yet receptive enough to European players?
— I think he took them all back. Mike Schuler was a rookie coach in the NBA, had some insecurity and that made him throw more than certain players. But it was what it was and I don't want to go around it anymore. I honestly think that I had the potential and also the skills already at that time to have consolidated as an NBA player.
— In the eighties Fernando Martín was a social phenomenon, how did he live his relationship with the media?
— There was no internet or social networks. The scenario was different. Fernando had many friends in the world of the press, although it was also easier to have them then. Of course, he was extremely jealous of his personal life, it bothered him to talk about matters that were not sports. Then, in addition, when someone disappears things get bigger, but I don't think it was arisco as I have heard. For many young people, who have transmitted it to me, it represented that we Spaniards could face the greatest sporting challenges. That marked him and perhaps he also transcended basketball a little.
— How do you remember your return to Spain in 1987? Was I frustrated?
— He would have liked the American adventure to have developed differently, but at the same time he was satisfied that he had achieved the dream of facing the best, Julius Erving, Larry Bird and company. That said, it is true that a difficult season and a half awaits him, that after returning he passes a complicated moment in his game. The misfortune is that when I was more motivated - and I lived it in the first person - when I wanted to compete again for the beast, to smile again on the court, because it cost him to adapt to European basketball, what happened happened. Injuries to the back and Achilles tendon also didn't help him before.
— Why was 89-90 more motivated in that season?
— I didn't imagine Fernando on the slopes until he was 33 or 34 years old, although I don't remember having that conversation with him either (Antonio Martín retired in 1995 with only 29 years). I think he wanted to live two or three more years competing to the fullest, he wanted to win titles and say goodbye with a good taste in his mouth.
— Did Petrovic's motivation motivate him to remain a clear reference, and the arrival of the innovative George Karl?
— I was very comfortable with George Karl. With him we felt very happy to play basketball, but he was not aware of who was leaving or who was coming.
— All former players speak very well of George Karl, but he went through Madrid as a misunderstanding. The fans, the press and the results did not accompany him.
— Neither was the first to whom this happened nor will it be the last.
— From that stage are also his duels with Audie Norris, which for many represent a lifetime of rivalry although they barely met two seasons.
— When something is such a great show, people remember it, even if it lasts a short time. It is in the retina of the fans. A basketball difficult to find at that time and now would be impossible by current regulations. Those duels against each other under the basket are unrepeatable.
— Did he really get along with Norris? It seems difficult to be friends with an adversary with whom you hit yourself in such a way to gain the position in the area.
— There was a lot of respect and also, yes, a certain friendship, because they looked alike in many things. That is why this magical atmosphere was created in their duels. They were two winners, two uncles who fought to the death, who respected each other deeply as players and ... honestly, and that's all I'm going to say after Fernando's accident, Norris's presence in the Pavilion when my brother's body was there and his reaction show what he is as a person.
— Can you imagine that Norris had signed for Madrid?
— It was very close. They would have formed an impressive couple.
— After the accident, of all the emotional moments your family lived, do you remember anything special?
— Yes, how people overturned. I will not forget in life. From the morning of that day in La Almudena (the cemetery) until the next game. The love they professed and also the love and respect for my parents and me, my family. They gave us maximum heat in a very difficult situation, but not only for us, but also for many fans who did not believe what happened. And that made everyone in the family carry, as far as possible, much better what happened. We will never forget people's response, never
— Later he was lucky to coincide with Sabonis in Madrid, with whom Fernando Martín also maintained formidable duels.
— We were not talking about his duels. 'Sabas' is another very special person. I was with him three seasons and always tried to help you. It is one of the players that has most patently left me what he said before, about helping the team win, and he got it. His generosity was tremendous, at his side you felt a lot of 'warmth', even if he looks like a serious uncle, even an arisco.
— Do you think Sabonis looked like his brother?
— Yes, it reminded me of him by character. Both made things easier for the team, for me that is being a leader, someone who with his attitude pulls the rest.
— How did Antonio Martín's career be Fernando's little brother, with what that entailed, comparisons included? Something that perhaps also suffered his son, Jan Martín. How did you live it and how do you think Jan did it?
— I will only speak for myself. Sometimes you have doubts, you think you are good too, but Fernando was first a player, then a competitor and then a winner, that was a phrase by George Karl. The comparison was not possible with me or with any other player because Fernando was very special. Personally, I felt a mixture of admiration and luck for having been able to play with him, even if it was a short time, less than I would have liked. Fernando was a great player and there are his numbers and his achievements.
Photos from as.com