Zidane's team dispatched Espanyol dull with goals from Varane and Benzema. Great first part of Vinicius. Mendy, expelled, will not play in Valencia.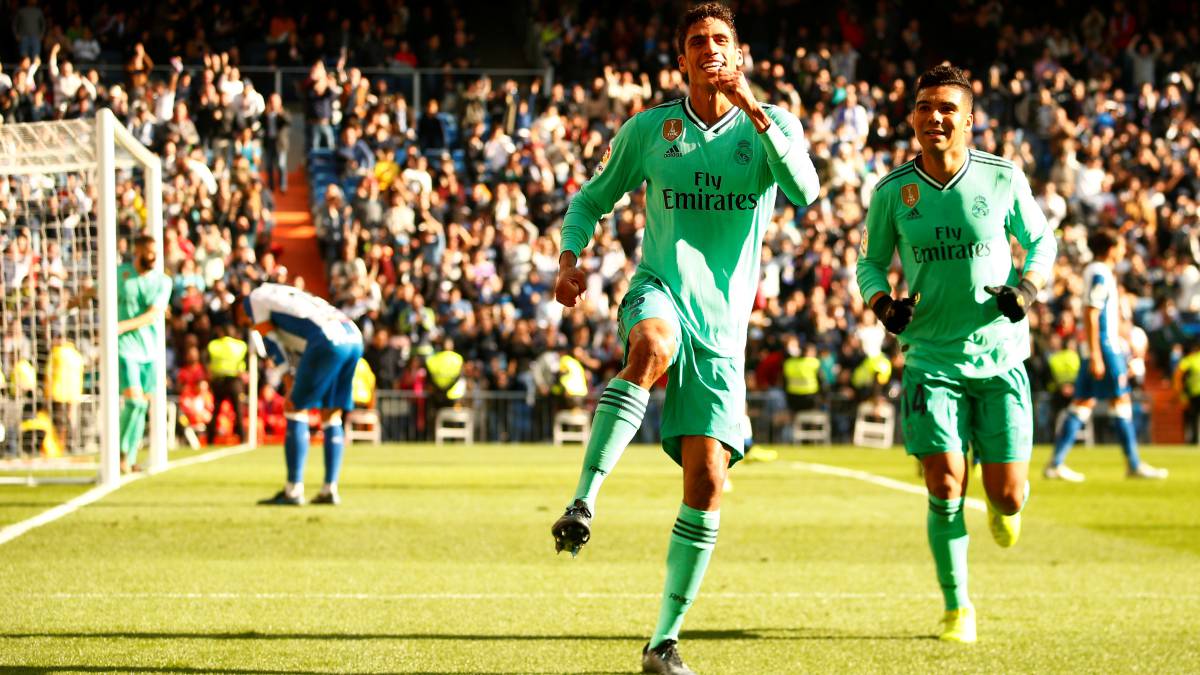 Madrid had a scale, transitional match that Simeone would say, and he took advantage of it to refuel before the looming with a lineup more cheerful than his game. Some of his most reliable players (Benzema and Kroos, especially) were taken half free morning and saved the bases: Valverde, Rodrygo and especially Varane and Vinicius. The central was great in both areas. The Brazilian left the first half of Solari's time, full of speed and overflow. In auction he walked as usual. Espanyol protected himself a lot and responded little. The solution of their problems was not in the Bernabéu.
After several weeks of traveling in pumpkin, Vinicius returned to the float, decked out with a wooden shoe instead of the regulation glass. It was in a game of ecological representation, with the Madrid of mint green and Espanyol with no intention of contaminating the great streak of those of Zidane. A carnival morning, with Rodrygo and Vinicius from Benzema escorts. Clearly renewable energy: 37 years between the two pointing to Diego López, 38 alone. And fast acting. Before the first quarter of an hour the former Flamengo skied on the left for forty meters to drop a powerful shot rejected by Diego López. And shortly after it was Rodrygo who tried from farther and with equal luck.
That Brazil squared led Zidane back to 4-3-3, his classic uniform fallen into disuse for the truth matches. A system that undoes the center of the field. Hence, Valverde and Casemiro returned to coincide. The latter is such a protected species that not even the threat of suspension takes him out of the team. An eleven with six changes with respect to Vitoria, Zidane's company policy, determined to expand the useful surface of the workforce by the time the calendar and the injuries tighten even more.
Madrid took it easy before a serious, pressing Espanyol, shaken by Machín's defibrillator at the press conference following his defeat to Osasuna. A team that makes Antonio Gamero's casticism good that I eat away from home anywhere. And the farther, the better, seen his impeccable trajectory in Europe.
The goal of Varane
His good organization made the team Zidane was reduced during the first half to Vinicius, a dribbler at a time when those of his kind are habitual suspects. Players who lose balls but break lines, open spaces that do not exist, discolor defenses as well armed as that of Espanyol. The Bernabéu had his crisis of faith with him, but he is leaving it. He created three great occasions before getting rid of the expulsion. The yellow one he received was unfair, but more than deserved a later that Jaime Latre forgave him. In any case, Madrid lived its agitation capacity, which came to rest in advantage with an unusual goal, left-handed shot of Varane in the territory of Vinicius. There had been a post-corner. Benzema, bearer of the dynamite, was almost disappeared until the assistance of that 1-0.
The second half proved even more unpleasant. Vinicius came up in the watermark and down in the depth. Benzema lost a tremendous occasion in a hand in hand with time and space ahead and another less clear in good play by Vinicius himself, but he ended up sentenced the game in a play that he himself started and notably improved Valverde, definitely player for both areas . That is the new Benzema, pichichi from the moment he gets up until he goes to bed, play with excellence or like this time. Then Mendy expelled herself, considerable mishap for a team that has almost as many casualties as points and will not be able to count on Marcelo in a month, and Zidane withdrew Vinicius to have the bonus of the ovation of the public. For that they pay the coach, to think about everything
Photos from as.com